Update from the Canadian Musculoskeletal (MSK) Rehab Research Network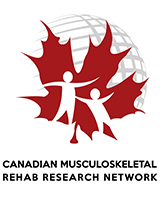 Despite the many challenges faced over the past year, 2020 marked the first year of the Canadian MSK Rehab Network's new CIHR-IMHA funding period. Therefore, it has been a top priority of the Network Executive Team to establish key committees to guide research efforts and ensure maximum impact over the next five years.
The first committee that was launched in the spring of 2020 was the Knowledge Translation Committee, led by Dr. Linda Li, Dr. Aliki Thomas and the Network's Principal Knowledge User, Catherine Hofstetter. The KT Committee has been hard at work progressing the Network's KT strategies and increasing patient engagement to help bridge gaps between research and practice. As part of this effort, the Network is actively recruiting new consumers to take part in any capacity they feel comfortable with. Anyone who may be interested can reach out to our Network Coordinator to learn more and find out about available opportunities.
The MSK Rehab Network is also excited to re-launch GaitNET: a linked consortium of biomechanics labs across Canada with common procedures and data-sharing. GaitNET was supported by the Network's Pilot Grant program in 2017 and will be expanded under the leadership of Dr. Cheryl Kozey, Dr. Michael Hunt and Dr. Trevor Birmingham. This group is working to maximize collaboration and increase the impact of biomechanics research in Canada, to ultimately bring new research into clinical practice faster and more effectively.
Based on consultation with Network members who highlighted the importance of emerging technologies in rehab research, the MSK Rehab Network is also launching the Remote Technologies Committee. Dr. Laurent Bouyer from Université Laval is currently leading this committee and is seeking committee members to join him. As one of the first priorities of this committee, Dr. Bouyer and his team have begun developing OpenWear: a research platform to standardize data collection procedures across laboratories to create large, Canada-wide data sets from wearable sensors. Stay tuned for upcoming news from this committee!
Congratulations to members of the Canadian MSK Rehab Research Network for recent achievements and awards:
Nominated Principle Investigator Dr. Joy MacDermid and fellow Network collaborators were recognized by Arthritis Society's Top 10 Research Advances of 2020. Read more
Dr. MacDermid was also was recently named a Tier 1 Canada Research Chair in Musculoskeletal Health Outcomes & Knowledge Translation. Read more
Dr. Noemi Dahan-Oliel has had multiple recent successes and awards:

"Measure for the Upper Extremity in Arthrogryposis: Development and Psychometrics" was funded for a multisite developmental clinical grant from the Shriners Hospitals for Children (January 2021 to December 2023). Noémi Dahan-Oliel (PI), co-Is: Reggie Hamdy, Chantal Janelle, Laurie Snider, Johanne Higgins, Michelle James, Krister Freese, Dan Zlotolow, Felicity Fishman, Lauren Hyer;
"Platform Architecture and Machine Learning for Arthrogryposis" was funded for the 2020 SHC & Georgia Tech (GT) Seed Grant Program (January 2021 to December 2022). Co-PIs: Noémi Dahan-Oliel & Tony Pan (GT); Co-Is: Srinivas Aluru (GT) Reggie Hamdy, Ghalib Bardai, Frank Rauch, Michelle James, Krister Freese, Harold van Bosse

Dr. Dahan Oliel was also awarded 'Rising Star' award from the American Society for Bone and Mineral Research (ASBMR) ($60,000 USD over 3 years 2020-2023)
Dr. Lisa Carlesso received the Arthritis Society's Stars Career Development award for her project entitled 'Improving our Understanding of Pain Mechanisms in People with Knee OA'.
Network Trainee Codie Primeau and team including Network PI's Dr. Trevor Birmingham and Dr. Rebecca Moyer, recently had their publication "Trajectories of perceived exertion and pain over a 12-week neuromuscular exercise program in patients with knee osteoarthritis" highlighted in The Globe and Mail by Alex Hutchinson. Read more
Date modified: