About IMHA
The CIHR Institute of Musculoskeletal Health and Arthritis (CIHR-IMHA) is the hub for strategic initiatives in musculoskeletal (MSK), skin and oral health research in Canada.
Who we are
Vision
IMHA's vision is to lead MSK, skin and oral health research and knowledge translation to improve the lives of Canadians.
IMHA's plan aligns with the CIHR Strategic Plan (2021-2031) priorities:
Our mandate
IMHA is mandated to provide research leadership related to: active living, mobility and the wide range of conditions related to bones, joints, muscles, connective tissue, skin as well as the mouth, teeth and craniofacial region. Musculoskeletal health is critical for mobility, productivity, and general well-being. IMHA's values and approaches are strongly aligned with the strategic direction of organizational excellence being pursued by CIHR's Strategic Plan 2021-2031, A Vision for a Healthier Future.
Values and approaches
Building culture
Our community consists of researchers, policy-makers, clinicians, health charities, patient organizations and people living with conditions listed in the CIHR-IMHA mandate. We aim to authentically engage a broad community including those who have historically been excluded from participating in research.
Specifically, IMHA will:
Add value to the community by being inclusive and engaging equitably. We will better reflect the diversity of Canadian communities.
Partner with CIHR Institutes, Federal, Provincial, Territorial and Indigenous governments, health charities, not-for-profit and private partners to foster creativity, fund research and reconceptualise research excellence.
Deliver on four priority areas: Alleviate Pain, Mobilize Digital Health, Nurture Leaders, and Scale-Up for Health Impact.
Engage with patients, mobilize knowledge, and champion open science.
Measure the health and social outcomes and impact of key Institute activities against our operating plan.
Keep equity, diversity and inclusion as a central focus. We value working with Indigenous partners and commit to ensuring that the unique rights, interests and circumstances of Indigenous Peoples are acknowledged, affirmed and actioned.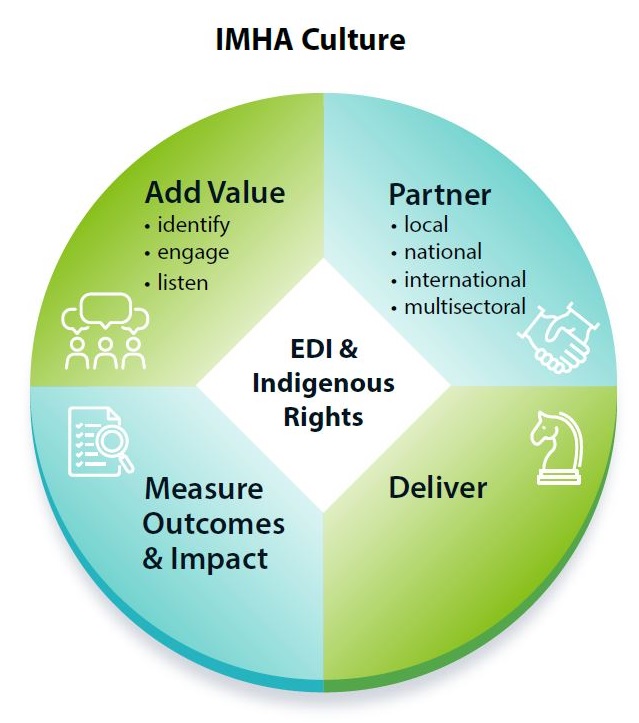 Ethics
IMHA promotes interdisciplinary integrative research into ethical, legal and socio-cultural issues related to its research priority areas. High ethical standards are maintained by working closely with CIHR and academic institutions across Canada to ensure ethical research practices are employed. IMHA partners with external groups and organizations that uphold high ethical standards.
Performance measurement
A comprehensive measurement plan connects IMHA's desired short- and long-term outcomes to metrics that can be readily collected and reported on. Performance measurement will improve IMHA's understanding of underlying processes, and will help determine if IMHA is meeting its strategic objectives and where improvements can be made. Guidelines from CIHR helped shape the overall plan and ensure additional consistency and comparability across CIHR institutes.
Evidence-informed decision making
IMHA aims to use the best available evidence from consultation, research, practice and experience to inform decision making and to develop strategic priorities and programs. The process is characterized by the systematic and transparent appraisal of evidence as an input into our decision-making process.
Partnerships and citizen engagement
Partnerships with relevant IMHA stakeholders – researchers, health care providers, policy makers, the Canadian public, the private sector and patients/patient groups – as well as non-traditional partners will ensure that all energy and efforts can work towards a shared vision. Special care will also be directed at the continuation of our citizen engagement activities, so that Canadians are actively involved in IMHA's decision making and aware of our activities and the knowledge that is created.
Date modified: