CIHR-IMHA Research Catalyst Networks
The following 5 networks of researchers were awarded funding by IMHA and partners after rigorous peer-review. These Catalyst Networks consist of researchers, clinicians, and patient partners who aim to improve the health of Canadians in these domains: skin health, oral health, musculoskeletal health, muscular dystrophy, and myalgic encephalomyelitis.
---
Canadian MSK Rehab Research Network

Nominated Principal Investigator: Dr. Joy MacDermid
Host Institution: Western University (London, Ontario)
The Canadian Musculoskeletal (MSK) Rehabilitation Research Network is an inclusive national network that facilitates collaborative transdisciplinary discovery, innovation, and clinical research to provide solutions to key research questions and care gaps in MSK rehabilitation. With its focus areas in pain, mobility and work participation, this Network supports an innovation pipeline for novel MSK rehab interventions to address the large pain and disability burden caused by bone, joint, muscle, and nerve problems.
Launched in 2016, the Network brought together 80 researchers, collaborators and knowledge users, and 20 partners/consumer groups. It built innovative funding and learning opportunities for trainees, and research platforms that allowed the Network to share clinical and biomechanical data nationally. Now, having grown to over 140 members in 2020, the Network is linking MSK research-intensive clinical centres and patient groups who will guide and develop large-scale national studies to create and disseminate new knowledge using the capacity and expertise of our collaborative members.
Objectives and Priority Areas:
Patient Engagement - All network activities include engaged patients/knowledge users to: 1) play key roles in priority setting, 2) influence decisions on review panels, and 3) act as Co-Investigators on all projects.
Relationship-building - 1) leverage  partnerships to co-host meetings with longstanding national and international mobility and rehab conferences; 2) create and foster an online community of practice platform on challenges/solutions in rehab research; 3) launch a cross-institutional mentorship program within the network for trainees and young investigators; and 4) execute a multi-modal communication plan.
Knowledge Translation (KT) – A knowledge translation working committee comprised of leading KT experts and knowledge users advises the Network's executive committee and helps guide all KT and dissemination initiatives. Key partner organizations such as The Arthritis Society and Ontario Physiotherapy Association, along with infrastructure partnerships such as McMaster's Rehab+ platform further increase impact of research outcomes.
Training – The Network continues to build on its success with successful training initiatives such as: 1) online training modules, 2) targeted funding competitions, 3) research exchanges, 4) mentored peer reviewers on grant panels and committees, and 5) trainee events, collaborative summer schools, and online forums.
Twitter: @MSKrehabnet
Interdisciplinary Canadian Collaborative Myalgic Encephalomyelitis Research Network (ICanCME)

Nominated Principal Investigator: Dr. Alain Moreau
Host Institution: Sainte-Justine University Hospital Centre (Montreal, Quebec)
Myalgic encephalomyelitis (ME), formerly known as chronic fatigue syndrome (CFS) and often still referred to as ME/CFS, is a devastating, chronic, complex, multi-system disease that afflicts approximately 600,000 Canadians, 2.5 million people in the United States and millions more globally. ME is found in children, adolescents and adults of all ages. The name ME stands for muscle pain (myalgic) and inflammation of the brain and spinal cord (encephalomyelitis).
The Interdisciplinary Canadian Collaborative Myalgic Encephalomyelitis (ICanCME) Research Network is a national network of researchers, clinicians, and patient partners to advance the understanding and development of clinical approaches in ME. The Network focuses on creating new knowledge to decipher the ME enigma and translate it into tools and health solutions that impact both human health and society. By leveraging collective knowledge, important health data, and pockets of innovation, ICanCME will contribute to initiating the transformation of the ME research landscape in Canada, and improve the health of Canadians living with ME.
Objectives and Priority Areas:
Build a catalyst accelerator program to fill existing gaps in ME research, stimulate new discoveries, and sustain excellence in ME research in Canada.
Develop sustainable research infrastructure into ME and implement, integrate and standardize databases and bio-banking procedures.
Develop talent to enhance ME research capacity and excellence in research.
Twitter: @ICanCMEResearch
Network for Canadian Oral Health Research (NCOHR)

Nominated Principal Investigator: Alain Moreau
Host Institution: Sainte-Justine Hospital (Montreal, Quebec)
The vision of the Network for Canadian Oral Health Research (NCOHR) is to be the primary resource for initiating, supporting, and sustaining innovative and collaborative oral health research designed to benefit the health of all Canadians. NCOHR links researchers from ten universities across Canada to promote mentorship of the next generation of oral health researchers, aid development of interdisciplinary research teams, enable sharing of research-related resources, guide development of sustainable infrastructure, and facilitate communication between and among knowledge creators and knowledge users. This network creates ways for oral health researchers to share ideas and resources so they can work together to continue to improve the oral health of Canadians.
Objectives and Priority Areas:
Sustain talent development at different academic and professional levels with emphasis on formation of the next-generation of oral health researchers, clinical-scientists, and health care professionals.
Connect researchers with experts from other disciplines, sustain/support development of allied oral health professionals, and increase competitiveness of Canadian oral health researchers at both the national and international levels.
Translate discoveries to health and better oral health care by accelerating transition from bench to clinics to market.
Twitter: @NCOHR
Facebook: @NCOHR.RCRSB
The Neuromuscular Disease Network for Canada (NMD4C)

Nominated Principal Investigator: Dr. Hanns Lochmüller
Host Institution: CHEO Research Institute (Ottawa, Ontario)
NMD4C is a new Pan-Canadian network that brings together the country's leading clinical, scientific, technical, and patient expertise to improve care, research, and collaboration in neuromuscular disease (NMD). Launched in January 2020, it aims to improve the care, research and treatment of NMDs for all Canadians through national and international collaboration, resource sharing, capacity building and dissemination in priority research areas. Its vision is to be a comprehensive, inclusive, open and enduring network for Canadian stakeholders to share expertise and data, collaborate on joint activities, and work together on research for the benefit of Canadian patients.
NMD4C builds on the strengths of existing national initiatives such as the Canadian Pediatric Neuromuscular Group (CPNG), the Canadian Neuromuscular Disease Registry (CNDR), Muscular Dystrophy Canada (MDC), and the former Canadian Neuromuscular Disease Network (CAN-NMD). NMD4C supports patient engagement and follows a "nothing about me without me" philosophy. Patient partners are co-leads/participants in every networking activity and a patient representative sits on the Steering Committee, governed by a MOU.
Objectives and Priority Areas:
Formalize and sustain a network of NMD stakeholders united around a cohesive three-year work plan.
Train and educate the next generation of NMD stakeholders (clinicians, scientists, and patient advocates).
Raise the standard of care for NMD and access to therapies across Canada (KT and dissemination).
Strengthen biomedical and clinical infrastructure to build research capacity in Canada.
Twitter: @NMD4Canada
Skin Investigation Network of Canada (SkIN Canada)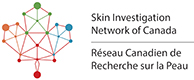 Nominated Principal Investigator: An-Wen Chan
Host Institution: Women's College Hospital (Toronto, Ontario)
The vision of the Skin Investigation Network of Canada (SkIN Canada) is to catalyze and sustain innovative, patient-driven, high quality research that improves the skin health of Canadians. The Network's mission is to advance skin research in Canada by creating a national forum, guided by patients and knowledge users, to strengthen and harmonize collaborations and capacity in the skin research community. The Network currently focuses on three areas: 1) inflammatory skin conditions; 2) wound healing, skin fibrosis, and regeneration; and 3) skin cancer. By mapping the skin research landscape, developing critical national infrastructure, and providing Team Development awards and capacity building opportunities for trainees, the Network will break down barriers and catalyze interdisciplinary collaborations.
Objectives and Priority Areas:
Develop and strengthen national infrastructure that will empower research teams to operate with greater scale and efficiency.
Identify priority research questions and create novel, multidisciplinary collaborations involving new teams of researchers and knowledge users.
Grow the community of successful skin researchers by developing talent across academic ranks and training levels.
Date modified: