Celebrating Champions

How Social Media Influencers Can Promote Patient Engagement in Health Research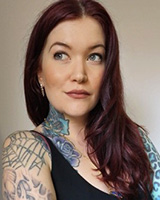 Eileen Davidson was diagnosed with Rheumatoid Arthritis at 29. Shortly after she placed on long term disability, like many other Canadians living with the debilitating disease. After a tumultuous journey with medications, many doctor appointments and treatments, Eileen manages her rheumatoid arthritis with biologics, healthy eating and regular exercise.
A Stark Response to a Debilitating Diagnosis: Becoming an Advocate
As a response to her debilitating illness - Eileen took to blogging and created Chronic Eileen, as a way to understand what she was going through, to cope, create awareness for RA and to help others feel less alone. Her blog has been recognized as one of the top arthritis blogs to follow by a number of health websites. Eileen is now a regular writer for Creaky Joints. When not blogging or being a mom, Eileen volunteers as a member of Arthritis Research Canada Patient Advisory Board (APAB) or as a CIHR-IMHA Patient Engagement Research Ambassador (PERA).
Bringing Research to Life: How a Social Media Influencer has Ameliorated Arthritis Research
Over the last few years, Eileen has done a number of exciting things for advocacy especially with Arthritis Research Canada scientist Dr. Jasmin Ma - Jasmin is focused on supporting strength training behaviour change and developing methods for tailored physical activity interventions among people with rheumatoid arthritis. Together they have also co-presented at a number of conferences, most notably at the 2019 American College of Rheumatology conference.
On working with patient partners Jasmin reflects "I'd say having a blogger has been a great partnership for a few reasons including helping me to better understand the people living with RA, recruitment. It's been an organic way of helping to share our research. With their reach, you get to connect with such a wide range of people living with RA and you help bring those voices to the table. With Eileen's help with recruitment we hit our sample size in a matter of weeks."
Read more about Jasmin and Eileen's collaboration on Creaky Joints
Patient Partners Can Keep You Grounded and Add True Value To Your Research
Li, a Professor and researcher with Arthritis Research Canada highlights that "Patient partners have kept me grounded, challenged me to ask questions that matter, and helped my team to design research that is feasible and practical from the perspective of patients.Patient partners like Eileen have helped so much in getting the words out to the world, anything from recruitment to the final results. These collaborations have been invaluable!"
Read more about Eileen and Dr. Linda Li's partnership on Healthline
Date modified: