Partnering For Pain: A priority setting partnership to establish patient-oriented research priorities in pediatric chronic pain
By Dr. Kathryn Birnie, PhD RPsych, Psychologist and Lead for the #PartneringForPain project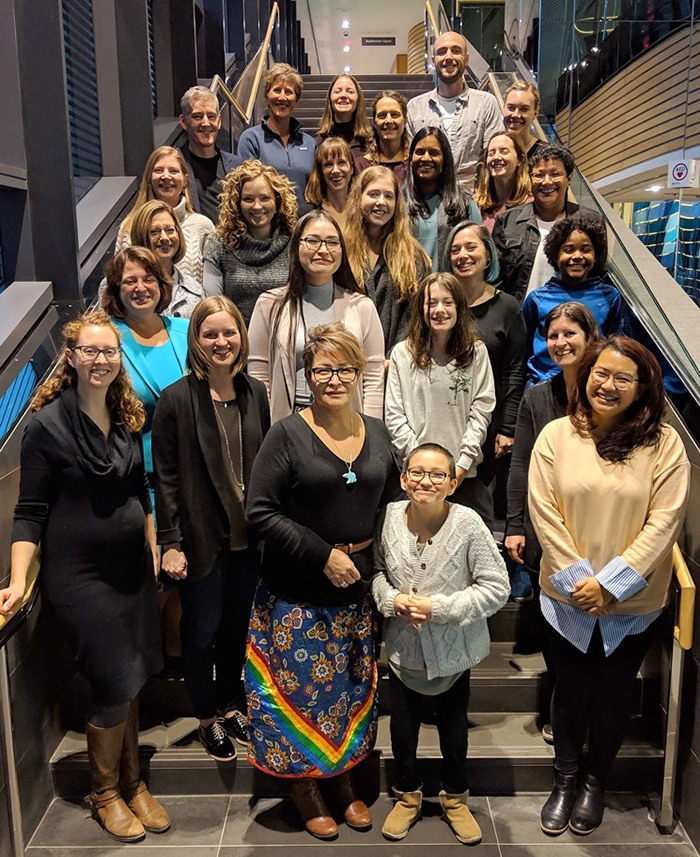 One to three million Canadian children and teens live with pain lasting months to years. Children with chronic pain and their families are experts on what it's like to live with pain, but until now, research did not focus on issues they care about most. Over the past year, our national Partnering For Pain [ PDF (235 KB) - external link ] team undertook a rigorous James Lind Alliance partnership process to identify the top research priorities in pediatric chronic pain in Canada. We engaged youth and adults who experienced chronic pain during childhood, family members, and healthcare providers who have treated pediatric chronic pain across three priority setting stages: (a) a national survey with 215 Canadians who identified 540 potential priorities; (b) an interim survey with 57 individuals who rated the importance of those priorities; and (c) a final in-person workshop with 20 individuals who reached consensus on the final Top 10 list.
Partnering For Pain is overseen by a cross-Canada team of young adults currently living with chronic pain, parents, multidisciplinary healthcare providers, researchers, and patient groups (PainBC, the ILC Foundation). The final top 10 identified priorities are a call to action to ensure that future research in pediatric chronic pain focuses on what is most important to people who will use the results in their everyday lives.
What treatments or strategies effectively prevent acute pain from becoming chronic in children and adolescents?
What is the impact of living with chronic pain on children's and adolescents' academic performance and educational attainment, and what strategies best support vocational planning for children and adolescents with chronic pain?
What physical and psychological treatments are effective for improving pain and function in children and adolescents with chronic pain?
What strategies improve access and delivery of evidence-based treatments, and coordination of care, for all Canadian children and adolescents with chronic pain, and their families, with a view to reduce disparities?
What strategies effectively increase healthcare providers training, knowledge, recognition, beliefs, attitudes, and communication about the validity and risk of chronic pain with children and adolescents, and its evidence-based treatments?
What strategies effectively increase governmental and healthcare organizational financial support for evidence-based pediatric chronic pain care in Canada?
What strategies for educating school personnel about pediatric chronic pain effectively increase their awareness, understanding, and recognition of the validity, impact, and treatment of pediatric chronic pain?
What interventions are effective for managing acute pain flares in children and adolescents with chronic pain?
What is the interaction between chronic pain and mental health symptoms in children and adolescents, and when and how can co-occurring chronic pain and mental health symptoms be most effectively diagnosed and treated?
When are treatments for chronic pain in children and adolescents most effective?
Funding acknowledgements: Partnering For Pain is funded by a Patient-Oriented Research Collaboration Grant from the Canadian Institutes of Health Research, as well as funding from The Hospital for Sick Children, the Alberta Children's Hospital Research Institute, the Saskatchewan Health Research Foundation, the Dalhousie University Faculty of Medicine, and the Children's Hospital of Eastern Ontario Research Institute. In-kind support was provided by the Chronic Pain Network (CIHR SPOR). Additional funds for knowledge translation were provided by an EMPOWER Award from the Ontario SPOR Support Unit.
For more information,
Email: kathryn.birnie@sickkids.ca
Watch: Project Video
Read: Project article in Pediatric Pain Letter [ PDF (235 KB) - external link ]
Search: Twitter @katebirnie; #partneringforpain; #partenairespourladouleur
Date modified: