Patient Perspective: Research Ambassador Spotlight – The Trouble with Dupuytren's Disease
By Jonn Ord, IMHA Research Ambassador
Dupuytren's is a disease of the connective tissue, the most abundant tissue in the human body.
Visibility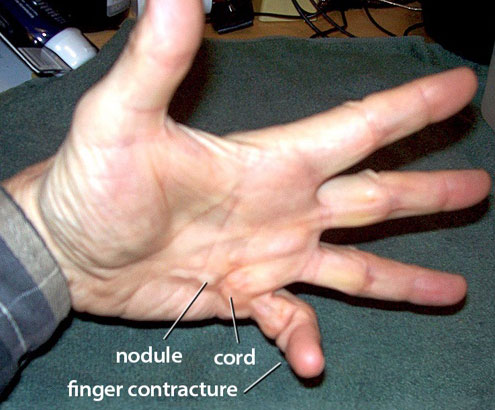 The trouble with Dupuytren's Disease is that it is relatively invisible. You can see the crippling effect it has on your hands of course. But because it develops so slowly over the years, coupled with the fact that many people don't know they have a disease, the condition is often not seen by a doctor until it reaches later stages. As a result, Dupuytren's is under reported at the patient level and less documented by family physicians. This disease is the most common and most unrecognized heritable disease of the connective tissue.
This video by the Dupuytren Foundation describes the disease.
There is currently no cure for Dupuytren's Disease. If you see your Family Doctor, he/she MAY refer you to a surgeon for open hand surgery.
Alternatives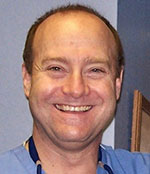 I am a musician living in Ontario, and for most of my life, I relied on my hands for my career. I decided to search for options other than surgery and discovered alternative treatments in the United States, the United Kingdom and Europe.
One of the most common treatments abroad is a procedure called needle fasciotomy. The doctor uses a sharp needle to sever the collagen cords that form in the connective tissue fascia of the fingers and palm. Developed in France and brought to North America by Dr. Charles Eaton, this technique is performed under local anesthetic. I received this procedure at his dedicated facility in Florida. As a result, the finger(s) are immediately released and straightened in quite a miraculous way.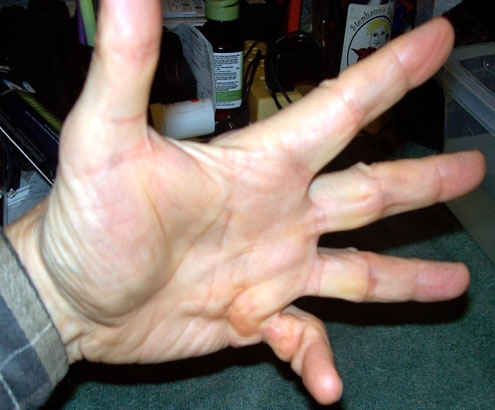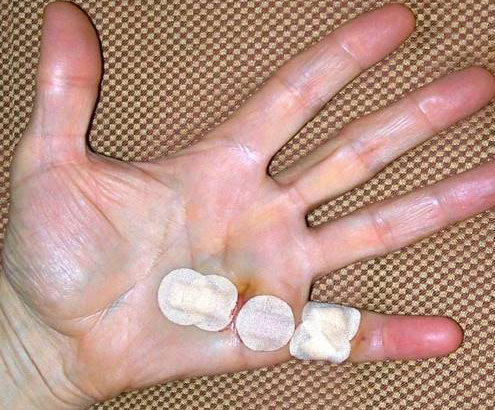 Dupuytren's Disease often returns. As I continued my research, I discovered that radiotherapy is the only treatment with the potential to stop the disease in its early stages. I was assured that radiotherapy was only available in Europe or the UK and certainly not in Canada. As Germany has the longest history of providing this treatment, where it is common and relatively inexpensive, I booked a plane ticket and packed my bags.
This is Dr. Herkströter near Frankfurt, showing one of the metal shields used to outline the target area of the radiotherapy beam. He has Dupuytren's himself and has collected much data and many stories over the years about this treatment and how it has helped people from numerous countries.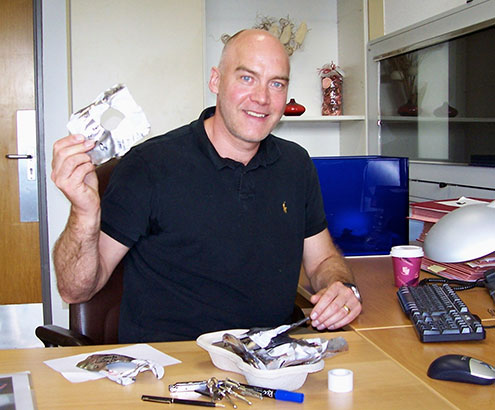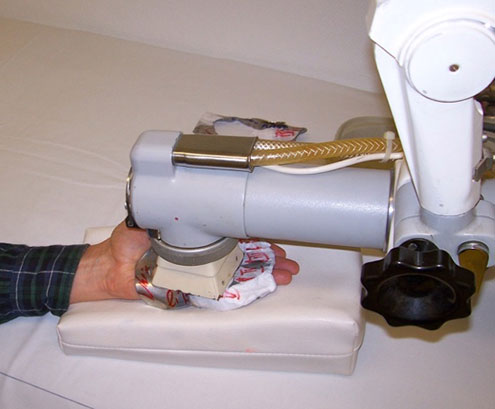 The treatment requires a daily visit for 5 days, and is repeated about 6 weeks later. The actual treatment only lasts 19 seconds.
When I returned from Germany, I found out, largely by chance, that radiotherapy IS available in Canada. I was surprised and excited when I discovered this, but when I eagerly 'interviewed' the unit doctors at Princess Margaret Cancer Centre I found they only treated about two patients per year. They also did not treat the condition proactively, but only after other treatments had failed. They acknowledged that their service was almost completely unknown even among the specialists in the field. They knew of no other facility in Canada that treated Dupuytren's with radiotherapy at that time (2013).
It turns out there are currently about 10 locations across Canada which have the equipment and capability to treat Dupuytren's Disease with radiotherapy IF they knew that they could do it and IF they had the protocols for the treatments. This is a network waiting to be activated.
The prevalence rate for Dupuytren's in Canada is still unknown as we haven't done important surveys. In the United States, the estimates for Dupuytren's run as high as 25% of men over 70. Women tend to develop symptoms later but end up with equal numbers compared to men in later years.
Any sign of Dupuytren disease: % of US population v. age and gender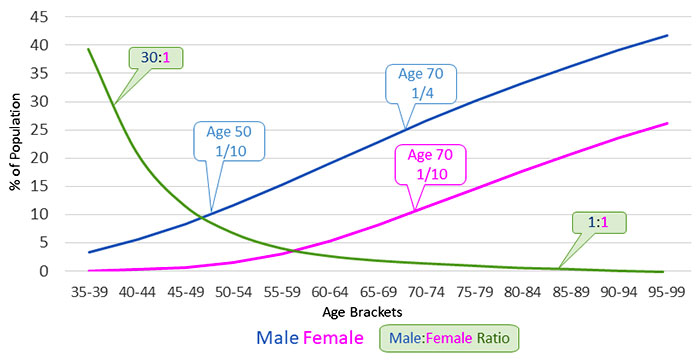 Coverage
After my return from Germany, I faced another challenge: this one around health insurance. Coverage for my radiotherapy treatment was rejected by OHIP, because it was "not offered in Ontario", not supported by a Canadian specialist and considered an experimental therapy. Now armed with a letter of support from a Canadian specialist, and the fact that radiotherapy for Dupuytren's is in fact a covered, non-experimental service done in the province, I launched an appeal with the Health Services Appeal & Review Board.
I suggested that my failure to locate this service was more a reflection of their failure to make the service 'known and available' to anyone - even to the specialists in the field as is required by the federal health services mandate through the Canada Health Act.
OHIP acknowledged that radiotherapy is a covered service. However, the OHIP doctor at the hearing countered that it was not their job to be accountable to their federal mandate to make covered services known and available. In the end, the review board ruled in my favour, stating that radiotherapy IS a covered service and 'readily available'! While not 'readily available' yet, I felt this was a giant step for Dupuytren's patients in Canada.
Research
In spite of the fact that Dupuytren's has, in my opinion, an overall lack of visibility in Canadian health care priorities, there are excellent researchers working on different aspects of this disease. In Canada, Dr. David O'Gorman at the Lawson Health Research Institute is focused on Dupuytren's related immunology. Dr. Boris Hinz at the University of Toronto, is researching the fundamental aspects of cellular contraction in connective tissue. Other researchers are searching for a biomarker to identify the disease and allow for the evaluation of treatments.
In the United States, Dr. Charles Eaton (my first surgeon) set up the Dupuytren Foundation and Research Group whose main objective is to find a cure for Dupuytren's Disease. He notes that the biology of this disease involves many facets: genetic, immune, age, tissue repair, inflammation and mechanobiology. It is considered by many to be an inflammatory disease. Dr. Eaton considers Dupuytren's as "a flagship systems biology disease". Discovering how to deal with it will pave the way for progress with other complex multi-system diseases. Dozens of new articles appear each month about Dupuytren's Disease and its related conditions.
Moving Forward
In Canada we are ironically well equipped but relatively ill prepared for what will be needed to address this disease in the years to come. Dupuytren's Disease hides in families, goes unnoticed by friends and has lacked impact awareness, medical record documentation, and research priority by professionals for too long. With Baby Boomers now showing up as Dupuytren's patients in doctors' offices with increasing numbers, this disease is gaining more attention in the medical community. More hand surgeons are treating Dupuytren's, however many are overloaded and wait times are increasing. The sarcoma unit at Princess Margaret Cancer Center has had to reorganize to accommodate more Dupuytren's patients seeking radiotherapy.
As a country only beginning to marshal its considerable resources against this disease, significant advocacy, research and funding are required to put us on the map - and to find out what this map even looks like in Canada.
For example, from my perspective, we need to:
Fund prevalence studies to characterize the incidence of Dupuytren's Disease in Canada. These epidemiological studies would show the severity of the disease in a geographic distribution of patients by province as well as rural vs urban. More importantly, hard data on the financial burden of current Dupuytren's management on the Canadian healthcare system and workforce productivity would help guide healthcare policy reform.
Study and document all the available procedures to find out more about the variations of the disease and the responses to different treatments.
Partner and collaborate with pioneering organizations such as the Dupuytren Research Group in the US to identify biomarkers and establish evidence-based treatment protocols in North America.
Activate the existing network of radiotherapy clinics across Canada that could pro-actively treat Dupuytren's Disease in its early stages with a good chance of stopping or delaying the disease progression. As well as saving hands (and feet) this procedure is quick, inexpensive and cost effective.
Build on the good skills and resources that already exist in Canada, such as emphasis on surgeon training in needle fasciotomy, now probably the most common minimally-invasive treatment for Dupuytren's Contracture in Europe.
Raise awareness and understanding of this disease in the Canadian public, the Canadian medical profession and the funding/research groups in Canada.
Together, we can change the visibility of this disease.
Date modified: