Mental Health in the Early Years (MHITEY) Initiative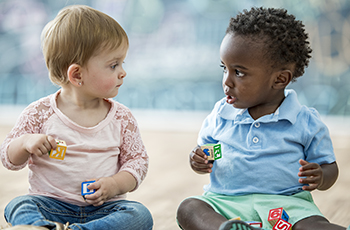 1 in 5 Canadians experience mental health or addiction problems in any given year
70% of these problems have their origins in childhood
CIHR-IHDCYH is investing in research targeted at addressing mental health in the early years through an initiative comprised of three funding opportunities
Related reading: Mental Health Commission of Canada's Catalyst article: MHCC research inspires funding opportunity
In 2019, with a mandate from Health Canada to prioritize mental health in the early years, the Mental Health Commission of Canada (MHCC) completed a review of the state of mental health evidence, services and policies to help inform and advance the mental health strategy for Canada.
Early life experiences not only influence social and emotional development, but also affect the physical architecture of the brain, which impacts mental health for life. Currently, fewer than 20% of the 1.2 million children experiencing mental health issues are receiving appropriate treatment and care – there is a lot of room for improvement.
Increased societal awareness of the importance of early childhood mental health, training and education for all professionals working with young children, families and caregivers, and better access to services and community-based and evidence-based prevention and promotion strategies are key areas of need. There is also a need to enhance our understanding of the impacts of adverse childhood events (ACEs) and trauma on mental health and brain development with a focus on low-income, racialized and Indigenous populations.
To address these gaps and priorities, the MHITEY Initiative is made up of three funding opportunities.
Project Grant Priority Announcement Bridge Grants
Project Grant Priority Announcement Bridge Grants support research projects that aim to enhance our understanding of factors that can affect early brain development and increase the likelihood of negative mental health outcomes, as well as factors that promote resilience and positive mental health. IHDCYH funded three one-year bridge grants for $100,000 each:
Mental Health in the Early Years Implementation Science Team Grants
The goal of this funding opportunity is to fund implementation science research that enhances our understanding of how to improve the systematic and equitable implementation of evidence-based interventions for young children (ages 0-5) and their caregivers that address one or more of the following areas:
Promotion of positive socio-emotional development and mental health in early childhood;
Prevention of the development of early childhood mental health issues; and
Treatment of young children living with or at risk of developing mental health issues through integrated, coordinated and person-oriented care.
Funding partners include the CIHR Institute of Indigenous Peoples' Health (IIPH), Institute of Neuroscience, Mental Health and Addiction (INMHA), Institute of Health Services and Policy Research (IHSPR), and the Strategy for Patient-Oriented Research (SPOR).
Read full list of awardees and their project abstracts.
Learn more about these projects:
Knowledge Development and Exchange Hub (KDE Hub) for the Mental Health in the Early Years Implementation Science Team Grants
For research evidence to have a strong likelihood of being taken up into practice or policy, it is important to integrate knowledge mobilization, dissemination and exchange at all stages of research programs. To facilitate this, successful MHITEY Teams must include knowledge users, knowledge mobilization expertise and people with lived/living experience on their research teams. An anticipated partnership with the existing Public Health Agency of Canada-funded mental health promotion Knowledge Development and Exchange Hub (KDE Hub)  will also support this goal, by providing dedicated, coordinated and complementary knowledge mobilization, networking and evaluation support to the successful MHITEY Implementation Science Teams.
Learn more about the KDE Hub in their project abstract and via the profile linked here:
Dr. Alice Schmidt Hanbidge
Dr. Colleen McMillian
For information about the CIHR Institute of Human Development, Child and Youth Health Mental Health in the Early Years (MHITEY) Initiative, please contact:
Date modified: