New Brunswick patient-navigation centre helps children and youth with complex care needs and their families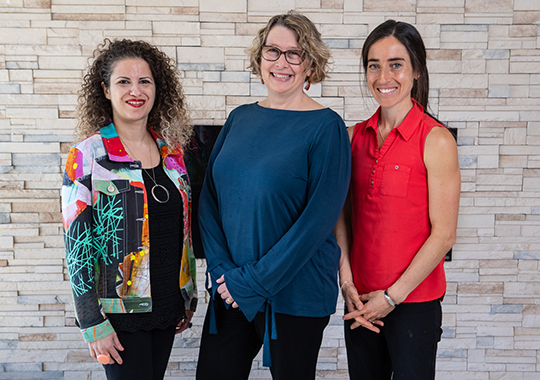 April 30, 2019
Caring for a child can be overwhelming at the best of times but this only multiplies when that child has complex care needs. Parents and caregivers can experience high levels of added stress as they try to navigate what can be a very complicated system.
A research-based centre is addressing these needs and helping parents and caregivers in New Brunswick navigate the services available for children and youth with complex care needs. These children often require the services of multiple health, education, or social service providers. They need to access specialized programs within, or even outside of, the province.
NaviCare/SoinsNavi, a navigation centre for children and youth with complex care needs was developed by researchers Dr. Shelley Doucet and Dr. Rima Azar. The centre employs two patient navigators who work with clients (families and care providers) across New Brunswick primarily by phone and email. Housed at the University of New Brunswick Saint John campus's  Centre for Research in Integrated Care (CRIC), directed by Dr. Doucet, NaviCare/SoinsNavi is well equipped to conduct research and improve the model of care in real time.
Dr. Doucet, the Jarislowski Chair in Interprofessional Patient-Centred Care in the Department of Nursing and Health Sciences, and Dr. Azar, an associate professor of health psychology at Mount Allison University, met through their involvement as co-scientific leads of the New Brunswick SPOR Network in Primary Care and Integrated Health Care Innovation (PIHCI).
In 2014, the New Brunswick Children's Foundation invited the researchers to submit a proposal to study how to improve healthcare for children in the province. After conducting a needs assessment with a diverse group of stakeholders, including families and healthcare providers, they identified a need for navigation services to help families with children and youth with complex care needs better access programs and resources across health, education, and social services in a timely manner.
"We found that not only did the families need help navigating these services, but professionals across all sectors needed help too in a system where services and resources are constantly changing," said Dr. Doucet.
With a generous grant from the New Brunswick Children's Foundation, they implemented NaviCare/SoinsNavi, a free, bilingual and personalized patient navigation service for children and youth with complex care needs. The centre serves youth, families, and care providers.
"The centre's patient navigators are bilingual. We are proud to be offer free-of-charge services to NB families and/or professionals in their preferred language," added Dr. Azar.
Patient navigators help clients articulate what may be specific requests or general concerns into service goals that guide their navigator-client relationship. During the first intake call, the navigators take the time to listen to their clients, assess their needs, and set actionable goals.  
The patent navigators help coordinate patient care and facilitate transitions in care (from pediatric to adult care, for example). Moving forward, NaviCare/SoinsNavi is working on the development of an online peer support tool where families can support and assist each other. When needed, the navigators also serve as advocates for the families. Client are never turned away and there's no need for a referral or diagnosis to access the services of the centre.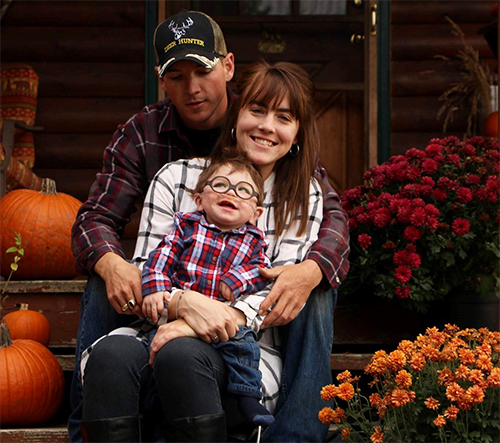 One of the centre's client's is Hannah McGee whose son Jackson was born prematurely. At birth Jackson weighed only one pound, ten ounces and spent more than 100 days in the neo-natal intensive care unit.
Jackson's pediatrician referred McGee and her husband to NaviCare/SoinsNavi where a patient navigator has been helping them find both services and funding support needed for Jackson.
Most recently, Hannah's navigator arranged for Jackson to travel to Boston this summer to receive three weeks of intensive therapy at a specialized centre. Because the therapy is not covered by the provinces health plan, the navigator found financial support for the trip.
NaviCare/SoinsNavi is more than patient navigation service, it's also living laboratory where Dr. Doucet and Dr. Azar, along with research associate Dr. Alison Luke who oversees the evaluation of services, conduct research, and supervise clinical and research trainees. This research has been supported with grants from the Canadian Institutes of Health Research and the New Brunswick Health Research Foundation.
"Since we started we've been carrying out an ongoing evaluation," said Dr. Doucet. "The information we're collecting is helping identify barriers and gaps in services." They are using this to inform the provincial government and to advocate for changes in the system.
Since it opened two years ago, the centre has served over 120 families. "The response to services has been overwhelmingly positive", said Dr. Luke. Interviews have shown that families have less stress, more knowledge about programs and services, and improved coordination of care for their children.
"It's rewarding to hear positive feedback from our clients," said Dr. Doucet. "It's also rewarding to receive thanks from trainees and to see them grow both personally and professionally during their time with the centre."
Follow NaviCare/SoinsNavi on Twitter: @NaviCareNB
Date modified: