HOMEBASE: Helping men deal with chronic pain and associated social isolation
By Valerie Khayat, HOMEBASE Communication/Media Relations

Six years ago, Richard Hovey, an Associate Professor in the Faculty of Dentistry at McGill University and IMHA Research Ambassador, was in a cycling accident that suddenly left him in chronic pain. He had researched pain for years and was now living it first-hand. His experience in the healthcare system led to the creation of HOMEBASE, an organization to help men with chronic pain rebuild their lives. HOMEBASE, one of 13 projects worldwide, received pilot funding as part of the Movember Foundation's Social Innovators Challenge. This Challenge, initiated in 2015, called for "innovative, outside-the-box ideas for game-changing products or services which could increase the quantity and quality of men's relationships, and thereby improve their mental wellbeing".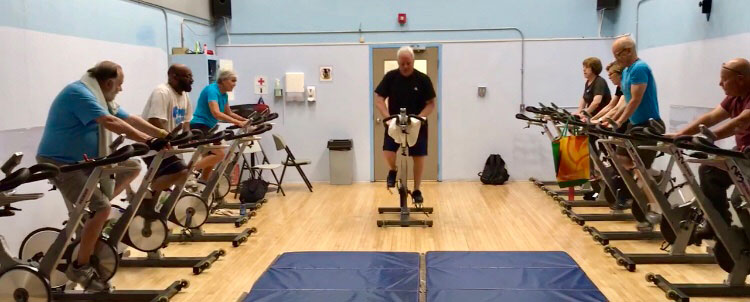 Chronic pain steals your identity, your work and your relationships. HOMEBASE is a community-based initiative (with a research component) for men dealing with chronic pain to develop opportunities for social connection through a wide range of specific men-oriented activities. Programs are designed to allow participants to start at a place they feel comfortable and continue at their own pace. These opportunities give participants access to different options. They are designed to help men in chronic pain connect with others, exercise safely, work on community projects, and gain new skills that can help them live well with chronic pain. The programs are focused on men but open to women who are interested in joining.
HOMEBASE officially launched in November 2018 and already has over 50 members. We are now in a position to welcome more! The project works in partnership with the Notre-Dame-de-Grâce (NDG) YMCA, MKRLAB, Chronic Pain Support Group Montreal, Association québécoise de la douleur chronique (AQDC), and a variety of other collaborators. Currently, HOMEBASE is only available in Montreal, but has the goal to grow the project across Canada. Everyone can still benefit from the HOMEBASE movement and its resources by signing up to receive our Newsletter.
More information
Visit: HOMEBASE; read CBC News article NDG community group helps men with chronic pain find their Homebase; listen to CBC reporter Sonali Karnick's interview: Movember Foundation funds "Homebase" organization in Montreal.
Date modified: