Welcome to new Youth Advisory Council members and congratulations to our current council members for their many accomplishments in the last year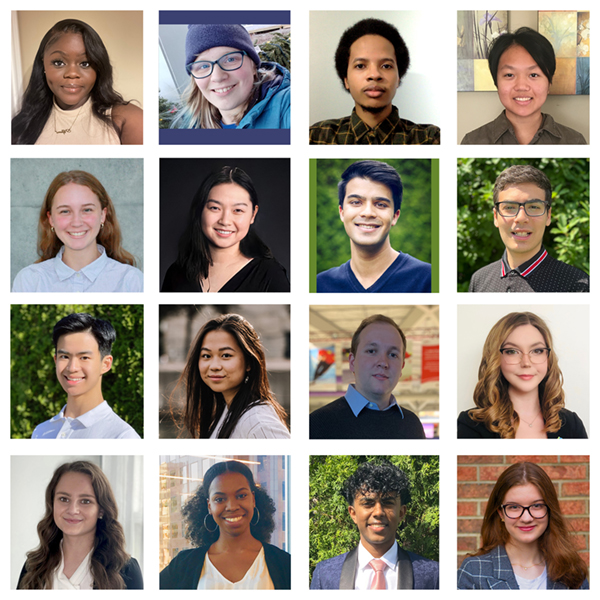 August 12, 2023
Today, on International Youth Day, CIHR-IHDCYH is pleased to welcome four new members to our Youth Advisory Council (YAC), joining twelve returning members. Welcome to Cassie, Jeremy, Nate and Maxine!
Every year we bring new voices onto the council and aim to ensure broad representation from across Canada; these four new members represent Nova Scotia, Prince Edward Island, British Columbia and Québec! Each of our members brings unique perspectives from their own communities, grounded in their personal lived experiences, educational pursuits, volunteer positions, and intersectional identities. Through this council's activities, members participate directly in projects and conversations related to health research priorities relevant to the well-being of children, youth, and families in Canada and beyond.
In the past year, council members helped disseminate IHDCYH's 2022-2026 strategic plan, including our focus on Empowered Youth, and brought council updates to our Institute Advisory Board at two in-person meetings. YAC members participated in multiple peer review activities, including collaborating with the College of Reviewers, and serving as reviewers for the 2022 IHDCYH Talks Video competition. Members moderated and shared their expertise on an all-youth panel at the 2022 Canadian Science Policy Centre conference. YAC members supported a broad review of IHDCYH communications activities, and working groups reviewed the council's terms of reference as well as recruitment approach. The biggest activity of the year was the July 2023 Healthy Youth Summit, and it was all hands on deck with the YAC members co-leading event development including taking on planning roles in working groups for logistics, content planning, event facilitation, and communications. During the Summit YAC members led event delivery by serving as emcees, moderators, panelists, and supported videography and photography, and two YAC alumni also participated as speakers. The council also established a new Instagram account @cihr_youth! The IHDCYH team is very proud of the impact the council has had in the last year!
Thank you to all applicants and our continuing council members for your engagement and for sharing your thoughts about the importance and direction of health and well-being research and services in your communities! Read about the YAC members on our website.
Thank you to our council members who have completed their terms and are becoming part of our YAC alumni network – it has been wonderful to work with you, Midhula and Malvina!
Date modified: