Progress Update – Action Plan: Building a healthier future for First Nations, Inuit and Métis Peoples
September 2021
Aanii, Tanshi, Ullukkut, Bonjour, Hello,
The Canadian Institutes of Health Research (CIHR) and CIHR's Institute of Indigenous Peoples' Health (CIHR-IIPH) are proud to share the progress made in 2020-2021 towards the commitments articulated in the Action Plan: Building a healthier future for First Nations, Inuit and Métis Peoples (the Action Plan). The COVID-19 pandemic has forced each and every one of us, including communities, organizations and institutions, to work differently and find solutions for many unforeseen situations. The progress described below is possible because of the strength and resilience of First Nations, Inuit, Métis and Urban Indigenous communities, and their ongoing work to advance health and well-being during this pandemic.
The launch of the CIHR Strategic Plan 2021-2031 (the Strategic Plan) in February 2021, represents an important milestone for CIHR and the Indigenous health research (IHR) community. The Strategic Plan, informed by engagement with Indigenous partners and communities, includes a dedicated top-level priority (Priority C) focused on accelerating self-determination of Indigenous Peoples in health research as well as strategies throughout the Strategic Plan to respect and uphold the rights of First Nations, Inuit and Métis Peoples. Priority C confirms continued and enhanced support for IHR initiatives by embedding both the Institute of Indigenous Peoples' Health Strategic Plan 2019-2024 as well as the Action Plan within the Strategic Plan. Priority C also contains three (3) supporting strategies, which includes advancing the health and well-being of First Nations, Inuit and Métis Peoples, accelerating the implementation of the Action Plan and removing barriers to Indigenous-led research. By listening attentively to and working with First Nations, Inuit and Métis Peoples, CIHR is embracing a distinctions-based and culturally safe approach to strengthening IHR and knowledge mobilization. To achieve equitable health outcomes, CIHR's ten (10) year vision for Priority C is to have Indigenous communities lead health research that focuses on resilience, wellness and Indigenous Ways of Knowing.
COVID-19 and IHR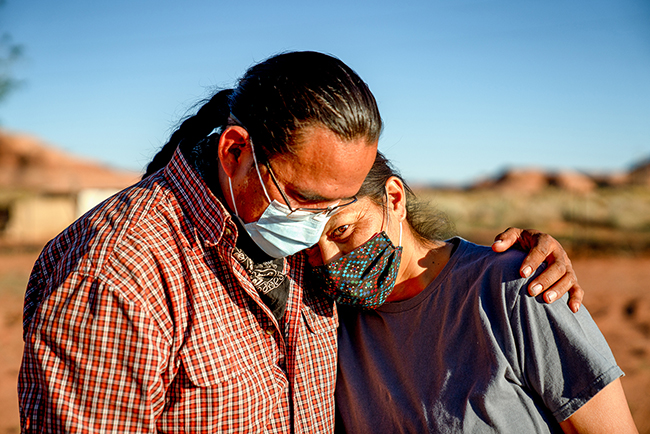 Over the past year, CIHR has been central to Canada's research response to COVID-19. This has included funding opportunities and engagements relevant to Indigenous communities' experiences with COVID-19, some of which are highlighted below.
Launched in April 2020, the Operating Grant: COVID-19 May 2020 Rapid Research Funding Opportunity, funded five (5) grants relevant to IHR. This funding was to enable rapid and timely research focused on slowing and stopping the spread of SARS-CoV-2. Research projects funded through this call were encouraged to amplify existing national and international networks in order to leverage efforts and increase timeliness, efficiency, and impact of response.
Also launched in April 2020, as part of the COVID-19 and Mental Health (CMH) Initiative, the Operating Grant: Knowledge Synthesis: COVID-19 in Mental Health and Substance Use, resulted in three (3) successful research projects in IHR. These grants were provided to enable the development of rapid and timely knowledge syntheses and related knowledge mobilization plans to address evidence gaps and build the evidence base as part of the mental health and substance use response to COVID-19.
Dr. Carrie Bourassa, Scientific Director of CIHR-IIPH has become a board member for the CanCOVID Network. The CanCOVID Network is an initiative committed to giving a line of sight on existing and emerging COVID-19 science and research to help inform policy and practices at the national level. In May 2020, Dr. Bourassa was appointed as a member of the Leadership Group for the Government of Canada COVID-19 Immunity Task Force. This Task Force is charged with leading a Canada-wide strategy focused on the mobilization of rapid and reliable knowledge to inform public health policy makers.
Launched in June 2020, the Operating Grant: COVID-19 Mental Health & Substance Use Service Needs and Delivery of the CMH Initiative funded three (3) grants in the research area Understanding Rapid System Transformations and one (1) grant in the research area Developing Innovative Adaptations of Services and/or Delivery for research projects involving First Nations, Inuit and/or Métis Peoples.
CIHR hosted a virtual Best Brains Exchange (BBE) in July 2020, in partnership with the Public Health Agency of Canada, to better understand the intersectional COVID-19 impacts on the health and well-being of priority groups in Canada. The BBE informed the Chief Public Health Officer's (CPHO) 2020 Annual Report on COVID-19, From risk to resilience: An equity approach to COVID-19, including the design of protective strategies moving forward. A complementary report, What we heard: Indigenous Peoples and COVID-19 has also been made available to reflect the content of Indigenous engagement sessions and describe fifteen (15) directions and challenges faced by Indigenous Peoples during the COVID-19 pandemic.
For the Indigenous COVID-19 Knowledge Synthesis, Evaluation and Assessment Grants Rapid Research launched in September 2020, thirteen (13) IHR grants were awarded. As mentioned in Dr. Carrie Bourassa congratulatory message, it is including five (5) Knowledge Synthesis Grants and eight (8) Evaluation and Assessment Grants which are representing a CIHR investment of over $2M. This funding opportunity was aimed at supporting strengths-based, solutions-focused research that is bold, innovative, Indigenous community-led, and that addresses the immediate, intermediate, and/or long-term consequences of COVID-19 and/or informs future preparedness.
Governance and strategic leadership
Appointments to the Tri-agency Reference Group for the Appropriate Review of Indigenous Research (Reference Group) were announced in September 2020. Comprised of eighteen (18) individuals with a deep cultural understanding of Indigenous research and Indigenous Knowledges, the Reference Group members will provide advice to the Tri-agency, CIHR, Social Sciences and Humanities Research Council (SSHRC) and Natural Sciences and Engineering Research Council (NSERC), on ethically and culturally safe peer review approaches and practices for research conducted by and with First Nations, Inuit and Métis Peoples.
To advance community-based research and access to research funding for Indigenous Peoples, individuals affiliated with Indigenous non-governmental organizations in Canada with a research or knowledge translation mandate are now also eligible to apply to the CIHR Project Grant competition as Nominated Principal Applicants. The updated eligibility criteria was first implemented in the Fall 2020 Project Grant competition and will apply to other strategic funding opportunities within CIHR. In recognition that the Canadian Common CV is a barrier for some groups, CIHR has developed a new Applicant Profile CV for Indigenous organizations and non-academic or international participants. It was piloted in several COVID-19 competitions and has been implemented in the Spring 2021 Project Grant competition. CIHR intends to implement this CV option more broadly and will continue to survey knowledge users and Indigenous applicants to evaluate the utility of this new tool and its use for other programs.
In January 2021, the Canada Research Coordinating Committee (CRCC) opened an Expression of Interest for First Nations, Inuit and Métis Peoples to participate in an Indigenous Leadership Circle in Research (Leadership Circle). The Leadership Circle will advise the Tri-agency and the Canadian Foundation for Innovation in implementing the CRCC Strategic Plan: Setting New Directions to Support Indigenous Research and Research Training in Canada 2019-2022 [ PDF (19 MB) - external link ]. The CRCC also published a progress report [ PDF (6 MB) - external link ] outlining priorities and actions taken in fiscal year 2019–2020 to mobilize Canadian research for the benefit of all Canadians, including improved research outcomes for the benefit of Indigenous communities.
In January 2021, Dr. Carrie Bourassa's Renewal of Term as Scientific Director of IIPH was announced for another four (4) years. Dr. Bourassa will continue to work to advance IHR and work with the communities to achieve the common goals identified in CIHR's Strategic Plan 2021-2031.
CIHR employees continue to participate in training to increase organizational capacity to interact with Indigenous Peoples and communities in a meaningful and culturally safe manner. This year's mandatory training included distinctions-based courses (First Nations, Inuit and/or Métis) through the Canada School of Public Service. These courses, developed with First Nations, Inuit and Métis Peoples, present the history and contemporary realities, and recognize the diversity of Indigenous Peoples across the country.
Community-Based Health Research
CIHR continues to identify opportunities to ensure its investment in IHR reaches a minimum of 4.6% of CIHR's Grants and Awards annual budget. For CIHR, impactful strategic initiatives developed by and with Indigenous Peoples is a high priority. In the 2020-2021 fiscal year, investment in IHR increased to 4.1% (amounting to 4.5% when considering that a portion of CIHR's budget was reprofiled from 2020-21 and made available for use in 2021-22 to continue to address emerging priorities and gaps in COVID-19 research). This represents an increase of $18.9M since 2019-20, for a total investment of $64M. 56% of the total $18.9M increase in IHR investment was dedicated to COVID-19 projects and for additional funding to support students, trainees and research support personnel funded through CIHR research grants, and students and postdoctoral researchers who are paid through scholarships and fellowships, to lessen the impact due to COVID-19. 
Across CIHR and all thirteen (13) Institutes, impactful strategic research initiatives were developed to contribute significantly to the health and wellbeing of First Nations, Inuit, Métis and Urban Indigenous communities. In the past year, CIHR has contributed funding and included IHR considerations in various areas of focus for Indigenous communities to advance IHR.
The Indigenous Healthy Life Trajectories Initiative Cohort Research Study (I-HeLTI) Cohort research study was launched in November 2020. This funding opportunity is open to the three (3) Indigenous-led teams funded through the previous Team Grant: Indigenous Component of Healthy Life Trajectories (I-HeLTI). In the fall, CIHR held a series of three (3) virtual strengthening workshops with the I-HeLTI Team Grant recipients to come together in anticipation of the Cohort Study application and discuss a wide range of topics, such as team networking, collaboration models and Indigenous data sovereignty.
As part of the Indigenous Gender and Wellness Initiative, which is a $7M investment, the Indigenous Gender and Wellness Team Grants (Phase 3) was launched in November 2020. This third phase will provide funding for Indigenous-led teams to implement their ideas through research and action-oriented, community-based participatory projects that will improve wellness for Indigenous Peoples from a gendered perspective.
In the same month, the Diabetes Prevention and Treatment in Indigenous Communities: Resilience and Wellness Team Grants was also launched. It will help define and integrate models of resilience and wellness into diabetes prevention and treatment approaches among First Nations, Inuit and Métis Peoples and support Indigenous-led and community-driven efforts to reverse the upward trajectory of diabetes in Indigenous communities.
The Network Environments for Indigenous Health Research (NEIHR) Program, now entering its second year of operations, has established a national network of Indigenous-led centres to conduct research, build capacity and enhance knowledge mobilization focused on the priorities and values of First Nations, Inuit and Métis communities.
The Catalyst Grants: Cannabis and Mental Health funded two (2) grants, under the Integrated Cannabis Research Strategy, that will support research focused on First Nations, Inuit and Métis Peoples' approaches to cannabis and mental health, and the Health Effects of Vaping Catalyst Grant funded one (1) grant focused on youth, including those from Indigenous/Métis communities.
The Strategy for Patient-Oriented Research (SPOR) SUPPORT Unit in Yukon (Phase I), was launched in January 2021 with a total of $5.25M awarded to support patient-oriented research (based on community priorities) in Yukon over five (5) years. As a component of the SPOR Capacity Development Initiative, the SPOR National Training Entity (NTE) was funded and launched in March 2021. The SPOR NTE involves significant engagement of, and relevance to, Indigenous Peoples in the context of patient-oriented research training and capacity development.
Community and partner engagement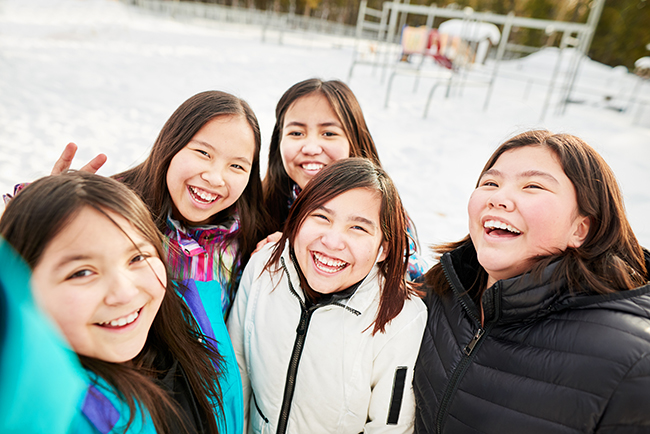 In October 2020, the partnership between CIHR and Inuit Tapiriit Kanatami (ITK) was announced. CIHR and ITK acknowledged the importance of Inuit-led health research and improving the health and wellbeing of Inuit at a national level, in accordance with the National Inuit Strategy on Research [ PDF (4.3 MB) - external link ].
In July 2021, Dr. Carrie Bourassa was elected to become a member of the Canada Foundation for Innovation (CFI). The CFI's mandate is to makes financial contributions to Canada's universities, colleges, research hospitals and non-profit research organizations to increase their capability to carry out high quality research.
At the international level, CIHR-IIPH continues to have regular virtual meetings with the Tripartite Agreement partners of the National Health and Medical Research Council of Australia and the Health Research Council of New Zealand to further the shared commitment to improving the health of Indigenous Peoples through research and capacity-building. Since 2019, Dr. Carrie Bourassa has been an active member of the International Research Advisory Board for the Health Research Council (New Zealand). Following a successful joint workshop in New Zealand in December 2019, planning is underway for the next International Indigenous Capacity Building Workshop.
As co-champions of the Action Plan, we reaffirm our commitments to continue engaging with First Nations, Inuit and Métis Peoples, including Urban Indigenous communities, to advance and strengthen IHR. We look forward to building on the progress accomplished to date to achieve the vision of equitable health outcomes outlined in the CIHR Strategic Plan through strengths-based and Indigenous-led research.
Miigwetch, maarsii, nakurmiik, merci, thank you,
Dr. Carrie Bourassa
Scientific Director
CIHR Institute of Indigenous Peoples' Health
Dr. Tammy Clifford
Vice-President, Research Programs
Canadian Institutes of Health Research
Date modified: