Join our new Older Adult Advisory Council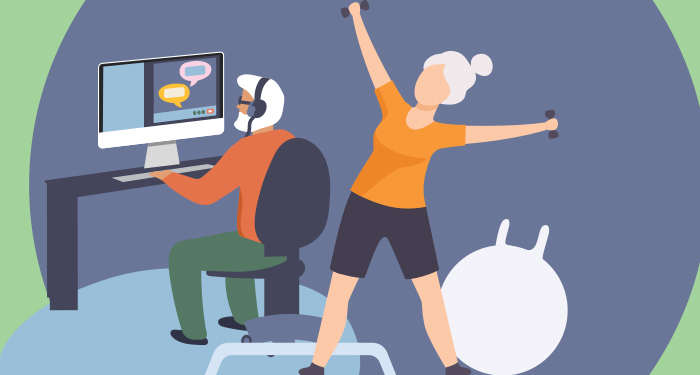 The Institute of Aging (IA) wants to hear from you! We are launching an Older Adult Advisory Council to guide and inform us on matters related to the well-being and quality of life of older adults, including the opportunities and challenges arising from a rapidly growing and increasingly diverse aging population.
We are looking for older adults, aged 60 years and older, and caregivers to someone over the age of 60 from all regions across Canada and from diverse backgrounds, perspectives, and life experiences, to contribute for a period of two years to IA research priorities. The Council will meet virtually two to three times per year, with possible additional online conversations throughout the year.
Apply by March 31, 2021 to join our Council.
For more information, send an email to ia-iv@cihr-irsc.gc.ca.
Frequently Asked Questions
What is the Canadian Institutes of Health Research (CIHR) Institute of Aging and what do we do?

CIHR is a federal government agency that funds health research to improve the lives of Canadians and people around the world. The Institute of Aging is one of the thirteen Institutes of CIHR and our mandate is to identify where new information is needed to improve the health and wellbeing of Canada's aging population and support research in these areas.

What is the Older Adult Advisory Council (OAAC)?

The OAAC is a new Council that will guide and inform the Institute of Aging on topics related to the health and wellbeing of older adults.

Why do we want your input?

We want to better understand and integrate the needs of people with lived experience into our research initiatives. Therefore, we want to hear from older adults and caregivers of older adults. By providing your input, you will help us gain a better understanding of research that is important to you.

Who will be part of the Advisory Council?

The Council will include a maximum of 12 members selected by the CIHR Institute of Aging. Only older adults aged 60 years and older, or a caregiver to someone over the age of 60 can become a member. Each member will be appointed for a term of two years with the potential of renewal for up to two additional years. There is no remuneration for being a member of this Council. Members of the OAAC will come from diverse backgrounds (i.e., life experiences, education, ethno-cultural, gender) and from regions across Canada. If you are not selected for the initial Council, you will be able to apply for future vacancies.

How and when will meetings be organized?

The Council will meet two to three times per year by videoconferencing [for example, by Zoom]. You will be required to have access to a computer and the Internet.

How do I apply?

If you are interested, please complete the application form.

Will my application form be kept private and confidential?

The information you provide in the application is collected under the authority of the Canadian Institutes of Health Research Act. The collection, use, retention and disposal of your personal information are in accordance with the Access to Information and Privacy Acts. Your personal information is stored securely and kept confidential.

When will decisions be made?

February 18 to March 31: Application process

April 1 to April 16: Review of applications and selection of members of the Older Adults Advisory Council

April 17 to April 30 – Notification to applicants on the status of their applications

How do I find more information?

If you would like more information, please contact us by email at: ia-iv@cihr-irsc.gc.ca.
Date modified: