Quality Assurance in Peer Review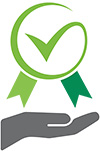 CIHR bases its funding decisions on peer review recommendations and its success relies on the research community's participation. Peer Review is the internationally accepted standard for determining excellence in scientific research and its integrity relies on the ability of reviewers to exercise fair and rigorous judgement through their participation and high-quality reviews. The College of Reviewers is implementing quality assurance practices in peer review for all reviewers in order to uphold the highest standards of excellence and integrity in our processes:
The Review Quality Guide describes how CIHR defines a high-quality review based on set criteria and assists all reviewers in applying standardized review quality criteria when completing their reviews.
The Review Quality Assurance (RQA) process measures and monitors reviewer's participation and performance in peer review. The process is designed to encourage and support high-quality reviews as well as recognize reviewer performance.
The CIHR Standards of Practice for Peer Review Agreement promotes transparency and peer review excellence by providing guidance on the expectations on peer review roles and responsibilities. The Standards will equip reviewers with the appropriate information to prepare for and participate in peer review.
Date modified: