New pan-Canadian network aims to boost health outcomes for preterm infants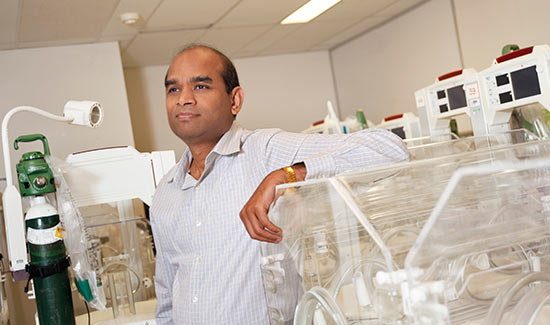 Having a baby is generally a joyful, life enhancing experience. But when a baby is born too soon, it may cause stress and long-term challenges for both the baby and their family.
The normal gestation period for a human fetus is 40 weeks. A baby born at 37 weeks or less is considered preterm. Those precious extra weeks inside the mother's womb are important for the baby to fully develop their brain and other organs.
In Canada, 25,000-30,000 babies are born preterm every year. Preterm birth is the leading cause of infant death in Canada. A third of these babies suffer serious complications, including infections, brain bleeds, breathing problems, eye disease, and a life-threatening intestinal disease called necrotizing enterocolitis. These complications and others may lead to life-long health challenges.
A new CIHR-funded pan-Canadian clinical research network is focused on preventing and managing the consequences of preterm birth. The network brings together researchers, families, doctors, nurses, and other healthcare workers from across the country.
The network is led by Dr. Prakesh Shah, a neonatologist and clinical epidemiologist at Mount Sinai Hospital, a professor at the University of Toronto, and director of the Canadian Neonatal Network.
"We want to give these preterm babies the best possible start at birth," says Dr. Shah. "Over the next five years, we aim to make measureable improvements in the care of extremely preterm infants and significantly increase the number of infants who survive without serious complications or chronic diseases."
The network builds on the collaboration established through the Canadian Neonatal Network. Dr. Shah and his colleagues have added expertise from researchers and clinicians working in fetal and maternal health, developmental pediatricians who work with these children after discharge home and experts in health economics and epidemiology.
Parents will play an important and central role in the network's activities. Two parents will serve on the network's advisory committee. They will help shape the research in ways that address the priorities of parents and improve the experience of being a parent of an infant being cared for in a neonatal intensive care unit.
Dr. Shah and his team will build a robust national database for the ongoing collection of maternal and infant characteristics related to preterm birth, so that they can understand who is at risk of preterm birth and what can be done to improve outcomes for babies who are born preterm.
They will also study the impact of promising novel interventions and improve the translation of researched interventions which have been shown to be effective into better care for infants and families.
"Neonatal intensive care units and neonatologists often deliver care in different ways," says Dr. Shah. "Through our work, we will help develop evidence-based standards of care that once in place can be used to test new interventions in NICUs across Canada."
The network is funded under the CIHR Institute of Human Development, Child and Youth Health's Preterm Birth Initiative.
Date modified: