Fueling minds with new knowledge and small bodies with nutritious breast milk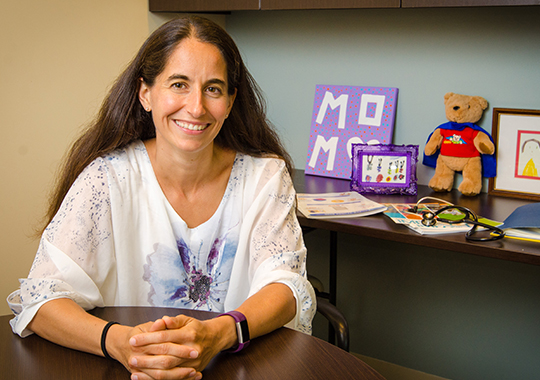 Dr. Catherine Pound is a pediatrician, researcher and medical educator at the Children's Hospital of Eastern Ontario (CHEO). She devotes much of her time to the study of breastfeeding and the support and promotion of this practice in the context of medical education.
Supporting breastfeeding one patient at a time
Breast milk is the ideal food for babies. It protects newborns against infections and other conditions. It also protects mothers against some types of cancers. Although exclusive breastfeeding is recommended for the first 6 months after birth, only 14% of Canadian mothers exclusively breastfeed their child at 6 months.
Doctors' recommendations have an impact on how long women will breastfeed. Dr. Pound aims to help health care professionals support breastfeeding by developing educational tools that can be incorporated into their training.
It's harder than it looks!
Figuring out how to breastfeed can be difficult.
"People expect it to be easy because it seems so natural," says Dr. Pound. "Fifty years ago, everybody did it. But when it's your first time and nobody around you knows how to do it, it can be challenging."
Dr. Pound believes that there is a great need to develop a solid learning program for pediatric residents. "What we learn as pediatric residents is that breastfeeding is important, but that's about it. We don't learn how to help somebody with breastfeeding problems."
Despite the proven health benefits attributed to breastfeeding, physicians are concerned about encouraging women to breastfeed and not allowing mothers to make their own choices.
"If we did a better job educating health care providers, mothers could make an informed decision about breastfeeding, rather than being forced to stop because they're not getting the help they need," says Dr. Pound.
By communicating, sharing research and encouraging discussion Dr. Pound strives to spread awareness about breastfeeding and its benefits. "If you can do something that's good for your baby and you're given the tools to do it, why not?"
Date modified: