Measuring Environmental Exposure Workshop
November 28-30, 2011
Montréal, Québec
Hosted by:
Institute of Human Development, Child and Youth Health (IHDCYH)
British High Commission
More than 60 government and academic researchers from Canada, the United Kingdom and the United States with expertise in the measurement of environmental contaminants in the context of human health attended the workshop. During the 3 days, participants engaged in plenary and small group discussions.
Objectives
Synthesize research expertise in the measurement of exposure to environmental contaminants in human populations, which is currently scattered both geographically and in disciplinary "silos"
Identify gaps and priorities in the current research landscape
Discuss areas for future research and synergies across research disciplines
Provide a forum in which to discuss the development of new measurement methods
Network and plan future collaborations and partnerships
Themes
Measurement issues
Synthesizing data on environmental exposure
Technological perspectives
This report captures the outcomes from the small group work and plenary discussions on research priorities, opportunities for collaboration, and next steps. It will be used by IHDCYH to help identify potential future partnerships and granting opportunities.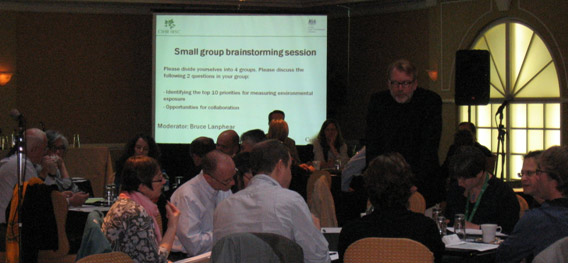 Photo: Participants discuss opportunities for collaboration during brainstorming session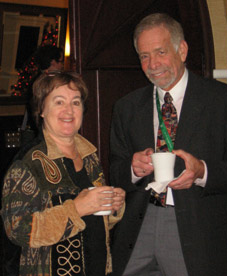 IHDCYH's Scientific Director, Michael Kramer, and participant Donna Mergler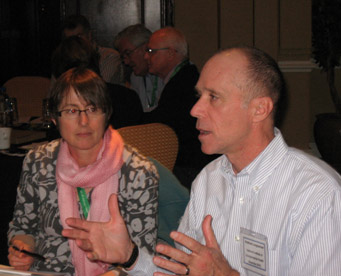 Participant Matthew Longnecker makes a point during small
group discussions
Date modified: