Sequencing Our Future: Institute of Genetics Strategic Plan 2022-2027
Commitment D: Strengthening the Community
Commitment D: Strengthening the Community
Healthcare Professional Education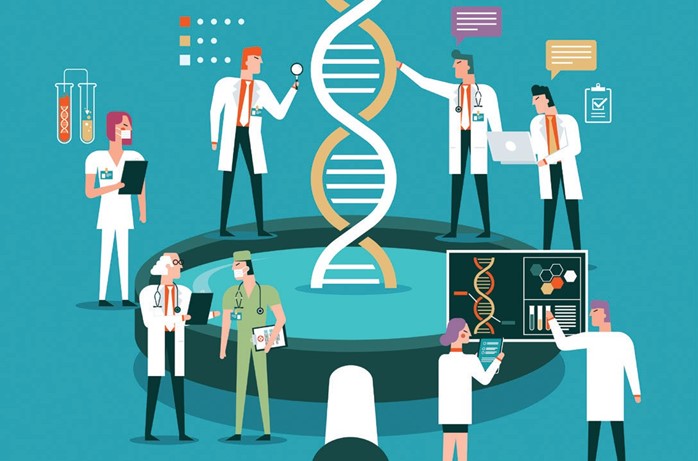 Adoption of genomics into routine care will require a clinical workforce that possesses a level of genomics knowledge and literacy to understand and best implement genomic testing and personalized medicines into current clinical pathways. Capacity building in both the education of clinicians, and the development of adequate interfaces providing "on-demand training" will be important. Also, the training of medical and clinical geneticists and genetic counsellors will be a major need for Canada in the very near term, as genomic medicine rapidly becomes a reality for day-to-day care. The Institute of Genetics is committed to increasing capacity through research on optimal training and educational outreach programs to ensure that genomic research and genomic medicine advances can be appropriately and ethically implemented into our healthcare system.
Health professional teams need to be enabled and supported when deciding which patients require genomic testing, and how best to convey the results of genomic medicine into current clinical practice. This requires appropriate referral pathways to be identified and instituted – supported by strong evidence and the alignment of genomic clinical findings across disciplines – to ensure information is shared and efforts are not duplicated. To achieve the infinity loop of a genomic learning health system, interdisciplinary teams of healthcare professionals, scientists, decision makers, and patients will need to be assembled to ultimately improve the health and well-being of people who live in Canada.
Defining solutions to optimize the training of healthcare professionals will be an important component of preparing healthcare communities for the genomic medicine revolution. The CIHR Institute of Genetics will embark on developing training programs to empower genomic literacy. We envision genomics training programs across numerous disciplines in our healthcare system, including medical doctors, nurses, allied healthcare professionals, and non-clinical staff to bring about a level of knowledge and awareness such that patients and society can benefit from genomic medicine. Research towards workforce modeling to inform determinations for training numbers across all medical professions, needs to be supported.
Computational Biology and Bioinformatics Training
A major bottleneck for the understanding and incorporating of genomic information into medicine and healthcare is our inability to analyze the large data sets that currently exist, and the exponential growth in the size of these databases that will occur over the next decade. There is a paucity of bioinformaticians, computational biology and health data scientists that can employ advanced methods such as AI and machine learning research for their application to improve human health and healthcare. Capacity building in this workforce is essential for Canada to take advantage of the logarithmic increases in genomic information that will occur over the near and long term. These computational aspects of modern science are crucial for the future of basic, translational, and clinical research.
The efficiency at which the computational biology and health data science communities need to be expanded has to occur rapidly and at scale. This expansion needs to ensure equity, diversity, and inclusion in the training of this class of researchers by incorporating outreach to underrepresented groups for inclusion in education, training, and career development. Research into current disparities in training, and the barriers that need to be overcome will inform optimal programs designs. Training and education programs can serve as a basis for establishing good open science practices, ensuring the use of FAIR principles for the use in, and the evaluation of, research impact.
Sustainability for scientific software deployment, use, and updating will need to be addressed as large databases are increasingly incorporated into both health research and health care.
General Literacy and Public Acceptability
Public genetic and genomic literacy is an essential and important aspect of genomic research and genomic medicine. Understanding public attitudes can assist in integrating genomics into research and care, as well as inform the development of public outreach and education strategies and platforms.
Research into perceived genomic knowledge versus actual knowledge, the sources used by the public to obtain this knowledge, and enabling uptake of accurate and meaningful knowledge will play an important role in ensuring people can make appropriate and informed decisions on the use of genomics in their own health, and the health of their dependents. Efforts will be required to ensure that all people who live in Canada have equal understanding of genomics in order to promote self-determination and reduce health inequities.
There currently exists a high level of public interest, as well as a concomitant high level of expectation, for genomics and its application to personalized medicine. There is great interest in understanding the family history of disease and personal risk for the future development of disease(s). As more members of the public become exposed to genomics in a healthcare setting, they will need to make decisions about their genomic data and its use.
The public has rightful concerns about who will have access to a person's genomic information and whether it can be used to discriminate against them. Much of the public is unaware that people living in Canada are protected by the Genetic Non-Discrimination Act which essentially prohibits anyone (or company) to require an individual to disclose the results of a genetic test without their consent, thereby protecting people who live in Canada from discrimination (e.g. insurance, employment) based on results of a genetic test. Concerns, and the solutions and governance, regarding data storage and security, data sharing and use for research, and the level of control and consent over access, are paramount. The use of genomics in medicine will be driven by both clinical utility and public uptake. Research to further our understanding of the public's views and attitudes will shape genomics research and the provision of genomic medicine.
Strengthening the Community – Supporting CIHR's Priorities
This commitment aligns naturally with the aim to strengthen Canadian health research capacity through training and career support (Priority B). But by doing so, it will also contribute to developing research excellence by ensuring that expertise in genomics and computational biology can be fully integrated in multidisciplinary research teams, increasing their strength (Priority A). Multidisciplinary teams are crucial in order to continue to push the boundaries of our evolving genomic landscape, as genomics increasingly contributes to the implementation of a learning health system (Priority E). Finally, through specific actions established in collaboration with Indigenous populations across the country, this commitment will also allow Indigenous people to make informed decisions about embarking in this era of computational medicine driven by genomics (Priority C).
Date modified: