Community-based Primary Health Care (CBPHC) 12 Innovation Teams
Summary of innovative models, scale-up, knowledge translation products and more (from 2013 to 2019)
Background
The 12 CBPHC Innovation teams were designed to develop and evaluate innovative models for community-based primary health care (CBPHC) that improve the prevention and management of chronic diseases and/or reduce inequities in access to CBPHC and health outcomes in vulnerable populations (see funding opportunity). The program objectives of the teams were five-fold: 1) develop, compare and/or spread innovative models of CBPHC; 2) scale-up successful models; 3) build capacity in CBPHC; 4) evaluate common set of outcome indicators; and 5) improve competitiveness.
The teams were composed of interdisciplinary, interprofessional and cross-jurisdictional researchers, clinicians, decision makers and patients/citizens (Figure 1). The 12 teams focused on intersecting and complementary CBPHC issues, including addressing general primary care transformation challenges (5 teams), managing specific conditions within the context of primary care (4 teams), and primary care transformation within Indigenous communities (3 teams). The research impact of the teams was self-evaluated in March 2019 with respect to the above-mentioned program objectives to date, and the findings are summarized below.
Figure 1 – The 12 team NPIs were localized across 11 Canadian provinces, but collaborated and partnered with stakeholders (researchers, clinicians, citizens, decision-makers) in their own province and across other jurisdictions.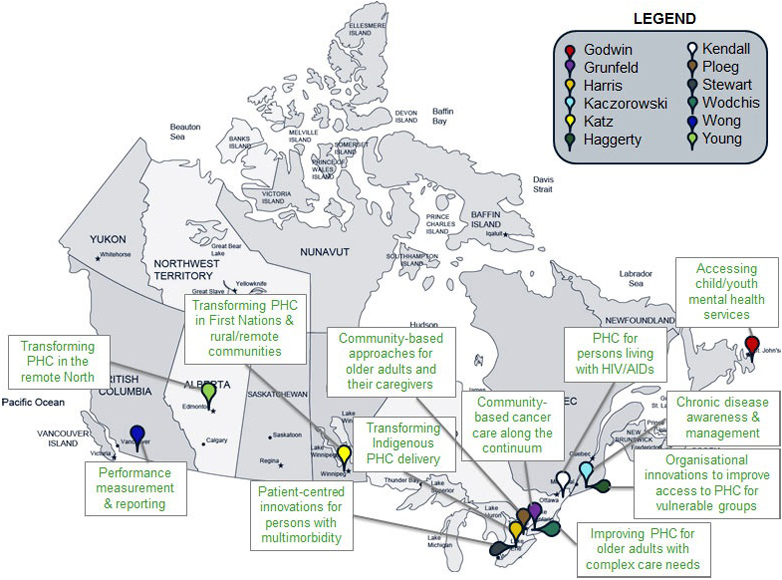 Long description

| Researcher | Province | Brief description |
| --- | --- | --- |
| Audas/Godwin | Newfoundland | Accessing child/youth mental health services |
| Grunfeld | Ontario | Community based cancer care along the continuum |
| Harris | Ontario | Transforming Indigenous PHC delivery |
| Kaczorowski | Québec | Chronic disease awareness and management |
| Katz | Manitoba | Transforming PHC in First Nations & rural/remote communities |
| Haggerty | Québec | Organisational innovations to improve access to PHC for vulnerable groups |
| Liddy | Ontario | PHC for persons living with HIV/AIDs |
| Ploeg | Ontario | Community based approaches for older adults and their caregivers |
| Stewart | Ontario | Person centered innovations for persons with multimorbidity |
| Wodchis | Ontario | Improving PHC for older adults with complex needs |
| Wong | British Colombia | Performance measurement & reporting |
| Young | Alberta | Transforming PHC in the remote North |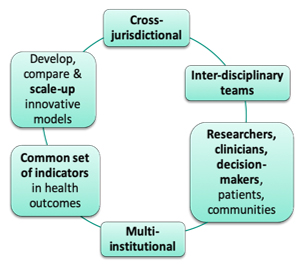 Innovative models
The 12 teams developed, compared and/or scaled-up novel and existing models of CBPHC across 11 Canadian jurisdictions and 6 other countries, including Australia and New Zealand which were co-funders of the program. Across Canada, the most studied jurisdictions were Ontario (studied by 9 teams), followed by Quebec (6 teams), Manitoba (5 teams), Alberta (4), British Columbia (4), Newfoundland and Labrador (4), Nova Scotia (4), New Brunswick (3), Northwest Territories (1), Nunavut (1), and Prince Edward Island (1).
Scale-up
The teams self-identified the top novel innovation or policy that stemmed from their research which they deemed most important for scale-up. The top innovation arising from each team, as defined by them, is listed below, with a link to the teams' webpages and/or innovative model:
General CBPHC
Specific conditions
Access-MH – Patient journey project to gather individual experiences in mental health
C-ChAMP – Scale-up previously successful CHAP (Cardiovascular Health Awareness Program)
Indigenous settings
FORGE AHEAD – Community-level quality improvement initiative
iPHIT – First-Nations focused wholistic model of CBPHC inclusive of mental health
CircHSIT – Research evidence and transformation of Arctic emergency aid services
Additional noteworthy models developed by the teams include (non-exhaustive list):
CBPHC Scalability Assessment: Ben Charif et al, 2018 cross-sectional study
IT solutions, such as websites, web portals, online consult service to access cancer care.
Knowledge Translation tool and products, including synthesis maps, casebook [ PDF (780 KB) - external link ], resource toolkit [ PDF (2.77 MB) - external link ], map of mental health services; and practice guide series [ PDF (5.8 MB) - external link ]
Performance Measurement Model, such as the one developed by TRANSFORMATION (right click to download).
Others, including health brokers, health service pop-up events, community programs and partnerships, conceptual frameworks, patient journey approaches, and environmental scans
Further, the teams identified conditions and strategies that led to successful scaling-up of their innovative models, as well as barriers and facilitators, as summarized in the table below.
Strategies for Spread & Scale
Expand reach to target other communities, settings & individuals
Include Knowledge broker to develop & apply a knowledge translation strategy to move knowledge into action.
Spread by partnering Indigenous quality improvement teams to other programs in their healthcare center or community
Apply IT solutions to improve care integration, introduce to other provinces & to other researchers to adapt to their own model
Spread framework to other provinces via a PIHCI grant
Convince government agencies to support the spread of novel approaches
Adapt data collection processes & tools to various practices & organizations, to influence research & policy.
Masterclass with interactive learning for stakeholders to implement & evaluate models of integrated care
Facilitators
Effective knowledge translation strategy to account for the decentralised nature of the system
Strong partnerships, relationships and integration of key stakeholders into the team, i.e. patient partners, decision-makers & organizations (e.g. health authorities, clinics).
Early engagement with policy-makers & decision-makers is key to successful scale-up. Early feedback from stakeholders ensures that the models addressed relevant priorities
Interdisciplinary nature of teams provides a rich, diverse source of expertise
Funding opportunities: securing additional funds for scale-up
Collaborative and distributed leadership, and collaboration and communication across research team
Barriers
Decentralised Canadian healthcare system hinders scale-up & sustain- ability of novel programs across jurisdictions
Restricted access to data; and varied database structures across jurisdictions
Health policy changes, changing political environment, movement in decision-makers
Multiple ethics requirements & institutional approvals across jurisdictions
Resource, time & funding constraints: Cross-provincial research and scale-up requires coordination, logistics, time and resources
Contextual challenges – personnel transitions, community crisis, etc
Training, Capacity-building and Stakeholder engagement
The teams helped to train the next generation of trainees and engaged in their capacity-building activities students (total of 311), postdoctoral fellows (total of 95), clinicians, community partners/patients (40) and early-career researchers with skills in CBPHC researchacross Canada and internationally. Several capacity-building and training activities were held across all teams, including 186 courses, lectures or seminars; 155 workshops; 115 thesis supervisions; and other activities, such as international partnerships (e.g., Vilans in the Netherlands), summer schools, knowledge exchange events, training of volunteer navigators, clinical "bootcamps", webinars, forums and presentations. In certain instances, trainees who began with the CBPHC Teams as post-doctoral fellows, then secured scientist positions, leading successful grant-funded programs, whilst continuing to collaborate with the Teams.
In addition to their respective within-team capacity building activities, the 12 teams engaged in cross-team capacity building efforts including the TUTOR-PHC program, a trainee-led working group, and more. The cross-team capacity-building strategy is reported in Nicholson et al, 2020. Trainees from the ACHRU team also produced a video on their training experiences. Further, to address CBPHC priorities relevant to different populations and contexts, the teams applied a multi-stakeholder lens and further engaged decision-makers, policy-makers, patients, citizens, caregivers and community members, in their research program.
Common indicators project
The teams collaborated to identify and measure the impact and value of their innovations on health system outcomes, using common indicators for six domains: access, comprehensiveness, coordination, effectiveness, equity, and healthcare costs. Through this common effort, the teams report that new relationships across the teams were forged, including collaborations on publications between researchers and trainees (see Wong et al, 2019; Ben Charif et al, 2018; Ploeg et al., 2019; Kendall et al., 2018), further enriching the training experience. The common indicators working group was co-led by Dr Sabrina Wong and Dr Jeannie Haggerty.
Competitiveness
Teams showcased outstanding competitiveness at the national and international level in the CBPHC field and beyond. By spring 2019, the 12 teams published peer-reviewed journal articles (over 200), technical reports (total of 52), policy briefs and guidelines for policy (56), and interviews with journalists (24) and articles in mass media (57). Further, in addition to the total CIHR investment of $33.4M for this program, the 12 teams secured funds from 105 additional sources amounting to a sizable total of $46.8M, originating from the public sector ($41.7M total), non-profit sector ($4.3M) and from industry ($0.8M).
Publications & Media attention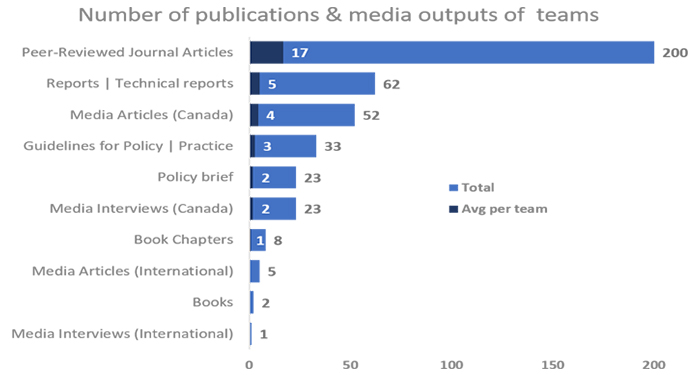 Long description

| | | |
| --- | --- | --- |
| | Total | Avg per team |
| Peer-Reviewed Journal Articles | 200 | 17 |
| Reports | Technical reports | 62 | 5 |
| Media Articles (Canada) | 52 | 4 |
| Guidelines for Policy | Practice | 33 | 3 |
| Policy brief | 23 | 2 |
| Media Interviews (Canada) | 23 | 2 |
| Book Chapters | 8 | 1 |
| Media Articles (International) | 5 | 0 |
| Books | 2 | 0 |
| Media Interviews (International) | 1 | 0 |
Funding leveraged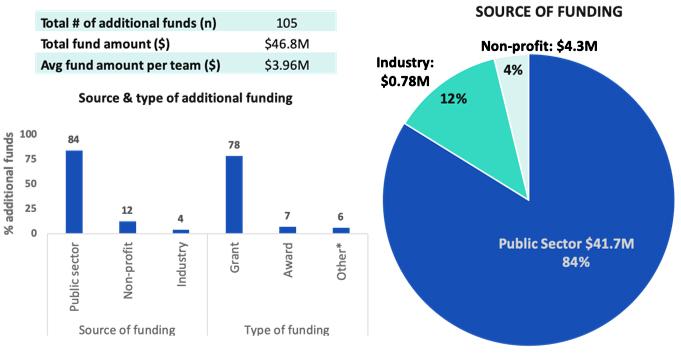 Long description

Percent funds (%)
Total funds ($)
Source of funding
Public sector
84
41,685,943
Non-profit
12
4,344,414
Industry
4
778,845
Type of funding
Grant
78
N/A
Award
7
Other*
6
Forging connections with the Primary and Integrated Health Care Innovations (PIHCI) Network
Funded through CIHR's Strategy for Patient-Oriented Research (SPOR), the PIHCI Network was created to foster new alliances between research, policy and practice to create dynamic learning networks to improve the delivery of integrated and cost-effective health care, including primary health care. Important synergies were forged between the PICHIN and the CBPHC teams. Seven of the CBPHC teams shared leadership roles, memberships, objectives and activities with the PIHCI Networks, four teams were awarded SPOR-PIHCI grant funding, and one team played a key role in the development of a PIHCIN in the Northwest Territories.  
CBPHC Teams' Advice for other research teams, funding agencies and partners
Stakeholder engagement: Involve patients, decision makers and health system partners in priority setting, early and throughout the entire project.
Plan time and budget accordingly to enable relationship-building and maintenance of these relationships throughout the project.
Long funding timeline was beneficial in the preparation of the teams and the programs.
From program inception, consider scalability, local context, and a knowledge translation (KT) strategy (include a KT expert and broker, if possible)
Cross-jurisdictional research: Plan time to access data from organizations and government agencies; and to obtain research ethics and institutional approvals across sites
Conclusion
The CBPHC teams made important and valuable contributions to the science and practice of CBPHC, training the next generation of CBPHC scientists, and fostered new collaborations between research, policy and practice in CBPHC. Many of their innovative ideas have been scaled-up and spread to multiple jurisdictions, strengthening the performance of CBPHC systems and improving the health of Canadians and communities.
Publications & Knowledge Translation products
Please see below a non-exhaustive list of selected publications, knowledge translation (KT) products and social media websites stemming from the 12 CBPHC Teams':
General CBPHC

| Team | Publications | KT Products |
| --- | --- | --- |
| IMPACT | | |
| ACHRU | | |
| PACE in MM | | |
| iCOACH | | |
| TRANSFORMATION | | |
Specific conditions

| Team | Publications | KT Products |
| --- | --- | --- |
| Access-MH | | |
| CanIMPACT | | |
| C-ChAMP | | |
| LHIV | | |
Indigenous settings

| Team | Publications | KT Products |
| --- | --- | --- |
| FORGE AHEAD | | |
| iPHIT | | |
| CircHSIT | | |
Date modified: