Progress Update – Action Plan: Building a healthier future for First Nations, Inuit and Métis Peoples
June 27, 2019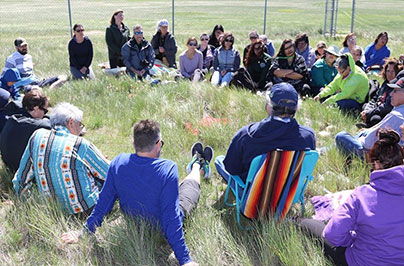 Since its inception in 2000, CIHR has recognized the importance of Indigenous health research, and Indigenous Peoples' engagement in this process. With leadership provided by the Institute of Indigenous Peoples' Health (IIPH) and support from its other 12 institutes, CIHR has made significant progress to support the health and wellness of First Nations, Inuit and Métis Peoples. In November 2016, CIHR released the "Action Plan: Building a healthier future for First Nations, Inuit and Metis peoples" (the Action Plan). The Action Plan describes 10 commitments to strengthen Indigenous health research in Canada, building on work that was already underway. In the last two years, we have had the opportunity to make meaningful progress by working with Indigenous communities and other partners to address gaps in Indigenous Health Research (IHR) in Canada.
We are pleased to present this year's update on the Action Plan. Activities over the last year focused on strengthening governance and leadership, increasing community-based research, and continuing to build meaningful relationships with communities and partners.
Governance/strategic leadership: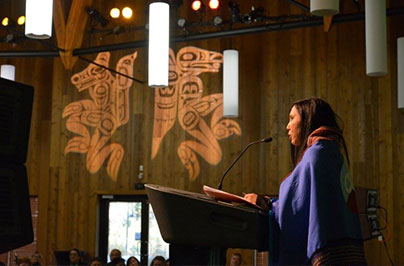 Adopted in 2017, CIHR's definition of Indigenous Health Research (IHR) emphasizes research by and with Indigenous Peoples. To prioritize Indigenous Peoples leading their own research and to ensure appropriate engagements, we also developed a definition of culturally safe involvement. It defines research environments as socially, spiritually, emotionally and physically safe, which requires understanding the root causes of health inequities among Indigenous Peoples, including the impact of colonization.
In 2018, the IIPH IAB was reconstituted and now counts among its members two Elders, Elder Mary Wilson and Mabel Horton who will provide guidance, cultural and spiritual support to IIPH in the development of its activities. Other CIHR IABs also increased Indigenous representation, including the Institute of Gender and Health and the Institute of Population and Public Health. The CIHR Indigenous Health Research Support Unit is now fully staffed at CIHR and it increases CIHR's capacity to support and interact meaningfully with Indigenous Peoples, researchers and communities.
Consistent with the CIHR Health Research Roadmap II and the CIHR Action Plan: Building a healthier future for First Nations, Inuit, and Métis Peoples, IIPH committed to support more community-based participatory research and to build capacity within Indigenous communities in a culturally safe way. In order to achieve that, and with guidance from its Institute Advisory Board (IAB), Indigenous communities, Elders and Knowledge Holders, IIPH has developed a new strategic plan, released on June 27th, that maps out four strategic directions for the next 5 years:
To support First Nations, Inuit and Métis Peoples and communities to drive Indigenous health research and knowledge translation.
To contribute to the process of improving First Nations, Inuit and Métis health using multiple Indigenous and non-Indigenous research paradigms simultaneously to support research and innovation. 
To advance research beyond acknowledged notions of health equity and give primacy to wellness, strength and resilience of First Nations, Inuit and Métis Peoples at the individual, group and structural levels.
To encourage and champion Indigenous community-based health research networks across Canada to develop capacity for First Nations, Inuit and Métis health research and knowledge translation.
IIPH and its partners will strive to improve the health of Indigenous Peoples by recognizing Indigenous knowledges and being respectful of Indigenous values, cultures and ways of knowing.
In January 2019, consistent with the Action Plan commitment, CIHR's President, Dr. Michael J. Strong, met with Inuit Tapiriit Kanatami's (ITK) President, Natan Obed. This meeting was held to discuss how CIHR could support ITK in the implementation of their National Inuit Strategy on Research (NISR), which was released in March 2018. The presidents agreed to meet on a regular basis to assess progress towards the commitments made. CIHR's President subsequently participated in the ITK Executive Training Program, an experiential learning opportunity on the realities and priorities of Inuit, on the land in Inuit Nunangat. CIHR was also invited to participate in the NISR Roundtable in February 2019.
The relationship built with the Indigenous communities in recent years will continue to be an invaluable source of strength to address gaps in Indigenous health research together. Efforts to build and maintain engagement with the leadership of the Assembly of First Nations, ITK, and the Métis National Council to discuss IHR priorities will continue.
Community-Based Health Research:
The IHR investment estimate has been updated
In 2016/17, CIHR revalidated its investments for IHR to develop a baseline of 2.1% of the total annual budget (based on fiscal years 2014/15 to 2016/17). In 2017/18, CIHR increased its investment in IHR to 3% of its total annual budget. For the 2018/19 fiscal year, investment in IHR increased again to 3.1%. It represents an additional $3M invested in IHR in 2018/19, for a total of over $34M. CIHR will continue to implement key actions to ensure its investment in IHR increases to a minimum of 4.6% of its annual budget. Creating impactful strategic initiatives developed by and with Indigenous Peoples is a priority across the organization and all 13 institutes.
In December 2018, CIHR launched the second component of the Network Environments for Indigenous Health Research (NEIHR) – a $100.8M, 16-year capacity building investment – which is supported financially by all 13 CIHR Institutes. The purpose of the NEIHR Program is to establish a national network of centres focused on capacity development, research and knowledge translation (KT) centered on First Nations, Inuit and Métis. The network of centres is intended to provide supportive research environments for Indigenous health research driven by and grounded in, Indigenous communities in Canada. It will also ensure continued growth, broad regional development and national collaborations.
In addition to the NEIHRs, CIHR continues to invest in initiatives that address Indigenous specific health needs. For example, CIHR has recently launched the Pathways Implementation Research Teams Component 3 request for applications which focus on equitable reach, access and sustainability of interventions in four priority areas: mental wellness, diabetes/obesity, tuberculosis, and oral health.
CIHR also launched the Team Grants for the Indigenous Healthy Life Trajectories Initiative. These grants will support four (4) teams to build infrastructure and capacity along the continuum of care and prevention from pre-conception to pregnancy, infancy and early childhood with a life trajectory perspective relevant to the following research areas: a Developmental Origins of Health and Disease (DOHaD) life trajectory approach, a focus on the prevention of Non-Communicable diseases (NCD) and an intervention cohort design. The funded research teams will collaborate to develop the partnerships, and leverage the necessary expertise and resources to establish an Indigenous-driven I-HeLTI Intervention Cohort.
In March 2019, IIPH launched the Indigenous Research Chairs in Nursing. This initiative will support nurses of both Indigenous and non-indigenous ancestry to conduct research in Indigenous Health Nursing, thus furthering the development of knowledge and best and wise practices in the area of nursing practice, education, research and administration. The Chairs will undertake research to understand social, economic and cultural determinants of health and Indigenous holistic health practices to improve the health of Indigenous Peoples.
CIHR's Science Council recently endorsed the SPOR Capacity Development Initiative. The first component of this initiative is the Patient-Oriented Research Awards – Transition to Leadership Stream. This funding opportunity will include an Indigenous Peoples' Health Pool to supports trainees transitioning into independent patient-oriented research careers.
Other initiatives launched during the last year include Indigenous components in their funding opportunities. The Food security and Climate Change in the Canadian North under the scientific leadership of the Institute of Nutrition, Metabolism and Diabetes, will support research that will provide a deeper understanding of food security and climate change in the Canadian North, with a particular focus on Indigenous populations. There is an Indigenous component in the Transitions in Care – Best and Wise Practices Grants, to support groups of researchers and knowledge users to identify best and wise practices in the areas of transitions in care, led by the Institute of Circulatory and Respiratory Health. The Institute of Gender and Health launched the Indigenous Gender and Wellness Travel Awards to bring interested First Nations, Inuit and Métis Peoples, researchers, organizations, Indigenous community members, and other allies of Indigenous Peoples to attend an Idea Fair and Learning Circle on "Indigenous Gender and Wellness". The event, held on June 18-20, 2019 in Montreal, on the traditional unceded territory of the Kanien'keha:ka (Mohawk) people, provided an opportunity for Indigenous Peoples and allies to meet each other and share their ideas and goals. The Cannabis Research in Priority Areas funding opportunity was launched in March 2019 by the Institute of Neurosciences, Mental Health and Addiction (INMHA). Its purpose is to explore in more detail the potential therapeutic benefits and harms associated with cannabis use on Indigenous Peoples' health. Additional funding opportunities are planned under CIHR's Integrated Cannabis Research Strategy, including research to evaluate policies related to the legalization and regulation of cannabis that may impact the health of Indigenous Peoples.
Community and partner engagement:
In June 2018, at Lethbridge, Alberta, CIHR and the First Nations Health and Social Secretariat of Manitoba (FNHSSM) Nanaandawewigamig PEKE, co-hosted the 4th Pathways Annual Gathering (PAG) in partnership with the Alberta First Nations Information Governance Centre. The gathering took place on the traditional territories of the Blackfoot and the people of Treaty 7 under the theme: "Land-based learning and healing". The PAGs have contributed to defining new ways to improve the health of Indigenous Peoples through networking, teambuilding and sharing of cross learnings in the field of Implementation Science.
To continue this important work and support the evolution of CIHR investments in Indigenous health research beyond the Pathways Initiative, CIHR has decided to bring together community members, researchers, knowledge holders and community organizations with a new model in the coming years. More details will be communicated in the coming months on the NEIHR Webpage.
The SPOR Summit - Mapping the Progress of Patient-Oriented Research in Canada held November 13-15, 2018 in Ottawa brought together over 340 attendees. SPOR provided numerous travel awards to enable patient engagement, including for participants from Indigenous communities. The Summit provided an opportunity to participate in panel discussions, plenary and poster sessions to share knowledge and experiences, highlight early successes and share lessons learned. Throughout the event, Indigenous perspectives and approaches were highlighted, and participants were honoured by the wisdom and knowledge of Elders Sophie Pierre, Jack Robinson, and Margaret Lavalee.
IIPH participated in a roundtable meeting in November 2019, hosted by the INMHA, which brought together experts and leaders within the post-traumatic stress (PTS) community. A key outcome of this roundtable was the need to focus research on inter-generational stress experienced by Indigenous communities. IIPH will be engaged in the development of a national research strategy on PTS, which will include health research needs of Indigenous communities. Also, IIPH, INMHA and other CIHR representatives participated in the National Conference on Post-Traumatic Stress Disorder on April 9-10, 2019.
At the international level, IIPH delivered two presentations on 'Indigenous health issues in Canada' at the Union World Conference on Lung Health and provided financial support to a conference workshop titled Ethnicity and health: Building intercultural solutions for equitable tuberculosis care with Indigenous Peoples – locally and in the Americas. The working relationship with the National Health and Medical Research Council of Australia and Health Research Council of New Zealand continues to grow by means of the international commitment renewed in December 2017. Through this collaboration, supporting emerging researchers will be pursued as a main priority to generate positive outcomes for Indigenous Peoples and the research community.
To support Indigenous research and coordinate efforts among the granting agencies, CIHR is working with the Social Sciences and Humanities Research Council and the Natural Sciences and Engineering Research Council through the Canadian Research Coordinating Committee (CRCC) on identifying opportunities for common approaches and procedures. Through this work, CRCC held a Strengthening Indigenous Research Capacity National Dialogue in March 2019 where key themes were discussed, and where recipients of tri-agency funded Indigenous Research Capacity and Reconciliation-Connection Grants were gathered. Progress towards increased coordination of research-related programs and policies for all priority areas, including Indigenous research, are outlined in the newly released CRCC Progress Report.
As stated in the previous progress report update in June 2018, strengthening Indigenous health research relies on strong collaboration with First Nations, Inuit and Métis Peoples from across the country, and with Indigenous Peoples internationally. With this annual progress update, we are reaffirming our commitment to IHR as co-champions of the Action Plan. We look forward to building on the progress accomplished to date, and to ongoing engagement with Indigenous communities to guide our efforts.
Miigwetch, merci, thank you,
Dr. Carrie Bourassa
Scientific Director
CIHR Institute of Indigenous Peoples' Health
Michel Perron
Executive Vice-President
Canadian Institutes of Health Research
Date modified: