Applied Public Health Chair – Janet Smylie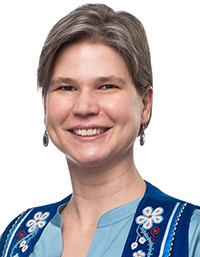 Photo credit: Lisa Shepherd
This Chair is supported through the CIHR Pathways to Health Equity for Aboriginal Peoples Signature Initiative in collaboration with the Public Health Agency of Canada.
Janet Smylie, MPH MD FCFP, is a scientist in at the Centre for Research in the Li Ka Shing Knowledge Institute of St. Michael's Hospital, where she directs the Well Living House Action Research Centre for Indigenous Infant, Child and Family Health and Wellbeing. Dr. Smylie is also an associate professor in the Dalla Lana School of Public Health, University of Toronto. Her research interests include, interfacing Indigenous knowledge with public health and medical sciences to improve the health of young Aboriginal families; developing Indigenous health assessment and response in partnership with Indigenous communities locally, regionally, nationally and internationally; and identifying and evaluating effective Indigenous health program and services.  Dr. Smylie brings multidisciplinary training and experience into her CIHR/PHAC Applied Public Health Chair on the topic of population health interventions for Indigenous Peoples.
Dr. Smylie's research partners for her Chair in Applied Public Health include: the Native Women's Association of Canada; the National Collaborating Centre for Aboriginal Health; the National Association of Friendship Centres; the Native Youth Sexual Health Network; the Indigenous Physicians Association of Canada; the Aboriginal Nurses Association Canada; the Assembly of Manitoba Chiefs; the First Nations Health Authority; and the Aboriginal Health Research Network.
Dr. Smylie's Chair
There are multiple challenges that hinder effective responses to the health inequities experienced by First Nations, Indian, Inuit, and Métis Peoples in Canada. Specifically, there are marked deficiencies in the coverage, quality, and governance of the Indigenous population health datasets required to identify, develop, and evaluate health interventions. Further, there is a need for core involvement of Indigenous Peoples in the planning and implementation of Indigenous health services and programs. Finally, there is an under-development of evidence based and community relevant methods for evaluating population health interventions in Indigenous communities. These key challenges guide Dr. Smylie's research.
Chair Objective
The primary objective of Dr. Smylie's research, as an Applied Public Health Chair, is to demonstrate effective and relevant population health interventions for Indigenous Peoples by developing, implementing, evaluating, documenting, and disseminating an Indigenous implementation science approach. Dr. Smylie plans to catalyze this work through the bridging of best practices in population health science and Indigenous ways of knowing and doing.
Moving forward, Dr. Smylie specifically plans to:
Develop, implement, evaluate, document, and disseminate Indigenous implementation research approaches and strategies by nesting Indigenous implementation research case studies in specific Pathways implementation research projects.
Co-initiate, implement, and evaluate the Forum for Indigenous Implementation Research and Evaluation (FIIRE) – a national knowledge network for public health intervention research and evaluation.
As a value-add, Dr. Smylie will evaluate FIIRE as a tool for scaling-up, and the sharing of promising health interventions across diverse Indigenous population groups.
Want to learn more?
To learn more about Dr. Smylie's research and projects, please visit:
Date modified: