Applied Public Health Chair – Wendy V. Norman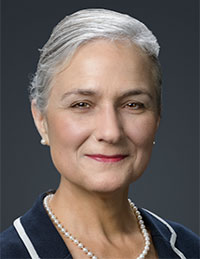 This Chair is supported through the CIHR Community-based Primary Health Care (CBPHC) Signature Initiative.
Wendy V. Norman, MD, CCFP, FCFP, DTM&H, MHSc, is a Professor in the Department of Family Practice, and an Associate Member in both the School of Population and Public Health, and the Department of Obstetrics and Gynecology, of the Faculty of Medicine at the University of British Columbia (UBC). Dr. Norman is an Honorary Associate Professor in the Faculty of Public Health and Policy at the London School of Hygiene and Tropical Medicine (LSHTM), in London, UK.
Dr. Norman founded and leads Canada's Contraception & Abortion Research Team (CART) which convenes government, health system and service decision makers with national family planning organizations, and researchers and health professionals representing a wide range of disciplines. CART aims to conduct health policy and services research to enable equitable access for populations across Canada to the knowledge, methods and services they require to time and space their pregnancies and achieve their own reproductive goals. CART research has informed federal, and provincial policies for contraception and abortion services and methods, health professional licensing policies, and national clinical guidelines. From 2012 to 2020 Dr. Norman held a Scholar Award from the Michael Smith Foundation for Health Research. In 2014 the Public Health Agency of Canada and the Canadian Institutes of Health Research awarded Dr. Norman the Family Planning Public Health Research Chair, a five-year award that UBC matched through to 2024.  Dr. Norman was awarded the prestigious Darroch Award for sexual and reproductive health policy research in January 2016 by the New York-based Guttmacher Institute.
Dr. Norman was awarded the prestigious Darroch Award in January 2016 sponsored by the New York-based Guttmacher Institute, was the inaugural recipient of the Society of Obstetricians and Gynaecologists of Canada Mentorship Award in 2020 and was recognized as a 'Woman of Impact' by the government of Canada in 2021.
The decision making collaborators on Dr. Norman's Chair in Applied Public Health are Dr. Perry Kendall, OBC, MBBS, MHSc, FRCPC, Provincial Health Officer, and Dr. Bonnie Henry, MD, MPH, FRCPC, Deputy Provincial Health Officer, Ministry of Health, British Columbia.
Dr. Norman's Chair
There is considerable inequity in the ability to plan and space pregnancies among Canadians. Vulnerable populations face a disproportionate number of economic, education-related, work and social consequences due to unplanned childbirth and recurrent abortion. Therefore, to address this population health issue, Dr. Norman proposes to collect Canadian context evidence on this topic to inform population health interventions for health system change. These population health interventions, and embedded elements of capacity building and knowledge translation, are founded on both provincial and national gap-analyses and aim to ensure vulnerable Canadian populations will have the equitable ability to plan and space pregnancies. The research program aims to contribute to positive societal change through the many social, educational, workforce and family health benefits Canadians are able to achieve, when they are able to set and reach their own reproductive goals.
Chair objective
Dr. Norman, as an Applied Public Health Chair, firstly aims to identify mechanisms by which social inequalities contribute to and exacerbate health system barriers, specifically for vulnerable populations. This information will inform the development of innovative population health interventions to optimize family planning policy. The second objective is to advance the evidence base on the effect of innovative models of reproductive care policies and services, in Canada, on the equitable distribution of optimal pregnancy planning and spacing related health outcomes. Thirdly, Dr. Norman aims to increase the knowledge base for equitable quality of care, as well as to identify new knowledge translation strategies suitable for the needs and conditions of the end-users with the goal of reducing undesirable reproductive health outcomes experienced by vulnerable populations (both men and women).
Chair progress: Dr. Norman's Chair facilitated conduct of applied interventions and measurement of population health indicators, which are implementing new knowledge to improve health and health equity. Two major research initiatives have completed in the last year, both demonstrated improved health outcomes and reduced costs through provision of contraception subsidy. Her Chair program has also stimulated a wide range of capacity building initiatives, and engaged 35 trainees in addition to 10 early career researchers, 20 co-investigators, and 38 knowledge user and decision maker collaborators.
Want to learn more?
To learn more about Dr. Norman's research and projects, please visit:
She can be followed on Twitter and Facebook.
Publications
Date modified: