Dr. Marie-Josée Hébert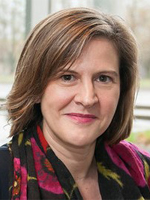 Affiliation
Professor
Faculty of Medicine
Université de Montréal
Committee membership
Governing Council (Chair)
Executive Committee (Chair)
Biography
Dr. Marie-Josée Hébert earned a specialized degree in nephrology from the University of Montréal and completed her post-PhD training at Brigham and Women's Hospital, an affiliate of Harvard University. She is currently working as a nephrologist-transplant physician and a researcher at the Centre hospitalier de l'Université de Montréal [University of Montréal hospital centre] (CHUM). Dr. Hébert is also a professor in the University's Faculty of Medicine and holds the Shire Chair in Nephrology, Renal Transplantation and Regeneration. A founder of the Canadian National Transplant Research Program, her work has led to the discovery of new mechanisms involved in organ transplant rejection and chronic renal failure.
Dr. Hébert is a Canadian Academy of Health Sciences Fellow and a recipient of the 2015 Dr. John B. Dossetor Research Award and the 2016 Medal for Research Excellence, both awarded by the Kidney Foundation of Canada in recognition of her outstanding contributions to nephrology research. 
Since November 2015, she has served as Vice-Rector of Research, Discovery, Creation and Innovation at the University of Montréal. As such, she has played a pivotal role in launching major intersectoral research and knowledge mobilization initiatives, including the Institute for Data Valorization (IVADO), Mila, the Consortium santé numérique [Digital Health Consortium] and the Montréal Declaration for a Responsible Development of Artificial Intelligence.
Dr. Hébert was appointed Chairperson of the Governing Council of the Canadian Institutes of Health Research in September 2022.
Date modified: