CIHR: A proud supporter of the AIDS 2022 Conference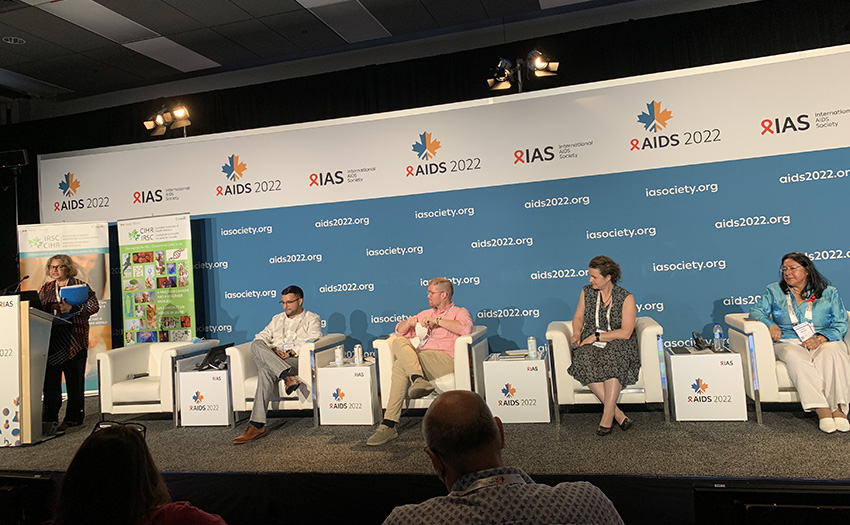 Members from CIHR and the Institute of Infection and Immunity (III) had the opportunity to travel to the 24th International AIDS Conference in Montreal to host sessions and network with colleagues and HIV community members. Our involvement in the conference included:
providing travel awards to trainees, early career researchers, Indigenous health researchers, community-based researchers, and others for in-person or virtual attendance (more than 80 awards offered);
sponsoring the July 26–28 International Indigenous Pre-Conference on HIV/AIDS, an Indigenous-led event preceding AIDS 2022;
hosting a session to highlight emerging HIV leaders in Canada and their research;
hosting a networking event at the Canada Pavilion;
providing introductory remarks about HIV self-testing at an affiliated event hosted by REACH Nexus;
providing support to the Public Health Agency of Canada (PHAC) to organize conference activities; and
highlighting some of Canada's excellent research talent in a series of profiles leading up to the conference.
The conference theme, re-engage and follow the science, is an important message that resonates with CIHR. Through collaboration and consultation with the HIV/AIDS community, CIHR funds research and supports initiatives to improve the lives of all people living with and at risk of HIV/AIDS. The CIHR HIV/AIDS and STBBI (Sexually Transmitted and Blood-Borne Infections) Research Initiative leads the Government of Canada's research response to HIV/AIDS by providing $21 million in annual funding to researchers and trainees. And now, with the release of its new Strategic Plan, the Research Initiative is reaffirming its support for Canada's HIV scientists and key populations affected by HIV/AIDS.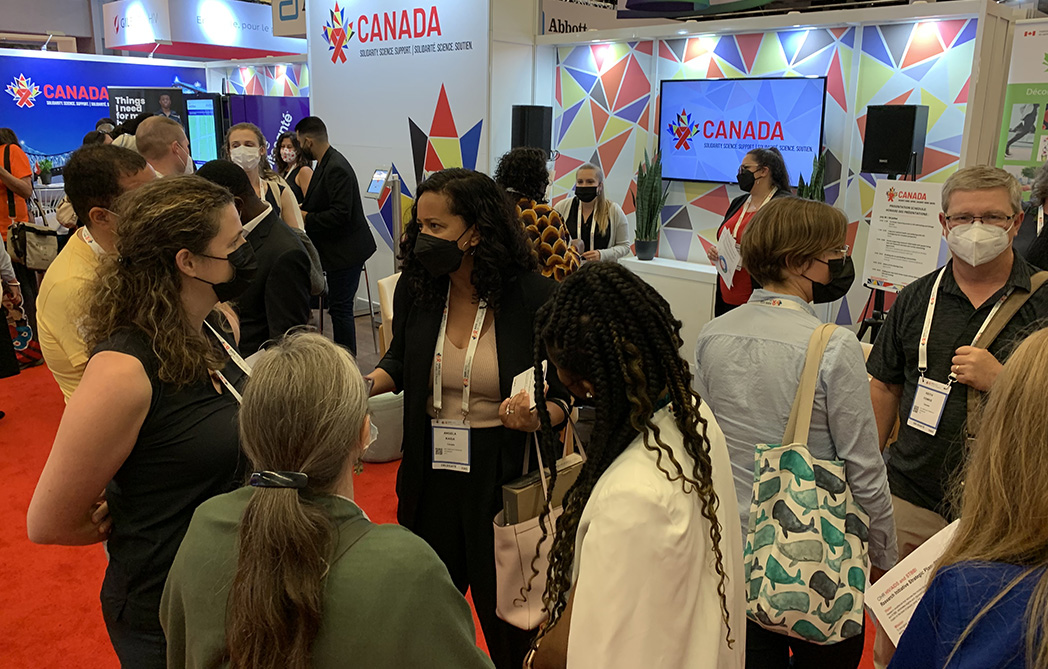 A resounding message from many of the AIDS 2022 conference sessions was that more needs to be done to improve access to testing and treatments. While immense progress has been made in HIV research, effective HIV prevention and care is still out of reach for many.
One of the CIHR-funded programs showcased at the conference was I'm Ready to Know, which will increase access to HIV self-testing. Dr. Sean Rourke unveiled Our Healthbox – dispensing machines for HIV self-test kits that will be placed in neighbourhoods around Canada. The unveiling took place at the Canada Pavilion, a section of the conference exhibition hall that was abuzz with activity throughout the conference weekend. On the third day of the conference, we were pleased to see a great conversation circle there among postdoctoral fellows and alumni of the CIHR Canadian HIV Trials Network.
We were also pleased to see the participation of many students, trainees, and early career researchers throughout the conference, and to hear the voices of women, the LGBTQ+ community, Indigenous Peoples, racialized communities, and marginalized groups.
We know that the greatest victories in the HIV response over the past 40 years have resulted from science, policy and activism coming together, and CIHR is committed to listening to and working with researchers and communities to bring an end to HIV/AIDS as a threat to public health.
Date modified: