CIHR-III Strategic Plan 2021–2026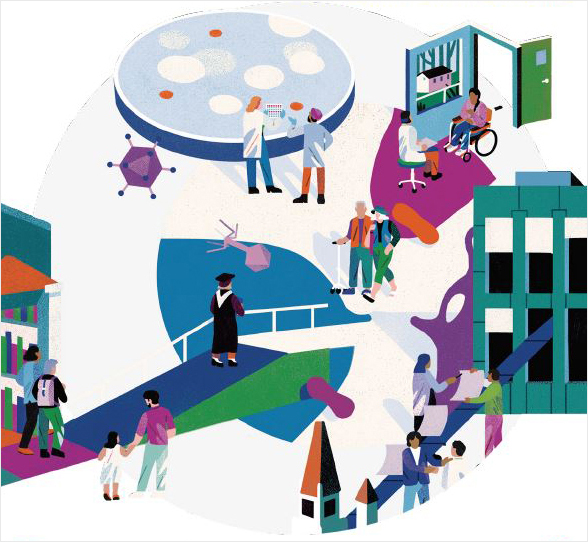 CIHR-III Strategic Plan 2021–2026
III is one of the 13 Institutes of the Canadian Institutes of Health Research, Canada's health research investment agency. Our mandate is to support research, build capacity and mobilize knowledge in the areas of infectious disease and the immune system. This mandate transcends disciplines and encompasses all four CIHR health research pillars.
The Road to the CIHR-III Strategic Plan 2021–2026: How We Got Here
Intent on understanding emerging priorities while building on the successes of the Strategic Plans 2013-2020, III began a highly consultative process in 2019 to prioritize III's strategic efforts for the next 5 years. The new plan was shaped by a broad engagement process that gathered feedback from close to 750 infection and immunity stakeholders from across Canada, in addition to international partners. Researchers, trainees, partners, practitioners, policy makers, advisory board members, patient groups and Indigenous health researchers and health organizations shared their insights and recommendations via a variety of qualitative and quantitative consultation methods. The most frequently identified priorities emerging from our broadly disseminated survey informed the discussion of 8 Canada-wide workshops. The priorities that emerged from these workshops were further refined through 9 focus group discussions. The final framework was validated with our Institute Advisory Board through a consensus-based approach. The Strategic Plan 2021-2026 reflects what we heard during this inclusive and diverse consultative process and sets out priorities that align with the CIHR Strategic Plan 2021-2031 and the STBBI Research Initiative Strategic Plan (under development). Visit the III strategic planning process for additional details.
Vision
Excellence in infection and immunity research that leads to equitable health outcomes for people in Canada and around the world in the 21st century.
Mission
To establish, engage and mobilize an inclusive, collaborative and diverse research community focused on excellent research that addresses infection and immunity priorities in Canada and beyond.
III Strategic Framework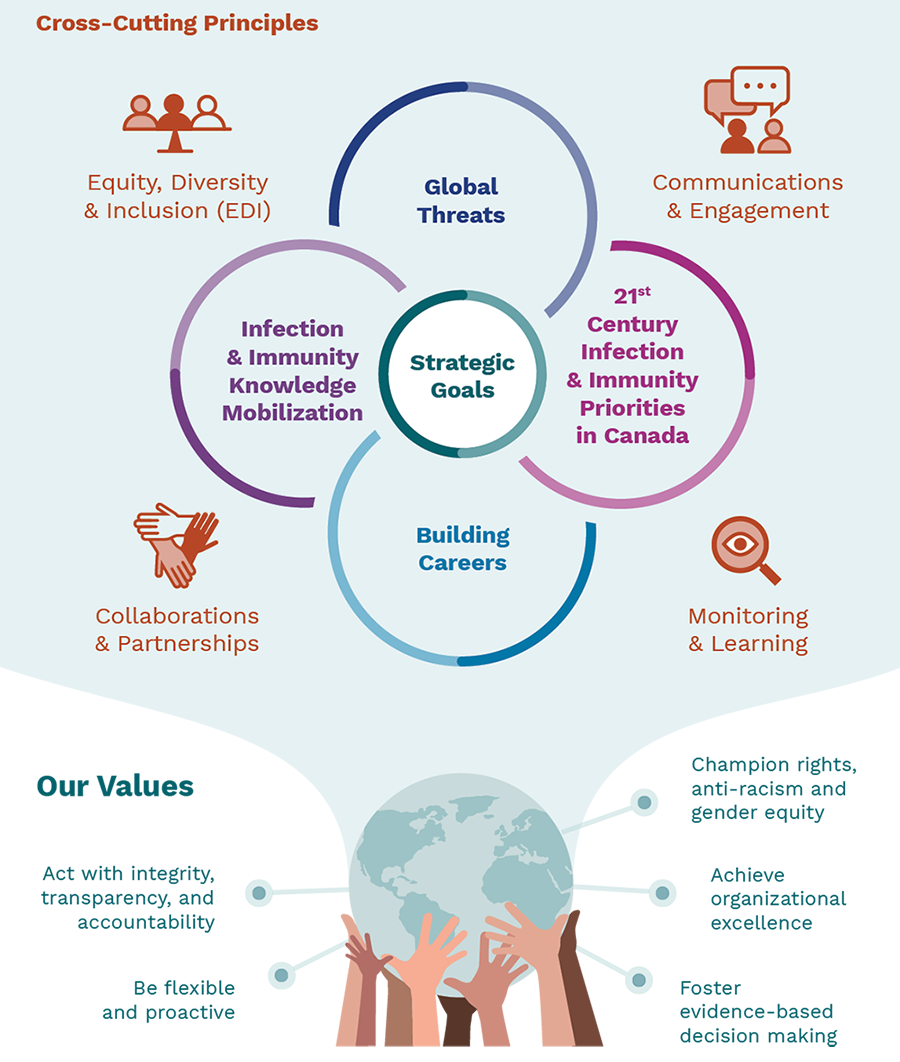 Long description

Values:

Act with integrity, transparency, and accountability in making decisions, setting priorities and assessing the outcomes and impact of our strategic investments.
Be flexible and proactive to ensure our work remains relevant within a rapidly evolving research environment.
a rights-based, anti-racist, gender equitable research environment
Achieve organizational excellence by staying true to our values and cross-cutting principles and not compromising on the quality of work and leadership needed for the Institute to support the infection and immunity research community.
Foster a learning system that enables evidence-based decisions and continuous improvement of initiative design and implementation, administration of funds and communication of results.

Strategic Goals:

Global Threats
21st Century Infection & Immunity Priorities in Canada
Building Careers
Infection & Immunity Knowledge Mobilization

The following cross-cutting principles will be applied to drive the Strategic Goals

Equity, Diversity & Inclusion (EDI)
Communications & Engagement
Monitoring and Learning
Collaboration & Partnerships
Previous III Strategic Plans
Date modified: