CIHR Strategic Plan 2020-2030
The Canadian Institutes of Health Research (CIHR) is developing a new strategic plan to guide our operations and investments from 2020 to 2030. With this plan, we also seek to lay the foundation for a shared vision for how Canada's health research ecosystem could look in the next 30 years.
The new strategic plan will build on lessons learned since our last strategic planning exercise in 2014. Principally, this means better aligning ourselves with others in the health research ecosystem. To that end, we began with a robust environmental scan of provincial and territorial health priorities. We are now actively engaging with a number of stakeholders as we develop the plan, including citizens, patients, charities, provincial funders, Indigenous communities, government departments, researchers, health professionals, trainees, and research administrators.
Engagement
CIHR's next strategic plan will benefit from extensive engagement with the health research community. In fact, this is the largest engagement process CIHR has ever undertaken. Highlights include:
An online engagement portal which resulted in approximately 800 survey responses from the health research community
A second, national survey of 10,000 Canadians on their health research priorities conducted in June and July
Roundtables or meetings with national stakeholders:
The Health Support Committee of the Federal/Provincial/Territorial Conference of Deputy Ministers of Health
Community organizations that have not traditionally been engaged with CIHR

Engagement activities with Indigenous communities through the CIHR Institute of Indigenous Peoples' Health
Targeted meetings with:
Next Steps
As you can see from the list above, CIHR has engaged/will be engaging with a number of stakeholders. The organization then turned its attention to analyzing all that we had heard. We accomplished this with the help of staff well versed in qualitative research, complemented by the Expert Analysis Validation Panel. We completed this work at the end of August.
To ensure that we interpreted the feedback and ideas that we received correctly, we produced a report on the results of Phase I of our strategic planning engagement. We shared this report at the September 10 and 11, 2019, Consensus Workshop. The objective of the Workshop was to support a national dialogue with health research stakeholders to develop a shared sense of challenges and collectively identify potential ideas for CIHR's upcoming strategic plan.
Throughout the fall and into the winter, we will develop and validate a set of potential priorities. We will then convene a Health Research Summit on December 13, 2019, where we will share our high-level potential priorities with health research stakeholders for discussion and validation. We will then develop and validate a draft strategic plan with our Scientific Council and Governing Council. We will also hold a second engagement event with CIHR staff to delve into the details of how we will operationalize the plan as an agency.
Once we have approval from our Governing Council early in 2020, we will proceed with finalizing our new strategic plan. We will publish the new plan in June 2020, just in time for CIHR's 20th anniversary.
Timeline for Strategic Planning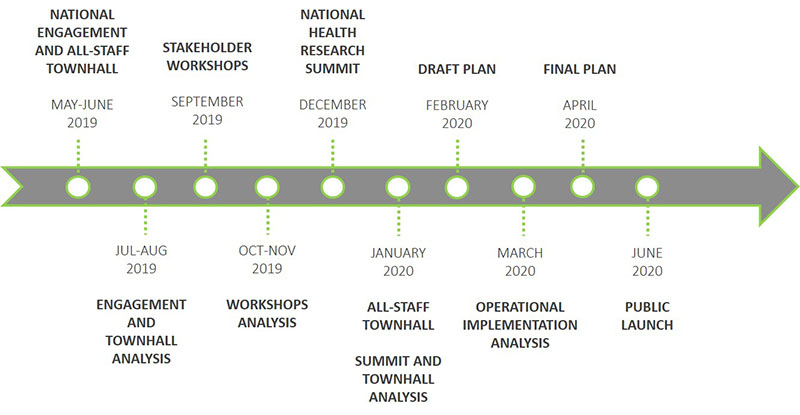 Long description

Timeline for Strategic Planning

May-June 2019: National engagement and all-staff townhall

July-August 2019: Engagement and townhall analysis

September 2019: Stakeholder workshops

October-November 2019: Workshops analysis

December 2019: National Health Research Summit

January 2020: All-staff townhall, Summit and townhall analysis

February 2020: Draft plan

March 2020: Operational Implementation Analysis

April 2020: Final plan

June 2020: Public launch
Expert Advice
We are but one player in the health research ecosystem and we know we cannot develop our new strategic plan in isolation. That is why, in addition to our various engagement activities, we have created two advisory committees to help guide our work:
The Citizen Advisory Committee will help ensure we benefit from the experiential knowledge, and have access to the voices of citizens in the development of our new strategic plan.
The Funding Partners Advisory Committee on Strategic Planning will help ensure we actively and meaningfully engage with our funding partners throughout the development of our new strategic plan.
Expert Analysis Validation Panel
In addition to the committees above, we have created an Expert Analysis Validation Panel. It will consist of four researchers specialized in qualitative analysis, coming from different research pillars, career stages, genders, regions, and institution types and sizes. The Panel's purpose is to validate and advise on methodology, analysis techniques, data interpretation, and data visualization. Panel members do not perform any data analysis, but can have access to all data and analysis-related documents for consultation as required. During the period of data analysis and report writing, the Panel has weekly teleconference meetings with CIHR's Project Lead, accompanied by other analysis participants as required. A report of the Panel's activities and comments and CIHR's response to them will feature in the analysis report. Finally, Panel members are invited to participate in the September Consensus Workshop and December Health Research Summit.
Panel Members
Dr. Martha MacLeod (University of Northern British Columbia)
Dr. Carole Estabrooks (University of Alberta)
Dr. Philippe Robaey (Children's Hospital of Eastern Ontario)
Dr. Suzanne Dupuis-Blanchard (University of Moncton)
Questions?
If you have any questions about the development of CIHR's new strategic plan, we invite you to write to us at support-soutien@cihr-irsc.gc.ca.
Further Reading
Previous strategic plans
Date modified: