Progress Update – Action Plan: Building a healthier future for First Nations, Inuit and Métis Peoples
June 27, 2018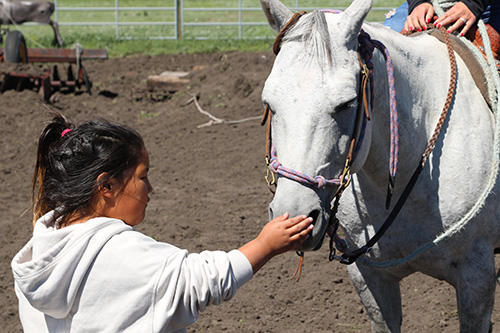 Since the last public update in June 2017 of the CIHR Action Plan to strengthen Indigenous health research (IHR) in Canada, CIHR has made tangible progress towards its commitments to build a healthier future for First Nations, Inuit and Métis Peoples. CIHR has focused on strategic leadership, peer review, capacity building, and community and partner engagement to help address gaps in Indigenous health research. As co-champions of the Action Plan, we are leading efforts to strengthen IHR as a priority across all of CIHR, including all 13 institutes.
We thank Indigenous communities from across the country for collaborating with CIHR and providing feedback throughout the year to implement its plan successfully. CIHR has greatly benefited from the guidance, knowledge, and approaches of Indigenous Peoples and organizations. The current 4th Pathways Annual Gathering provides an excellent opportunity to reflect on how this important initiative is advancing. CIHR is delighted to present the progress made on our commitments, while recognizing the need to continue to work together to enable true community-led research.
Progress/action since June 2017
Governance/strategic leadership: To reflect current respectful terminology and alignment with other federal departments, CIHR renamed the CIHR Institute of Aboriginal Peoples' Health to the CIHR Institute of Indigenous Peoples' Health (IIPH). Additionally, to respond to the need for improved Indigenous leadership in governance at CIHR, we are pleased that Dr. Mark S. Dockstator, President of the First Nations University of Canada, has been appointed to CIHR's Governing Council. We also look forward to working with the newly reconstituted IIPH Institute Advisory Board which will help guide IIPH in the development of its emerging strategic plan, and validate the criteria by which CIHR is counting its investments in Indigenous health research. The advisory board is a valuable resource for IIPH, the institutes and CIHR as a whole. Complementing the work of the advisory board, which has seats reserved for delegates from the Assembly of First Nations, Inuit Tapiriit Kanatami and the Métis National Council, CIHR upholds its commitment to meet with senior leadership from Indigenous organizations and has had initial discussions with the National Association of Friendship Centres, and more recently, the Native Women's Association of Canada. We believe this ongoing dialogue will help ensure our investments align with Indigenous priorities
Funding/peer review: As part of its Action Plan, CIHR adopted a new definition of IHR that put emphasis on research by and with Indigenous Peoples. As a result of the new definition, CIHR revalidated its estimates in funding for IHR and calculated a new baseline estimate (based on the previous three years) of ~2%. In 2017/18, CIHR increased its investment in Indigenous health research to 3% of its total budget. We are confident that this will continue to grow towards our commitment of 4.6% investment in IHR through some key actions. The first is launching the Network Environments for Indigenous Health Research (NEIHR) – an $89M, 15-year capacity building investment – which is being supported financially by all 13 institutes. Second is a careful and ongoing review of potential administrative barriers that currently disadvantage true community-led research, including institutional eligibility. Third, we are continuing our commitment to iterative peer review for IHR which allows for promising applications to receive feedback from the peer review panel and resubmit in order to strengthen their applications. Iterative review has been implemented in the last three rounds of the Project Grant competition (including current competition in progress) and some of our priority-driven initiatives. We are now formalizing the terms of reference and selection process for the Reference Group on Appropriate Review Practices for Indigenous Health Research, which will include Elders.
Community and partner engagement: Over the past year, the IIPH have conducted  community engagements with Indigenous Peoples from across the country to help inform its emerging strategic plan. Some of the key messages heard from the community include the importance of self-determination in research, including priority setting; the need for strength-based approaches; and the need to ensure ceremony and Indigenous knowledges are respected and an important part of any research initiative.
Complementing the community engagements, CIHR has held or participated in key engagements with Indigenous communities and research partners. For example, in 2017 CIHR and the Native Women's Association of Canada co-hosted the third Pathways Annual Gathering in Whitehorse, Yukon. Under the theme of gender inclusivity as a foundation for building healthy communities, this gathering brought 120 researchers, community partners, Indigenous organizations, and local Indigenous representatives together to discuss progress of Pathways research teams. This builds upon the partnership CIHR had with the National Association of Friendship Centres to co-host the second Pathways Annual Gathering in 2016, and continues with this year's partnership with the First Nations Health and Social Secretariat of Manitoba to co-host the current Pathways Annual Gathering.
Additionally, to raise awareness of opportunities for Alberta First Nations to participate in federally funded research activities and to share Canada's federal research funding agencies' efforts to support and promote culturally appropriate research, CIHR, the Natural Sciences and Engineering Research Council (NSERC) and the Social Sciences and Humanities Research Council (SSHRC) provided an orientation session for ~70 community/academic representatives associated with the Alberta First Nations Information Governance Centre. CIHR continues to collaborate with SSHRC and NSERC through the Canadian Research Coordinating Committee to advance understanding of reconciliation. Understanding the need for both domestic and international partnerships, CIHR was delighted to renew an international commitment in December 2017 with the National Health and Medical Research Council of Australia and Health Research Council of New Zealand to collaborate on Indigenous health research priorities.
Finally, at the 2018 Indigenous Health Conference in May, CIHR's IIPH and Ethics office organized two important events – a plenary session raising awareness to existing challenges in IHR; and a workshop on research ethics with First Nations, Inuit and Métis Peoples integrating perspectives from the Truth and Reconciliation of Canada report; the United Nations Declaration on the Rights of Indigenous Peoples, and the 2017 Fundamental Science Review report. Increasing funding for IHR is not enough – we must continue to ensure that any research involving Indigenous Peoples is conducted in an ethical and appropriate manner.
Emerging initiatives: In addition to the NEIHRs, CIHR continues to invest in initiatives that address Indigenous health inequities. For example, CIHR has recently launched the Pathways Component 3 Implementation Research Teams request for applications which focus on equitable reach, access and sustainability of interventions in four priority areas: mental wellness, diabetes/obesity, tuberculosis, and oral health. CIHR also awarded development grants and held a strengthening workshop for the Indigenous component of the Healthy Life Trajectories Initiative. The development grants were targeted to communities, which represents an important paradigm shift to ensure Indigenous Peoples are at the forefront of research. CIHR also announced the launch of Development and Engagement Grants and Team Grants in Food Security and Climate Change in the Canadian North. The Development and Engagement Grants will bring together Indigenous organizations, communities, researchers and others, to work together to develop projects and proposals that address food security and climate change. The Team Grants will bring together multidisciplinary teams of researchers, knowledge users and/or partners to work together to address food security and climate change in the North. Other emerging initiatives include Indigenous Gender and Wellness Travel Awards and grants for the Transitions in Care initiative – Best and Wise Practices.
As we have outlined, strengthening Indigenous health research relies on strong collaboration with First Nations, Inuit and Métis Peoples from across the country and internationally. We remain committed to working with Indigenous communities and other partners to achieve our shared goals. 
Miigwetch, merci, thank you,
Dr. Carrie Bourassa
Scientific Director
CIHR Institute of Indigenous Peoples' Health
Michel Perron
Executive Vice-President
External Affairs and Business Development
Canadian Institutes of Health Research
Date modified: