Research in Substance Use: Opioids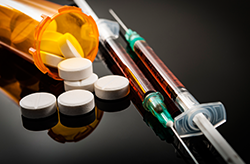 The growing number of overdoses and deaths caused by opioids is a national public health crisis. This is a complex health and social issue that needs a response that is comprehensive, collaborative, compassionate and evidence-based.
Notable studies related to opioids that received CIHR funding include:
In 2017, the CRISM Network received funding through the Emerging Health Threats Research Fund, as their objectives, infrastructure and expertise were found to be well suited to studying the urgent elements of the opioid crisis. With a total of $7.5 million over five years, CRISM intends to conduct research that will help address Canada's opioid crisis.
In the spring of 2018, CIHR funded 22 Knowledge Synthesis grants through the Opioid Crisis Knowledge Synthesis Operating grant. This $1.85 million funding opportunity aims to address the pressing evidence needs of knowledge users within the context of the Canadian Drugs and Substances Strategy and help tackle the most urgent elements of the opioid crisis, including opioid-related mortality rates. This opportunity also seeks to consider sub-populations and biological and social determinants of problematic opioid use.
In March 2019, CIHR committed $1.5 million to support 15 projects to evaluate interventions implemented across Canada in response to the opioid crisis through the Evaluation of Interventions to Address the Opioid Crisis Funding Opportunity.
In October 2020, CIHR launched the Evaluation of Harm Reduction Approaches to Address the Opioid Crisis in the Context of COVID-19 funding opportunity to address harm reduction approaches to the opioid crisis and to better understand its compounding intersection with the COVID-19 pandemic.
Date modified: