Dr. Kiran Pohar Manhas
Health System Impact Fellow Profile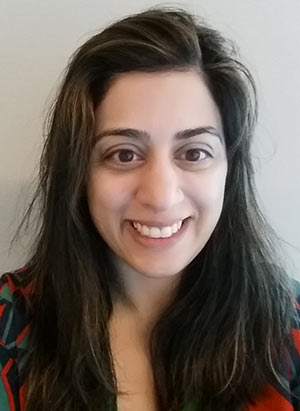 Name:

Kiran Pohar Manhas

Host Partner Organization:

Alberta Health Services

Name of Host Partner Organization Supervisor:

Ms. Tracy Wasylak

Location (city, province):

Calgary/Edmonton, Alberta

Academic Institution:

University of Alberta

Name of Academic Supervisor:

Drs. Sunita Vohra & Karin Olson

Duration of Fellowship:

2 years
Title of Fellowship / Program of Work:

Embedding Shared Decision-Making in Patient Centered Care in Community Rehabilitation Programs in Alberta

Contact Information:
Biography
Kiran is an interdisciplinary researcher with degrees in pharmacy (UBC), law (UVic), health research (McMaster), and bioethics (University of Calgary). Her doctoral dissertation used legal, ethical and qualitative research tools to examine roles and responsibilities in the transition from hospital to medically-complex pediatric homecare. Following her PhD, Kiran completed 3 years of postdoctoral research with PolicyWise for Children & Families. During this time, she led a comprehensive data governance research strategy that used multiple methods (legal and ethical analysis, qualitative focus groups and interviews, and online quantitative surveys) to effect policy analysis and stakeholder engagement (with parents and health researchers) to inform the privacy and governance strategies of a provincial data repository. Kiran's work has been funded by externally-funded salary and research grant support, at provincial and national levels. Kiran pursued the Health System Impact Fellowship to develop her experience and expertise in clinically- and policy- relevant stakeholder-engagement research.
Fellowship Program of Work
Alberta Health Services (AHS) aims to facilitate shared decision-making (SDM) and patient engagement amongst patients and providers via patient-centred care. In April 2017, AHS released a redesigned Model of Care for provincial community rehabilitation services to promote patient-centred care. AHS has a change management process to implement this model and monitor health outcomes. This fellowship program of work and AHS' change management process are located within the Strategic Clinical NetworksTM, an innovation unique to AHS as Canada's first and largest province-wide, fully-integrated health system.
SDM is an interpersonal decision-making process where provider(s) and patient collaborate using both clinical guidance and patient values and preferences. This research aims to explore perceptions, experiences, barriers and facilitators to SDM and patient engagement for both patients and providers in select community rehabilitation settings with or without change-management-facilitated exposure to the new Model of Care. During this 2-year fellowship, Kiran will lead this research program: a feasibility study in two community rehabilitation settings; an ethnographic study in 3-5 community rehabilitation settings using qualitative (interview) and quantitative (psychometric scales on SDM, engagement, quality of life, and functionality) data collection and analysis; and a pilot test of a knowledge translation strategy in 2 community rehabilitation settings.
This project will inform AHS of the facilitators and barriers to implementation of the new Model of Care for community rehabilitation, and provide further information on how best to advance SDM and patient engagement. The draft knowledge translation strategy will inform care delivery in community rehabilitation, and primary care (the latter due to academic supervisors' affiliations with another provincial study).
Key Impacts Arising from Fellowship Program of Work
Impact goal
Evaluate Alberta Health Services' Rehabilitation Model of Care (RMoC) and inform its early adoption and spread through the province.
Impact summary
Dr. Pohar Manhas' research gave AHS insight into decision-making at community rehabilitation sites (both sites that had and had not adopted the Rehabilitation Model of Care (RMoC)), and a better understanding of the experiences, challenges and successes of sites that adopted RMoC early on. The results will help AHS develop targeted strategies for future sites/teams when adopting RMoC. Dr. Pohar Manhas developed a guide and survey, published timely data via a data visualization tool, and gave sites/teams frequent qualitative feedback. This research opened up data collection flexibility and training within AHS as well as conversations on how to incorporate research into communication to foster communities of practice.
Read the full summary in the 2017-19 Embedded Research Impact Casebook.
Date modified: