Biography of Eric Marcotte, PhD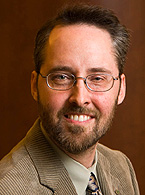 Dr. Eric Marcotte is the Associate Director of the Regenerative Medicine and Nanomedicine Initiative (RMNI) of the Canadian Institutes of Health Research (CIHR), Canada's major federal funding agency for health research.
Dr. Marcotte joined CIHR in 2003 to help establish the RMNI, now one of the major Large Initiatives of CIHR. Since 2004, the RMNI has provided funding for new and emerging areas of integrative research in nanotechnology and regenerative medicine that span the mandate of CIHR (including research into nanomedicine, stem cells, tissue engineering, rehabilitation sciences, and related social, ethical, environmental, economic, and legal issues).
The scientific knowledge gained from this initiative includes the regeneration and repair of injured tissues and organs, the development of specialized tools and interventions needed to treat diseases and restore function, and the maintenance of health and the prevention of disease. RMNI supports these activities through annual Requests for Applications (RFAs) and targeted workshops and conferences - in collaboration with other funding agencies, government departments, NGOs and industry.
Prior to joining CIHR, Dr. Marcotte served as a biotechnology analyst for a financial investment firm, identifying biomedical and pharmaceutical companies for investment purposes. Dr. Marcotte was also a Sessional Lecturer at McMaster University (2001-2003), where he lectured on the commercialization of modern biotechnology.
Dr. Marcotte holds a PhD in Medical Sciences (Physiology/Pharmacology) from McMaster University, and performed post-doctoral work at McGill University. His academic research focused on the molecular mechanisms underlying neurodegenerative and neurodevelopmental disorders, especially Parkinson's disease and schizophrenia.
Date modified: