INMD Strategic research priorities
Our vision
Catalyzing world-leading research that promotes optimal and equitable nutrition and metabolic health outcomes for Canadians.
Our Strategic Priorities
The CIHR Institute of Nutrition, Metabolism and Diabetes (INMD) Strategic Plan 2021-2026 aligns with CIHR's new Strategic Plan 2021-2031 and priorities. It will contribute to CIHR meeting its overall objectives in key areas such as health equity, capacity development, supporting Indigenous Peoples' health, interdisciplinary research, and team science. It will also support emerging science policy issues identified in CIHR's Strategic Plan, such as inclusive concepts of research excellence, promotion of open science and inclusion of equity, diversity and inclusion.
As one of CIHR's 13 Institutes, INMD engages the research community, including researchers, health professionals, voluntary health organizations, provincial health organizations, international research funders, industry and patient groups, and encourages interdisciplinary, integrative health research along the spectrum of basic discovery, clinical research, health services and population health and policy.
The INMD Strategic Plan for 2021-26 will catalyze world-leading research that promotes optimal and equitable nutrition and metabolic outcomes for Canadians. Through this plan, INMD will contribute to improving the health and quality of life of Canadians by preventing and reversing the growing burden of INMD-related conditions (i.e., endocrine, liver, digestive, kidney and metabolic disorders). INMD will support research, knowledge mobilization and capacity building through four strategic priority areas: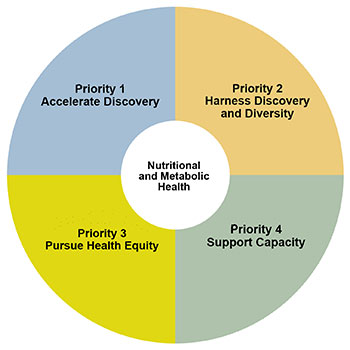 Accelerate Discovery:
Identify and intervene in the physiological and molecular mechanisms of nutritional and metabolic health and disease.
Harness Discovery and Diversity:
Generate precision prevention, diagnosis and treatment strategies in nutrition and metabolic health.
Pursue Health Equity:
Develop preventive strategies through social, environmental and policy interventions that reduce nutritional and metabolic health inequities and improve community and population health.
Support Capacity:
Support development of Canadian research capacity towards improved nutritional and metabolic health outcomes.
For more information about these priorities, please refer to the full strategic plan.
Date modified: