Dr. Kanna Hayashi: Evaluating risk mitigation services during the dual crises of COVID-19 and overdose among people who use opioids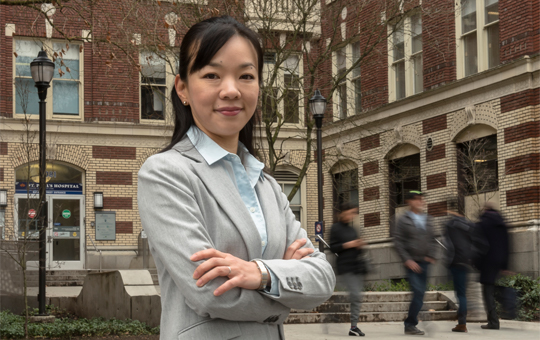 In 2016, the government of British Columbia declared the ongoing opioid overdose crisis a public health emergency. While major strides in harm reduction interventions have taken form across Canada since then, the onset of the COVID-19 pandemic derailed much of the progress being made. According to Statistics Canada, the number of opioid toxicity deaths in Canada has increased by 88% during the pandemic compared to the same period prior.
Substance use epidemiologist Dr. Kanna Hayashi was on the verge of evaluating two new opioid crisis interventions – expanded opioid agonist therapy prescription services and risk mitigation prescribing – when the pandemic hit.
"Unfortunately, the implementation of these interventions met a lot of challenges," she says.
Dr. Hayashi has spent her career focused on advancing harm reduction for people who use drugs. She leads the Vancouver Injection Drug Users Study (VIDUS), is a research scientist at the BC Centre on Substance Use and teaches at Simon Fraser University.
But it was leading the Mitsampan Community Research Project where her interest and passion for research around harm reduction and substance use was ignited.
"It was just a small house in a neighbourhood in Bangkok, providing clean needles and naloxone," Dr. Hayashi says of the peer-run Mitsampan Harm Reduction Center. "I learned a lot about what harm reduction was about. I also discovered the unique role that a researcher has – bridging the gap between people with lived and living experience and those who implement policies and programs."
Now armed with the Canadian Institutes of Health Research's (CIHR) Operating Grant: COVID-19 Mental Health & Substance Use Service Needs and Delivery, Dr. Hayashi and her colleagues are aiming to conduct the evaluation of innovative risk mitigation services in the context of dual crises of COVID-19 and overdose among people who use opioids in Vancouver, BC.
"Even though these new harm reduction interventions were launched at the beginning of the pandemic, the idea of these interventions has been advocated for many years already," she says. "It just didn't happen until COVID hit, so these ideas have been incorporated into those emergency measures."
Dr. Hayashi says she's encouraged by the growing interest from peers, policy makers and students in the field of overdose prevention and harm reduction. "The next generation of health researchers gives me hope," she says.
Reflecting on her research team's experience during the pandemic, Dr. Hayashi says, "I think the biggest achievement was that we have managed to maintain our longstanding cohort study despite this past year's mess." With the overdose epidemic growing exponentially during COVID-19, she says, "There's a dire need to do more to address this public health emergency."
The emotional and physical toll of dealing with the dual crises of the COVID-19 pandemic and overdose among people who use opioids has been detrimental, Dr. Hayashi says — especially among frontline harm reduction workers.
"We've had so many funerals," she says. "It's very concerning. Mental health support is something we desperately need for everyone involved in this emergency."
Learn more about Dr. Hayashi's research
Date modified: