Dr. Megan O'Connell: Supporting older adults to maintain social connections using technology during COVID-19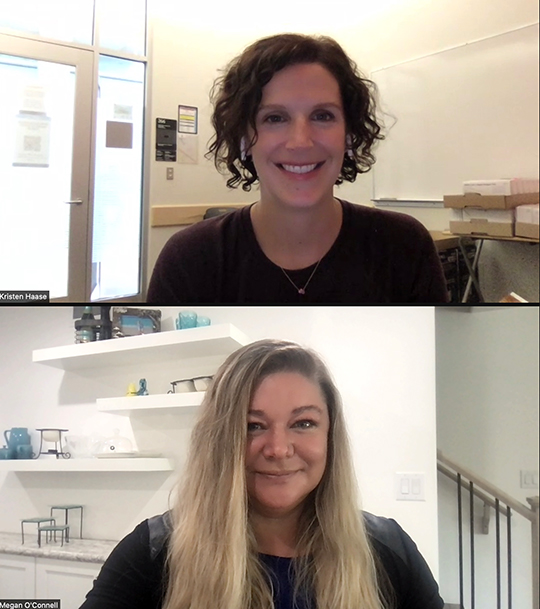 Dr. Kristen Haase (upper photo), Dr. Megan O'Connell (lower photo)
Clinical psychologist Dr. Megan O'Connell jokes that while her focus is neuropsychology, her real passion lies in measurement theory.
"I shouldn't say that," she laughs. "But I care about the tools we have to measure people's mental health. I'm obsessed with the properties of how to measure these things because they're looking at the effects and impacts of my interventions."
Dr. O'Connell describes her focus in neuropsychology as dealing with the intersection of the brain and its impact on behaviour and mental health. "One of the things that's become clear throughout my many years working in this field, is this artificial separation between mental health concerns and neurological conditions."
Looking back at what led her down the path of neuropsychology, Dr. O'Connell recalls when a family member with dementia was diagnosed late in the course of his illness. "When I say my passion is in measurements, it's partly because of my very early experiences," she says.
"The tools the specialists had used just weren't good enough at picking up on somebody who was really high functioning prior to the onset of problems," she says. "The impact of the lack of diagnosis on the whole family structure was quite profound and really did impact me." She began by looking at various screening tests for dementia and then moving into the psychosocial impacts of dementia diagnosis on the entire family structure, and "what we can do post-diagnostically to help maximize everyone's mental health and daily functioning."
Now, Dr. O'Connell works with the Canadian Consortium of Neurodegeneration in Aging (CCNA), leading the Neuropsychology Team of the Rural and Remote Memory Clinic based at the University of Saskatchewan – bringing mental health-based interventions to dementia care and delivering that care remotely using technology that can be accessed by rural families of people living with dementia.
Her experience working with telehealth, remote communities and the aging population led Dr. O'Connell to partner with Dr. Kristen Haase of the University of British Columbia on Socialization Intervention and Mental Health Monitoring for Older Adults in the Era of Physical Distancing due to COVID-19, funded by the Canadian Institutes of Health Research's (CIHR) Operating Grant: COVID-19 Mental Health & Substance Use Service Needs and Delivery.
Prior to the grant, Dr. O'Connell's team had been training older adults how to use technology in new ways. "There are certain ways that information can be presented that maximizes your learning," she says. "Providing information in a way that works for those who have cognitive impairments also works for those who don't have impairments."
Although her team found success training older adults on technology use and data shows this population have increased their use of technology during the pandemic, Dr. O'Connell says there are still other financial, structural and psychological barriers that exist.
"Our research has been bumping up against this larger issue," she says. Between lack of internet infrastructure in some communities, the price tag of modern equipment to access the internet and the fear of the unknown for those who are not comfortable with technology –there are many barriers for policy makers to overcome with the push for more services and supports being technology mediated to be available virtually.
"It worries me that we still have these massive disparities in accessing technology," says Dr. O'Connell. "If we don't start paying attention to this group, we're going to create a new vulnerable group of people."
Learn more about Dr. O'Connell's research
Date modified: