Dr. Rusty Souleymanov: Community-based study explores mental health and substance use impacts of COVID-19 on 2SGBQM communities in Manitoba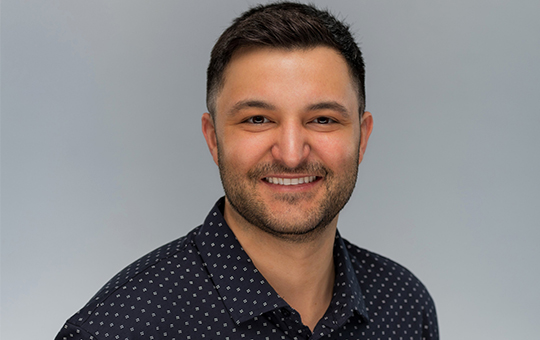 "As a minority in Canada, research with marginalized communities is very personal to me," says Dr. Rusty Souleymanov, lab director and assistant professor in the Faculty of Social Work at the University of Manitoba, and director of the Village Lab.
Dr. Souleymanov's work looks at those living with HIV and other sexually transmitted blood-borne infections, sexual and gender minority men and Two-Spirit people, Indigenous people, Black, African and Caribbean people, immigrants and refugees, and people who use substances. His research focuses on the impacts of oppression and injustice on the health and wellbeing of socially and economically marginalized communities in Canada.
With both a personal and professional investment in this research, he launched a community-based research project on Mental Health, Substance Use, and Service Needs, Access, and Delivery among Two-Spirit, Gay, Bisexual, Queer, and Other Men Who Have Sex with Men in Manitoba with funds from the Canadian Institutes of Health Research's (CIHR) Operating Grant: COVID-19 Mental Health & Substance Use Service Needs and Delivery funding opportunity.
"In Canada, we know this population is already at a disproportionately high risk for a variety of health-compromising conditions, including negative mental health outcomes," Dr. Souleymanov says. "One thing we knew right away is that the COVID-19 pandemic is reinforcing health inequities among vulnerable populations and this community is no exception."
Early findings from his study found a sharp increase in both mental health concerns and substance use. Over half the respondents stated the pandemic made their mental health much worse, with a third of respondents indicating increases in alcohol, nicotine and cannabis use. A finding of great alarm, he says, is that 38% of respondents indicated increases in injection drug use — which is a major concern for the community. The study also found that individuals who experienced a loss of income due to the COVID-19 pandemic were significantly more likely to report worsening mental health.
"This population has experienced a lot of issues since the pandemic started. Many individuals had to go back to households which were extremely unsafe, homophobic, transphobic and some were subjected to violence as well," Dr. Souleymanov says. "The community is still facing a lot of prejudice and discrimination, especially for those living in more remote or rural areas."
According to Dr. Souleymanov, the data from this study will contribute important new information regarding the mental health and substance use impacts of COVID-19. Findings will also inform mental health and substance use and harm reduction services for this community in Manitoba.
"There's something interesting happening at the intersection of mental health and substance use," Dr. Souleymanov says. "It's really perpetrated some of the existing disparities and health concerns – mental health concerns, substance use concerns – that I think are important to pay attention to."
Learn more about Dr. Souleymanov's research
Date modified: