Dr. Jessica Moe: Preventing opioid deaths related to an increase in smoking illicit substances during COVID-19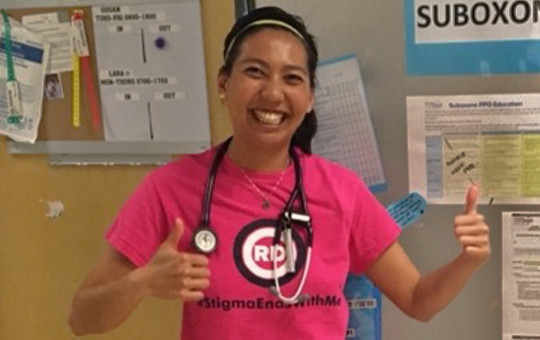 On the front lines of Vancouver General Hospital's emergency room floor, Dr. Jessica Moe says she doesn't shy away from immersing herself entirely in her research.
"There is maybe nowhere else in society where we see everybody — from a neonate to a 100-year-old person, from every socioeconomic status, every walk of life, every employment background. The emergency room is such a unique place to make a difference for people."
Dr. Moe, a clinician scientist with the BC Centre for Disease Control and an assistant professor at the University of British Columbia, has dedicated her career to contributing to public health interventions from the front lines of clinical care, particularly when it comes to opioid overdose, prevention and substance use.
Since 2016, Dr. Moe and her team have observed an alarming increase in smoking-related overdose deaths. Once the COVID-19 pandemic hit, overdose prevention sites struggled to adapt to physical distancing requirements. The pandemic resulted in reduced service hours and capacity and a 35% decline in visits. With an increase in smoking-related opioid overdoses and a decrease in prevention site users, trouble was on the horizon; Dr. Moe says they needed to act quickly.
With funding from the Canadian Institutes of Health Research's (CIHR) Operating Grant: COVID-19 Mental Health & Substance Use Service Needs and Delivery, Dr. Moe launched a pilot project for overdose prevention sites, in tandem with her research on Preventing Opioid Deaths due to COVID Related Increase in Smoking Illicit Substances (Preventing OD CRISIS).
"I have the benefit of treating people pre-overdose or post-overdose in acute care settings. Continuous pulse oximetry (oxygen monitoring) is something we do routinely, but this technology had never been applied to overdose prevention sites," Dr. Moe says. "So, we had the idea of making oxygen monitoring available at these sites for people who smoke opioids so they could be monitored at a distance and feel safe."
Beyond mitigating the physical distancing requirements of the pandemic, Dr. Moe says this pilot project and research has the additional benefit of providing more relevance for people who smoke opioids to utilize overdose prevention sites, which she hopes becomes a new standard.
According to Dr. Moe, a major contribution to her team's success has been meaningfully engaging people with lived and living experience with opioid use throughout the project, from planning to implementation.
"It's been wonderful to see how engaged these sites have been and how excited they've been with the services that we provided through this study," she says. "The sites we've worked with have asked us if we could continue offering this service, so we'll be exploring options of expanding our work since the response has been overwhelmingly positive."
Learn more about Dr. Moe's research
Date modified: