Statement from Dr. Charu Kaushic on World AIDS Day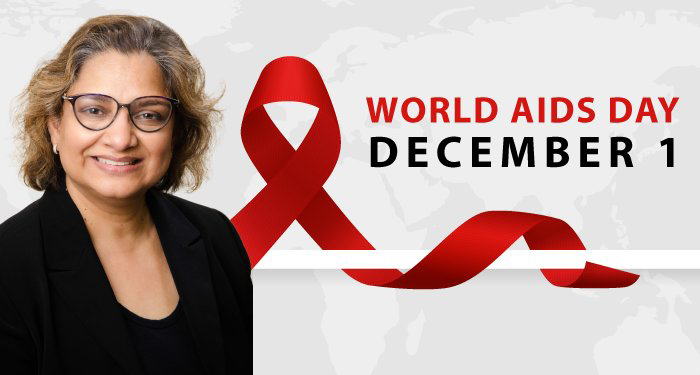 The theme of this World AIDS Day is End inequalities. End AIDS. End Pandemics. Despite significant advances in developing a prevention and treatment toolkit, 1.5 million people around the world became newly infected with HIV in 2020. HIV remains a disease that highlights inequality. Globally, the majority of new infections and deaths from AIDS occur in Sub-Saharan Africa, where women and girls account for 63% of new infections and where 6 in 7 new infections in adolescents are in girls. In Canada, despite progress, it is estimated that more than 2000 new infections occur every year—or one new infection every four hours. In 2018, 49% of new infections in Canada were in gay, bisexual and other men who have sex with men (gbMSM), even though they make up only 3 to 4% of the Canadian population. Thus, HIV/AIDS continues to disproportionately affect key populations, especially those who experience inequities driven by the impact of determinants of health, along with stigma and discrimination.
This year's theme for World AIDS Day also emphasizes the importance of addressing the inequities that are prolonging other pandemics around the world. As the COVID-19 pandemic has reminded us, no one is safe until everyone is safe, and now more than ever, we must protect those who are most vulnerable to current and future pandemics.
CIHR is committed to supporting research efforts toward ending the AIDS pandemic. Through our HIV/AIDS and STBBI Research Initiative, we continue to lead the Government of Canada's research response to HIV by supporting excellent research across the cascade of care: from prevention and testing to treatment and ongoing care. Recognizing the importance of working with those most affected, we also continue to champion community-led and people-centered approaches to research through our Community-Based Research Program, which supports research and capacity-building initiatives relevant to communities engaged in the fight against HIV/AIDS.
Ending the AIDS pandemic will require transformative action. A top priority for CIHR is to engage with the Canadian HIV/AIDS community to help improve our contributions toward this cause. We are currently looking to expand our advisory committee, and we welcome you to nominate yourself, a fellow colleague or community member to join us. At this time, we are specifically seeking community representatives willing to bring the perspective of people with living/lived experience of HIV/AIDS. Our call for nominations is open until December 17, and we encourage you to contact us for more information.
We have come a long way since the first cases of AIDS were reported 40 years ago. We need to finish the fight against this pandemic by ending the inequalities that still exist. Let's continue to work together to reach the global goal of eliminating HIV and AIDS as a public health threat by 2030.
Dr. Charu Kaushic
Scientific Director
CIHR Institute of Infection and Immunity
Date modified: