Ms. Deborah DeLancey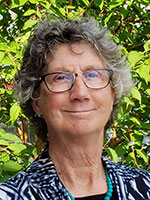 Affiliation
Former Deputy Minister of Health and Social Services for Northwest Territories
Committee membership
Governing Council
Governance and Nominating Committee
Biography
Ms. Debbie DeLancey is a consultant specializing in research and evaluation related to health and wellness in the North. Ms. DeLancey began her career in the Northwest Territories in the 1970's working with Indigenous organizations and communities on issues related to land rights, traditional knowledge, and impacts of resource development. In 1987, she joined the Government of the Northwest Territories where she held a number of senior positions over her nearly 30-year career, including Deputy Minister positions in Municipal and Community Affairs, Human Resources, and Health and Social Services. While in the health portfolio, she led initiatives to address structural racism within the health system, introduced commitments to cultural safety, and led structural transformation of the health and social services system.
Ms. DeLancey's current research interests focus on co-creation of evaluation approaches that privilege both Indigenous and western knowledge, particularly in the context of Indigenous land-based programs.
Ms. DeLancey has served on a number of boards including the Canadian Foundation for Healthcare Improvement, the Mental Health Commission of Canada, and the National Steering Committee for CIHR's Strategy for Patient-Oriented Research; and currently sits as a board member of the Canadian Frailty Network, Ecotrust Canada, and AVENS: A Community for Seniors. Ms. DeLancey has received recognition awards from the Canadian Evaluation Society, the NWT Association of Communities, and the Local Government Administrators of the NWT. In 2016, she received the Dave Ramsden Career Excellence Award from the Government of the Northwest Territories.
Ms. DeLancey holds a BA in Anthropology and Sociology from Carleton University, and a Master's of Assessment and Evaluation from the University of Melbourne.
Date modified: