Dr. Shanthi Johnson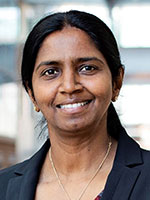 Affiliation
Professor and Dean
School of Public Health
University of Alberta
Committee membership
Governing Council
Audit Committee (Chair)
Executive Committee
Biography
Building on a strong foundation from India, Dr. Shanthi Johnson has significant academic and leadership experiences in Canada and beyond. She is Professor and Dean of the School of Public Health, University of Alberta. Previously, she served as an Associate Dean at the Faculty of Kinesiology and Health Studies, University of Regina and a Professor at the School of Nutrition, Acadia University. Her community-engaged research program focusses on falls/injury prevention, aging in place in rural communities, and social isolation among immigrant and refugee seniors. Her work is enriched by collaborative international experiences as a Fulbright Scholar in the US, an Endeavour Executive Fellow in Australia, a DAAD Scholar in Germany, a GIAN visiting professor in India, and an Understanding China fellow.
Beyond academia, she has served or continues to serve on local to international boards including the Eastern Kings Community Health Board and Annapolis Valley Health, Saskatchewan Health Research Foundation, National Seniors Council, and Shastri Indo-Canadian Institute. She has been awarded fellowships with the Dietitians of Canada, the American College of Sports Medicine, and the Gerontological Society of America. Dr. Johnson was honoured as the Female Professional of the Year by the India Canada Chamber of Commerce, received the Award of Innovation by the Regina Chamber of Commerce and was recently named one of RBC's Top 25 Canadian Immigrants.
Dr. Johnson's personal and professional work has spanned many groups around the globe, fostered by key tenets of international cooperation, equity, and inclusive diversity, which underpin her worldview. She is deeply committed to addressing issues that help elevate the human condition.
Date modified: