Hearing Our Voices: How a web-based curriculum is leading to better health care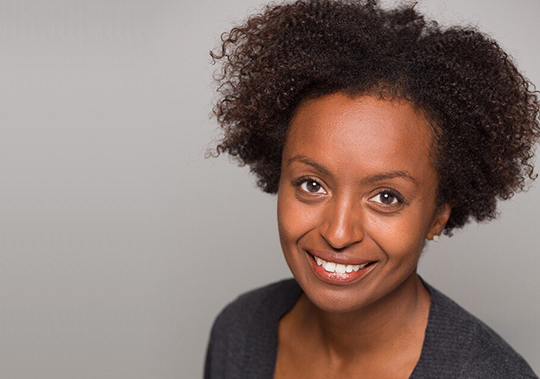 When Dr. Naana Afua Jumah was completing the five-year Residency Program in Obstetrics and Gynaecology at the University of Toronto, she realized that something was missing.
A few years earlier, the Royal College of Physicians and Surgeons of Canada had recognized the need for such residency programs to include training in Indigenous Peoples' health. As part of an overarching goal to improve health outcomes for Indigenous Peoples across the country, they even mandated the introduction of this type of Indigenous health education into postgraduate studies—but Dr. Jumah's program at the University of Toronto didn't have this component built in. And, as it turns out, they weren't alone.
In 2012, Dr. Jumah surveyed residents and program directors in accredited obstetrics and gynaecology programs across Canada to determine the size of this educational gap. The results, which were published in 2013, clearly showed that residents had a wealth of knowledge about disease-specific issues, "but they didn't know why Indigenous women had worse health outcomes," explains Dr. Jumah, who is now an obstetrician-gynecologist at the Thunder Bay Regional Health Sciences Centre and assistant professor at the Northern Ontario School of Medicine. "And that's critical because that's where the social determinants of health factor in."
The good news was that residents were interested in learning more and program directors were keen to provide the appropriate training—but the gap persisted because a standard curriculum in the social determinants of Indigenous women's reproductive health didn't exist, and none of those surveyed felt they had the expertise or the resources to create one.
Undaunted, Dr. Jumah decided to act on the results of the survey and start a curriculum development process to address this demonstrated need. Funding was scarce, however, as many organizations declined to finance the project, and she faced significant resistance from people who asked why she wanted to focus on Indigenous women rather than on other groups.
"This was before the Truth and Reconciliation Commission (TRC) and before the National Inquiry into Missing and Murdered Indigenous Women and Girls (MMIWG), and so there wasn't the momentum or interest in Indigenous health that we are starting to see now," she explains. "And of course it's important to pursue curricula that focus on other groups and their health needs, such as Muslim women or immigrants, but Indigenous women are important in their own right, too, and always have been."
Her persistence paid off, and Dr. Jumah was ultimately able to secure funding through a grant from the Northern Ontario Academic Medicine Association. This funding allowed her to gather a group of representatives from Indigenous women's organizations from coast to coast to coast. Although she was convening and organizing the project, Dr. Jumah emphasizes that the core components of the curriculum came from the Indigenous women themselves.
"And the incredible thing about the way the curriculum was conceived and structured is that it's really all about critical self-reflection and understanding your relationship to Indigenous women," she says. "It's about how your past experience as an individual and your past experience with Indigenous people—whether that's direct experience or through what you hear in the media, on television, or around town—has an impact on the way that you interact with Indigenous women."
Dr. Jumah stresses that it is this aspect of the curriculum that makes it very portable, meaning that it can easily be adapted and applied to other contexts.
"If you think about the patient you have in front of you and use that critical lens to understand your relationship to them and how your experience has informed what you bring to that relationship—that's not applicable just to Indigenous women or just to reproductive health," she says. "It's applicable to all aspects of medicine."
This portability means that the curriculum is suitable for health care providers—such as physicians, nurses, pharmacists and first responders—but it is also worthwhile for social workers, policy makers, program administrators and any clinic office staff members who regularly interact with patients because it is focused on building relationships, not on medicine specifically.
The curriculum, entitled Hearing Our Voices: An Indigenous Women's Reproductive Health Curriculum, launched officially on October 1, 2019. There has been tremendous uptake so far, and the resulting data will be used to assess how effective the curriculum is as a web-based educational tool. In the meantime, the team is in the process of getting the curriculum accredited for health professionals, and the website will be revamped to be able to support the curriculum in the long term.
"It has been an absolutely thrilling project to work on," says Dr. Jumah. "It has been very close to my heart because the majority of my patients in obstetrics and gynaecology are Indigenous women. I wanted this training to be available to my colleagues, in the broadest sense, to enable all of us to do a better job of providing health care. And, in that way, I'm doing everything I can to be an ally to the women that I see and to advocate on their behalf, hopefully with that allyship extending beyond the immediate relationship my patients have just with me."
Related reading
Date modified: