Post-traumatic Stress Injuries (PTSI) among Public Safety Personnel (PSP)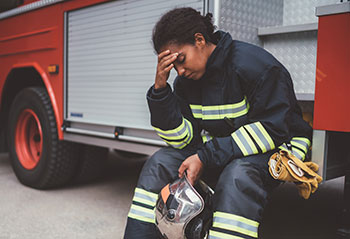 Overview
Trauma- and stressor-related disorders, including post-traumatic stress disorder (PTSD), are prevalent in multiple sectors of the Canadian population. It is estimated that PTSD affects approximately 9% of Canadians at some point in their lives. The impacts of post-traumatic stress (PTS) extend beyond the individual, and can be long-lasting – affecting families, workplaces, and entire communities. PTS is best understood for its prevalence among military personnel and veterans, though it has also been recognized as a significant burden among public safety personnel (PSP).
Budget 2018 committed $20 million over five years to support a new joint initiative between the Canadian Institutes of Health Research (CIHR) and the Canadian Institute for Public Safety Research and Treatment (CIPSRT) to address post-traumatic stress injuries (PTSI) among public safety personnel (PSP). CIHR, led by the Institute of Neurosciences, Mental Health and Addiction (CIHR-INMHA), has launched funding opportunities to fulfil this federal commitment and further our understanding of PTSI among PSP.
Please note: CIHR strategic research initiatives are funded through Institute strategic initiative budgets and/or dedicated funding from government and external partners. Funding for these initiatives is not sourced from CIHR's Project Grant competition.
Date modified: