Results of the Health Effects of Vaping Catalyst Grants

The CIHR and its Institutes of Cancer Research (ICR), Circulatory and Respiratory Health (ICRH); Human Development, Child and Youth Health (IHDCYH); and Neurosciences, Mental Health and Addiction (INMHA), in partnership with the Canadian Cancer Society, are pleased to announce the results of the Health Effects of Vaping funding opportunity.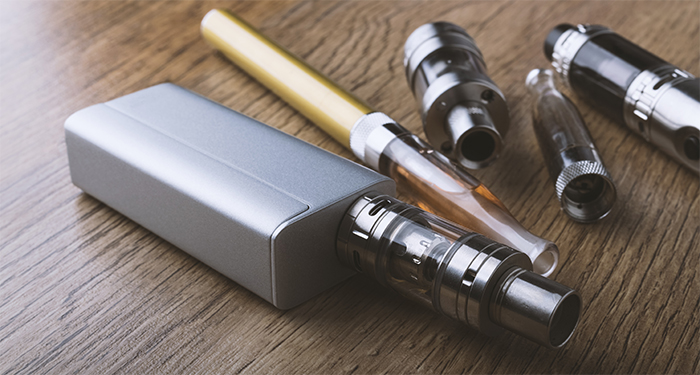 This rapid response emerging health threats one-year catalyst grant opportunity was launched in January 2020 and was developed to provide funding for research aimed at further understanding the health effects of vaping in response to growing concerns about the rapid rise of vaping in Canada and the associated health effects. There is an increased need for research evidence to advance our understanding of vaping behaviours, associated health effects (including vaping-associated lung illness [VALI] and other lung injury), vascular changes, and mental health and addiction impacts. As vaping products continue to increase in popularity, research evidence on the health effects of vaping of cannabis products (including extracts), particularly in light of the legalization of cannabis extracts in Canada, is another key area where research is urgently needed.
The goal of this funding is to address urgent knowledge gaps by expanding and strengthening the overall knowledge base related to vaping in Canada. This funding opportunity will stimulate research capacity in key areas by generating preliminary observations and data; inform future development of policies, practices and programs related to vaping; and is designed to produce high impact results. We anticipate that research supported by this funding will be relevant for healthcare workers, policymakers, parents, teachers, and youth, and will help develop an evidence base upon which to build future policies and regulations related to vaping.
"Vaping in all ages, especially in youth, is an emerging health concern for which we need more evidence. The Scientific Directors of CIHR Institutes contributing to the Vaping Catalyst Grants funding opportunity, join our Canadian Cancer Society partner in thanking CIHR staff and peer reviewers for the hard work and dedication which allowed this competition to proceed during the pandemic period. We are pleased with the intense interest from the research community and want to congratulate all the grant recipients. We wish the awardees great success as they investigate this important topic and we are anxiously awaiting the results from their diverse research programs."
"With the rapid rise in vaping in Canada, particularly among youth, more research is urgently needed to understand the long-term health effects of vaping," says Dr Judy Bray, Vice President, Research at the Canadian Cancer Society. "CCS is pleased to partner with CIHR to support these Catalyst Grants to address key questions related to e-cigarette use. The findings from these projects will help inform advocacy efforts and policies to mitigate the risks related to vaping and benefit public health so that Canadians can live longer, fuller lives."
Highlights of this funding opportunity include:
$2.7M awarded to fund 27 grants from a total of 79 eligible applications received;
4 grants are supported by the Canadian Cancer Society;
59% of the funded grants address vaping in youth populations;
15% of the funded grants address vaping policies in Canada.

Female
investigators

Indigenous
health
research

Biomedical

Clinical

Health
systems/
Services

Social/cultural/
environmental/
population health
Number of applications submitted
29
5

Footnote

*
31
16
3
29
Percent of total applications submitted
36.7%
6.3%
39.2%
20.3%
3.8%
36.7%
Number of applications funded
10
1

Footnote

*
10
7
0
10
Percent of applications funded
37.0%
3.7%
37.0%
25.9%
0.0%
37.0%
The results of this funding opportunity are timely given the current context; vaping continues to be an emerging health issue and COVID-19 infections are known to negatively impact lung health. As such, this funding opportunity was anticipated to help further our understanding of whether vaping may be linked to different outcomes for patients experiencing COVID-19 infections. Of the 27 supported projects, 4 grants specifically address vaping in the context of the COVID-19 pandemic.
The results of the funding opportunity can be further explored on the Funding Decisions webpage.
Date modified: