CIHR's COVID-19 and Mental Health (CMH) Initiative: Knowledge Synthesis Results and Looking Ahead
On May 22, the Funding Decisions for the Knowledge Synthesis: COVID-19 in Mental Health and Substance Use funding opportunity were shared with applicants. In total, 45 applications were funded – five more than anticipated due to the high quality of applications. The maximum amount per grant is up to $50,000 over six months.
"This research will rapidly inform and provide policy-makers, practitioners, researchers and all Canadians with the information they need now to improve mental health outcomes during the pandemic response, and beyond," says Dr. Samuel Weiss, Scientific Director of the CIHR Institute of Neurosciences, Mental Health and Addiction.
The CMH Initiative is supported by three working groups comprising CIHR, Health Canada and the Public Health Agency of Canada, partnered organizations and five CIHR Institutes, as well as an external Expert Advisory Panel (EAP).
Please note that the source of funds for these competitions are not from any cancelled, delayed or future CIHR competitions but are a part of the strategic whole of Government of Canada efforts against COVID-19.
Knowledge Synthesis Results: Supporting Diverse Populations
"As the national COVID-19 pandemic response continues, it is clear that Canadians are experiencing a collective traumatic event," explains Dr. Weiss. "The sharp increase in uncertainty, worry, anxiety and stress can negatively affect our mental health, and certain individuals and groups – including those currently receiving or seeking mental health and/or problematic substance use supports – may be at particularly high risk."
Diverse populations supported by the CMH Initiative knowledge synthesis grants include, but are not limited to:
Healthcare and public safety personnel
Older adults and residents of long-term care homes
People who use drugs (PWUD) and are facing converging COVID-19 and substance use and addiction epidemics
Women at risk of gender-based violence
Under-served Indigenous Peoples and communities
COVID-19 and Mental Health (CMH) Initiative: Populations identified in the 45 funded Knowledge Synthesis grants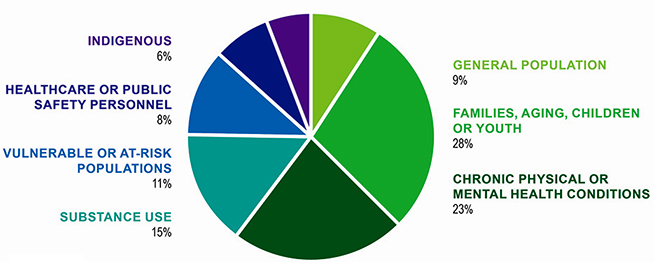 Long Description

| Populations identified in 45 funded Knowledge Synthesis grants | Percentage |
| --- | --- |
| Indigenous | 6% |
| Healthcare or public safety personnel | 8% |
| Vulnerable or at-risk populations | 11% |
| Substance use | 15% |
| General population | 9% |
| Families, aging, children or youth | 28% |
| Chronic physical or mental health conditions | 23% |
CIHR's COVID-19 and Mental Health (CMH) Initiative: Looking Ahead
Through a series of funding opportunities, the CMH Initiative will provide urgent knowledge and evidence to support decision-making throughout the mental health and substance use responses to the COVID-19 pandemic. A subsequent funding opportunity for operating grants, COVID-19 Mental Health and Substance Use Service Needs and Delivery, is expected to launch in early June to address the impacts of COVID-19 and containment measures on mental health and substance use. Application to the knowledge synthesis grants competition does not affect an applicant's eligibility to apply to the operating grant program.
In addition, the CRISM Urgent Guideline Activities Related to COVID-19, was created to enable the Canadian Research Initiative in Substance Misuse (CRISM) to undertake urgent activities related to COVID-19 and mental health and substance use guidelines. Visit the CRISM COVID-19 Pandemic National Rapid Guidance website to view all guidelines as they become available.
To maximize the rapid sharing and uptake of knowledge generated through CMH-funded projects to audiences who need it most — including the research community, policy and decision makers, practitioners and the Canadian public — the Initiative will have a robust knowledge mobilization (KM) strategy.
To connect with CIHR about the COVID-19 and Mental Health Initiative, please email COVID19MH-COVID19SM@cihr-irsc.gc.ca.
Date modified: