Message from Dr. Rick Glazier – November 2019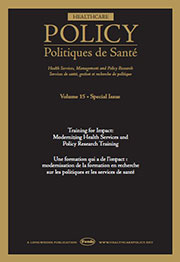 Healthcare Policy special issue: Training for Impact: Modernizing Health Services and Policy Research Training
Dear Colleagues,
I am delighted to share with you the hot-off-the-press publication of a new special issue in Healthcare Policy on Training for Impact: Modernizing Health Services and Policy Research Training.
This collection of papers is based on work led by CIHR-IHSPR and the Canadian Health Services and Policy Research Alliance (CHSPRA) in collaboration with many partners across the country. It represents a response to a pan-Canadian consensus effort to modernize doctoral and post-doctoral training in health services and policy research (HSPR) for broader career readiness and greater health system impact.  The papers represent emerging lessons learned from a new embedded fellowship program - the Health System Impact Fellowship – and reflect our commitment to innovate in research funding design and to systematically study and learn from the resulting impacts.
The Health System Impact Fellowship is a first and important step in Canada's training modernization strategy. The program has witnessed tremendous response from trainees, universities, and health system organizations across the country. Today, close to 150 Health System Impact Fellows are embedded in more than 80 health system organizations and are connected to 23 university training programs across Canada. I believe this is a promising indication of the country's commitment to both training modernization and evidence-informed health system improvement.
This Healthcare Policy special issue on training modernization features an introductory editorial by Guest Editor Dr. Tom Noseworthy; Canada's first-ever study of the career outcomes of HSPR PhD graduates; a comparison of embedded fellowship models in Canada and the United States; an analysis led by the inaugural cohort of Health System Impact Fellows about their contributions and impacts as embedded researchers; an analysis of the extent to which an embedded fellowship model can contribute to the development of enriched core competencies in areas required to make an impact; and a study about mentorship in the context of embedded impact fellowships. 
I would like to acknowledge and thank the individuals who catalyzed and led the pan-Canadian training modernization initiative, including Dr. Robyn Tamblyn, my predecessor as Scientific Director at CIHR-IHSPR, Dr. Stephen Bornstein and Dr. Steini Brown, who co-chair the Training Modernization Working Group, and IHSPR's Associate Director, Dr. Meg McMahon. I would also like to extend sincere appreciation to Dr. Tom Noseworthy for his commitment to helping Canada advance along the path towards the learning health system, including his contribution as Guest Editor of this Training for Impact special issue. 
This special issue is a contribution to the emerging evidence base regarding embedded fellowships and the learning health system. I hope you enjoy it and I encourage you to connect with CIHR-IHSPR and the authors to engage in discussion about next steps in Canada's HSPR training modernization efforts.
Best wishes,
Rick
Rick Glazier, MD, MPH, CCFP, FCFP
Scientific Director
Institute of Health Services and Policy Research (IHSPR)
Date modified: