Travel Awards – Hacking AMR 2019 - JPIAMR-VRI Hackathon event
Application Deadline: 2019-10-25
Anticipated Notice of Decision: 2019-11-15
Funding Start Date: 2019-12-01
Description
Antibiotics have saved millions of lives throughout the many decades they have been in use. However, antimicrobial resistance (AMR) has become a global health challenge and the World Health Organisation (WHO) now considers AMR to be one of the greatest threats to public health, jeopardising the achievement of the 2030 Agenda for Sustainable Development Goals. Increasing resistance to antibiotics affects not only human but also animal health, food security, and the environment. The urgency, therefore, is to act now. One possible avenue to find solutions is to pose fresh eyes on innovative ideas to address real AMR problems using the digital technologies and the One Health Approach. The Joint Programming Initiative on AMR (JPIAMR), through its JPIAMR Virtual Research Institute is co-organizing with the CIHR-Institute of Infection and Immunity, the Swedish Research Council and the Research Council of Norway, a Hackathon under the theme of using the digital world to fight AMR.
This Hackathon is a free to attend, collaborative, creative, time-pressured, call-to-action event on AMR. The overall goal of this funding opportunity (Travel Awards) is to support Canadian participation in this Hackathon.
The Canadian Institutes of Health Research (CIHR)'s Institute of Infection and Immunity (III) will provide travel awards for participants to attend the Hacking AMR 2019 - Using the Digital World to fight Antimicrobial Resistance from December 13 to 15, 2019 at the Nordic Forum in Stockholm, Sweden. The event is being organised by the Joint Programming Initiative on Antimicrobial Resistance – Virtual Research Institute (JPIAMR-VRI). The three-day event is supported and co-organised with the Swedish Research Council; CIHR; Research Council of Norway; in collaboration with the Uppsala Antibiotic Centre (UAC) and Hacking Health Foundation consultants.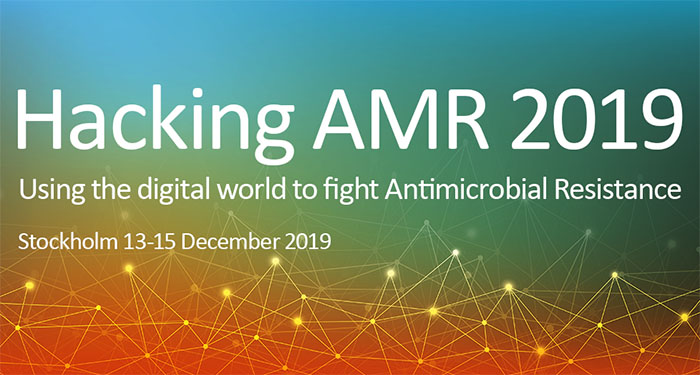 Funds available
CIHR financial contributions for this initiative are subject to availability of funds. Should CIHR funding levels not be available or are decreased due to unforeseen circumstances, CIHR reserves the right to reduce, defer or suspend financial contributions to awards received as a result of this funding opportunity.
The total funds available for this funding opportunity is $30,000, enough to provide up to ten (10) travel awards of up to $3,000 each.
Objectives
To provide travel awards to individuals in aid of research and knowledge translation activities consistent with CIHR–III's vision, mandate, and strategic directions where the circumstances fall outside CIHR's current suite of funding programs.
To provide the opportunity to dream up & create solutions to real-world problems to improve human, animal, and environmental health and well-being with regards to Antimicrobial Resistance.
Participants
Participants of the Hacking AMR 2019 event will depict the global nature of AMR and its influence and demands on all populations around the world. The hackathon aims to bring together scientists, designers, patients, developers, innovators, students, and entrepreneurs. These individuals will come from human, animal and environmental health, information technology and the digital world.
Aside from the chance to grasp the winning title and Grand Prize, participants of the event can benefit by:
Forging new (unexpected) possible partnerships;
Obtaining a fresh outside perspective to challenges and obtaining feedback to improve on an idea;
Breaking possible new markets or developing extensions that open up entire new channels;
Obtaining assistance in building a business case to facilitate further development and investment in the team that provides the solution;
Testing their capabilities of handling high pressure challenges;
Having the opportunity to stand-out and expose their talents;
Having their project evaluated by high profile key opinion leaders with the opportunity to exchange and foster potential improvement of their ideas.
Evaluation Criteria
Interested participants are required to register directly on the Hacking AMR 2019 registration page. Their registration will be evaluated by the International Organizing Committee and, if accepted, participants will receive a confirmation of their participation to the Hacking AMR 2019 event from the Committee.
The selection will be made upon evaluating skills and expertise as detailed in the registration to obtain a suitable diversity required to produce novel and quality work products under the event's theme. A previous or current combined experience in digital solutions and AMR research is considered as an asset without being mutually exclusive.
The International Organizing Committee will be recruiting the participants from any of the JPIAMR Member States (visit the registration page for the complete list).
A CIHR Review Committee will select Canadian awardees of this travel awards according to their eligibility (see below).
Eligibility
Upon receipt of this confirmation, Canadian participants that meet the below eligibility criteria will be able to apply to the Travel Awards.
For an application to be eligible:
The Nominated Principal Applicant (NPA) must be one of the following:

A trainee;
An independent researcher; or

The applicant will have received the confirmation of his/her participation to the Hacking AMR 2019 from the International Organizing Committee.
General CIHR Policies
Successful applicants funded through this funding opportunity and any other persons working on the project must fully comply with the applicable CIHR Funding Policies.
Allowable costs
Applicants should review the Use of Grant Funds section of the Tri-Agency (CIHR, NSERC and SSHRC) Financial Administration Guide for a complete listing and description of allowable costs and activities.
The following expenses will be considered eligible for funding received through this funding opportunity:
Travel and accommodation for participant (all travel will be by the lowest economy fare);
Per diem for meals (when not provided for with the conference and transportation mode; applicants must use their home institution's per diem rates).
Conditions of funding
The applicant must comply with CIHR Funding Policies.
The travel award is only applicable to attend Hacking AMR 2019 event. Funds cannot be used to attend another conference.
The NPA is limited to one Travel Award application in this competition.
Information on successful applicants and their travel award will be posted on CIHR's website under Funding Decision Notifications and communicated to applicants by email.
Successful applicants will be required to submit their banking information in order to receive a direct payment from CIHR. Those associated with a CIHR Eligible Institutions may be paid through their organisation.
Successful applicants may be profiled in the event and the Institute related communications (i.e., CIHR Institutes may request photos and/or short bios of successful applicants to be used in Institute Newsletters, etc.).
In the unlikely event that the disbursement of funds is delayed for approved applicants and the Hacking AMR 2019 takes place prior to the receipt of funds, applicants will need to cover their own travel costs in the interim without guarantee of receiving the award.
Review Process and Evaluation
Applicants must first be selected by the International Organizing Committee. For more information visit the Hacking 2019 AMR website.
Successful Canadian applicants will then be eligible to apply to the travel awards.
Funding Decision
Upon completion of the review, the Institute of Infection and Immunity will fund applicants from the pool of qualified candidates.
How to apply
Applicants are required to obtain a CIHR PIN prior to submitting their application.
Download the application form [ PDF (106 KB) ] from the CIHR III website and submit the completed form to amr-ram@cihr-irsc.gc.ca.
Complete applications must be submitted before 17:00 EDT on 25 October 2019. Incomplete applications or late submissions will not be accepted.
Date modified: