Dr. Erin Michalak – CIHR Gold Leaf Prize for Transformation: Patient Engagement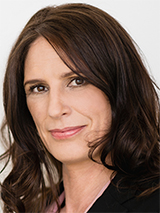 Erin Michalak, PhD
Professor, Department of Psychiatry, University of British Colombia
Founder, CREST.BD
Dr. Erin Michalak is committed to promoting optimal health and quality of life for people with mental illnesses, such as bipolar disorder. To help achieve this, her research focuses on stigma, psychosocial treatments, self-care, digital health, and patient engagement.
Dr. Michalak's CIHR-funded Collaborative RESearch Team to study psychosocial issues in Bipolar Disorder (CREST.BD) developed a pioneering participatory approach that allows people with bipolar disorder, researchers, and clinicians to collaborate on research and knowledge translation projects. One of CREST.BD 's three leaders has bipolar disorder, and most CREST.BD publications, grants, and research projects directly involve people with this condition.
Dr. Michalak also leads the Patient Engagement Methods Cluster at the BC SUPPORT Unit, which is part of CIHR's Strategy for Patient Oriented Research. She has 100 peer-reviewed publications and is the Program Director of the Asia-Pacific Economic Cooperation Digital Hub for Mental Health (which provides innovative mental health interventions for the Asia-Pacific regions). Dr. Michalak has received the Mogens Schou Award for Public Service and Advocacy from the International Society for Bipolar Disorders.
Dr. Erin Michalak (Transcript)

Nominator:

I first met Erin about six years ago, when she approached me about becoming involved with Cress.BD. As someone who's lived with bipolar disorder for over 25 years, I was immediately drawn to Erin's philosophy of patient engagement which was both genuine and evidence based.

Erin Michalak:

The narrative thread in my research career has always been quality of life. How do we measure quality of life and bipolar disorder?

How we can create environments whether they're in person or online, where people can be open about their mental health challenges. Where they can access safe, evidence informed knowledge on the treatments that are right for them. And where they can connect meaningfully with other people, living with similar health conditions and learn from their expertise.

If there's a key message from our work to date, I'd say that it's the same message, regardless of whether you're speaking to a young scientist, or a patient partner, or a health research funder or an institution is that we can't effectively tackle our most pressing health research questions by working in silos.

We need to continue to build capacity in health research for the inclusion of diverse forms of expertise. Including patient expertise. But this is time well spent and represents one of our most promising avenues for transforming Canadian science and Canadian society.
Date modified: