Dr. Tracie O. Afifi – CIHR Gold Leaf Prize for Outstanding Achievements by an Early Career Investigator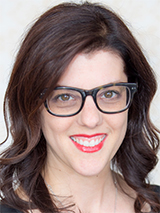 Tracie O. Afifi, PhD
Professor, Community Health Services, University of Manitoba
Lead, Childhood Adversity and Resilience (CARe) Research Team
Dr. Tracie O. Afifi's research seeks to better understand and prevent child maltreatment in Canada, including physical abuse, physical punishment, sexual abuse, emotional maltreatment, and neglect. To achieve this, Dr. Afifi's CARe team uses quantitative methods to measure the size and scope of child maltreatment, identify protective factors related to resilience, and develop evidence-based intervention strategies that prevent child maltreatment and improve health.
Dr. Afifi's work has generated significant global media attention (e.g., CNN, CBS, NBC, Time, USA Today, Washington Post, and Globe and Mail) and has informed policy. For example, in 2018, the American Academy of Pediatrics cited her work in a policy statement that recommended that parents and caregivers should not use corporal punishment (including hitting and spanking) as discipline for children.
Dr. Afifi has 121 peer-reviewed journal publications and presented at 132 conferences. She has also received numerous awards, including the 2013 Children's Rights Support Award from the Canadian Coalition for the Rights of Children, CBC Manitoba's Future 40, induction into the Royal Society of Canada College of New Scholars, and the Royal-Mach-Gaensslen Prize for Mental Health Research.
Dr. Tracie O. Afifi (Transcript)

I started my research career about 20 years ago. And it was in the area of child maltreatment, so I was looking at kids who'd been abused and neglected.

So a lot of the work we do is actually quite heartbreaking. Because we have to learn about all these terrible things that children have experienced with regards to child abuse and neglect.

What's heartwarming for me is knowing that because of our work, people are choosing not to use physical discipline on their children and that means that that child will be able to live their childhood without being exposed to violence.

I love being a researcher and I love having a research career.

And so my main goal for the remaining part of career is to make sure we can effectively prevent child maltreatment from occurring and all of the work we've done to date has really been to inform the development of effective prevention and intervention strategies and what we want to do is to implement those strategies and to test them to see at the population level whether or not, we are able to reduce the occurrence of child maltreatment and improve health outcomes for Canadians and also across the globe.
Date modified: