Dr. Deborah Cook – CIHR Gold Leaf Prize for Impact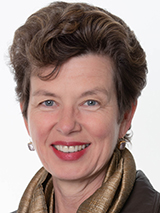 Deborah Cook, MD
Canada Research Chair, Knowledge Translation in the ICU
Distinguished Professor, Departments of Medicine, and Health Research Methods, Evidence and Impact, McMaster University
Dr. Deborah Cook's research seeks to improve clinical treatments for hospitalized patients who are either fighting critical illnesses or facing end-of-life situations in the intensive care unit (ICU). In particular, her work focuses on evaluating medical prevention and treatment strategies, and translating that knowledge into action among health care professionals/students, and patients.
As a result of a clinical trial involving 67 centres around the world, Dr. Cook found a new cost-effective blood thinner that better prevents blood clots among immobile, critically ill patients. Through her Three Wishes program, Dr. Cook also promotes a compassionate ICU environment for patients receiving end-of-life care. Through this program, clinicians honour the personal wishes of dying patients and help to ease the grief of family members.
Dr. Cook has published over 700 articles and presented her research results at 800 lectures around the world. She is an Officer of the Order of Canada and the recipient of several distinguished awards, including a Lifetime Achievement Award from the American Thoracic Society.
Dr. Deborah Cook (Transcript)

I guess after about 25 years of practice in the ICU, it was evident that our care is more and more sophisticated as the years go by. But obviously there are some patients whose lives we cannot save and who ultimately succumb to their critical illness.

So we're using technologies sometimes to no avail sometimes we're doing things to people that they would not want if they could speak for themselves. And dying in the intensive care unit can be cold.

And I felt like there's something missing even though end-of-life care in Canada in most ICUs is well delivered. I was inspired to try to make things better and try to honor the inherent dignity that everybody has and call forth more compassion from clinicians to try to celebrate lives lived and try to ease the family grief.
Date modified: