Dr. Tak Wah Mak – CIHR Gold Leaf Prize for Discovery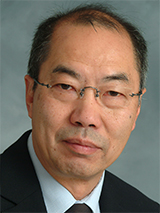 Tak Wah Mak, PhD
Professor, Departments of Medical Biophysics and Immunology, University of Toronto
Director, Campbell Family Institute for Breast Cancer Research, Princess Margaret Cancer Centre
Dr. Tak Wah Mak's genetic research has led to ground-breaking immunology and cancer breakthroughs. His laboratory discovered that the removal of the CTD-4 gene from the T-cell receptors of mice caused their immune system to fail in the fight against bacteria. This landmark discovery was subsequently used by other research teams to battle cancer through immunotherapy. Dr. Mak also recently determined that T-cell receptors use neurotransmitters to fight bacteria – a discovery that could lead to new research in Alzheimer's disease and fibrosis.
Through his company, Agios Pharmaceuticals, Dr. Mak also developed IHIFA – the first licensed drug that is able to stop the metabolism of mutated isocitrate dehydrogenase enzymes, which are associated with acute myeloid leukemia.
Dr. Mak's T-cell receptors discovery remains the basis of research in 5,000 laboratories around the world. He has written over 1,000 publications and been cited over 100,000 times. He has received 11 international honorary degrees and Germany's Paul Ehrlich Prize, and was appointed Officer of the Order of Canada.
Dr. Tak Wah Mak (Transcript)

I was very stunned by the sufferings that was going on in the cancer hospital, I just thought: If I had one life to live, I'm going to try to make a small dent, no matter how small.

I've been in the field of immunology for 35 years. The first 30 years, we were told that the immune system has no chance of fighting cancer. And now it's the fourth pillar of cancer treatment and terminal cancer are treated by boosting our immune system. And many are… maybe I shouldn't use the word but I'm going to use the word: cured

I want to really end, by acknowledging my mentor, Ernest McCullough He said: "Tak, we all die. The goal is not to live forever, it's to create something that will.
Date modified: