Dr. Amélie Quesnel-Vallée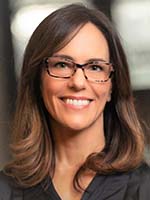 Affiliation
Inaugural Chair and Professor, Department of Equity, Ethics and Policy, Faculty of Medicine and Health Sciences
Professor, Department of Sociology, Faculty of Arts
McGill University
Committee membership
Governing Council
Standing Committee on Science (Chair)
Executive Committee
Biography
Amélie Quesnel-Vallée holds the Canada Research Chair in Policies and Health Inequalities at McGill University, where she is Inaugural Chair and Professor, Department of Equity, Ethics and Policy, Faculty of Medicine and Health Sciences and Professor, Department of Sociology. She is also the Co-Scientific Director of DNA to RNA (D2R), An inclusive Canadian approach, funded through the Canada First Research Excellence Fund (CFREF).
Dr. Quesnel-Vallée obtained her MSc at Université de Montréal and her PhD in Sociology from Duke University. Her research examines the contribution of social policies to social inequalities in health over the life course and received numerous awards from professional associations including the Population Association of America, the American Sociological Association, and the American Public Health Association. She is also a two-time recipient of the Fulbright Canada Foundation (Doctoral fellowship 1999; Distinguished Chair in Quebec Studies, 2020). Her work appeared in journals such as the Lancet, the Canadian Medical Association Journal, the American Journal of Epidemiology and Social Science and Medicine.
Demonstrating a firm commitment to bridging research and decision-making, she founded and directs the Consortium on Analytics for Data-Driven Decision Making in Aging Societies (CAnD3), a $6.6M training partnership program co-funded by the Social Sciences and Humanities Council of Canada. CAnD3 is a consortium of 38 academic, government, private and not-for-profit organizations committed to catalyzing Canada's training of the next generation of leaders supporting evidence-informed decision-making.
She has served as elected officer in several professional societies including as President of the International Sociological Association Research Committee on the Sociology of Health (2014-2018) and the Canadian Population Society (2022-2024). Her service also extends outside of academia to provincial and federal organizations, particularly concerning matters related to equity and population data, such as Statistic Canada's National Statistics Council (2014-2017).
She has been serving on the Governing Council of the Canadian Institutes of Health since 2018 (member of the Strategic Plan Working Group (2019-2020); Chair of the Standing Committee on Finance (2021-22); Chair of the Standing Committee on Science (2022-); member of the Executive Committee (2021-)).
Date modified: