Renata Valaitis
Health System Impact Fellow Profile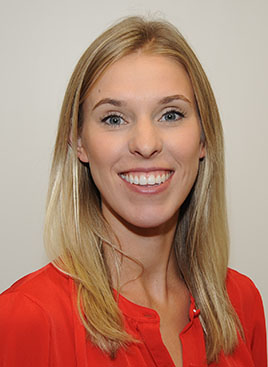 Name:

Renata Valaitis

Host Partner Organization:

Public Health Ontario

Name of Host Partner Organization Supervisor:

Dr. Heather Manson

Location (city, province):

Toronto, ON

Academic Institution:

University of Waterloo

Name of Academic Supervisor:

Dr. Craig Janes
Title of Fellowship / Program of Work:

Bridging Research and Policy in Public and Population Health

Duration of Fellowship:

1 year
Biography
I completed my Masters and PhD work at the University of Waterloo in the area of nutrition and school health where I conducted two evaluations in collaboration with Peel Public Health partners: i) an evaluation of Peel Region student nutrition programs; and ii) an evaluation of the implementation of the Ontario School Food and Beverage Policy in Peel Region schools. I received a CIHR-Danone Institute Award to support my doctoral studies. After my PhD, I completed a post-doctoral fellowship with Dr. Heather Keller at the University of Waterloo in the Department of Kinesiology with the support of the Canadian Malnutrition Task Force where I was responsible for data management of a study assessing the implementation of a nutrition care pathway in 5 Canadian hospitals.
I was motivated to apply for this fellowship to obtain experience outside of a traditional academic setting in order to gain exposure in an organization that works closely with policy makers, public health provider agencies and others. I am thankful and excited for the opportunity to join Public Health Ontario in this fellowship whose mission focuses on the provision of scientific evidence and advice to government, public health, health care, and other sectors.
Fellowship Program of Work
My fellowship project is entitled: Bridging Research and Policy in Public and Population Health, which I will be completing under the direction of my health system supervisor, Dr. Heather Manson, and my academic supervisor, Dr. Craig Janes. During this one year fellowship, I will be focusing on a few research areas which will support my overall project goal. My principal focus is to support Public Health Ontario's work on the Ontario Public Health Standards guidelines and topic summary development, specifically in the area of healthy eating and school health. I will also be involved in a project that is exploring different frameworks, methods and tools that impact decisions and actions by public health partners with the ultimate goal of identifying a preferred method and approach to assess the impact of Public Health Ontario's knowledge products. Finally, I will be conducting data analysis from a previous evaluation that was done for the Healthy Babies Healthy Children program that examined the utilization of public health unit reports. I am excited for the opportunity to work at Public Health Ontario and contribute to the development of knowledge and evidence that is important and useful for public health practice and policy.
Date modified: