Dr. Alice B. Aiken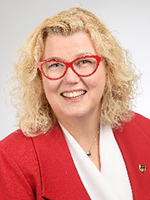 Affiliation
Vice President (Research & Innovation)
Dalhousie University
Committee membership
Governing Council (Vice-Chair)
Executive Committee (Vice-Chair)
Biography
Dr. Alice Aiken is the Vice-President – Research & Innovation at Dalhousie University in Halifax, Canada. She is an active researcher focused on health systems transformation and evidence‑informed policy-making. Dr. Aiken chairs the board of Research Nova Scotia. She is a fellow of the College of New Scholars, Artists and Scientists of the Royal Society of Canada.
Dr. Aiken was formerly the Dean of the Faculty of Health at Dalhousie. She is a co-founder and the former Scientific Director of the Canadian Institute for Military and Veteran Health Research, a unique consortium of 45 Canadian and 7 international universities dedicated to researching the health needs of military personnel, Veterans and their families.
Dr. Aiken received her PhD and Master's degree from Queen's University, Canada, her Physical Therapy degree from Dalhousie University, and a BSc in Kinesiology from the University of Ottawa. She also proudly served in the Canadian Armed Forces for 14 years, first as a ship's navigator in the Royal Canadian Navy, then as a physiotherapist.
Dr. Aiken is currently the Honorary Captain (Navy) for Canadian Forces Health Services Atlantic, and a Dame of the Order of St. George. For her commitment to the health and well‑being of military personnel, Veterans, and their families, she has received the Canadian Minister of Veterans Affairs Commendation, the Queen's Diamond Jubilee Medal, and the Chapel of the Four Chaplains Legion of Honor Bronze Medallion (USA).
Date modified: